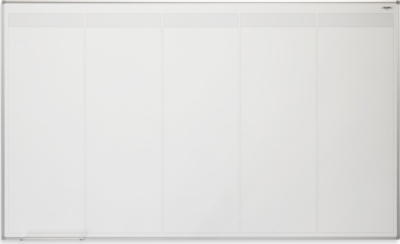 Questions and answers about agile methods
How agile is your company?
2020/08/31
Agility, a buzzword that is also likely to have been doing the rounds in your company for a while now. Just about everyone is talking about it, but many aren't really certain what this term actually refers to. That's understandable – after all, the context in which the word is used is important for an overall understanding. Given the large number of different concepts in relation to agile working methods, it's easy to become confused.

To ensure that agility isn't just being hyped in your company, and actually becomes an approach to work, your employees should be familiar with the meaning, the process and the methods that agile working involves. This is why we have gathered the most frequently asked questions and provided answers to them. They might even include something you didn't already know about agility either.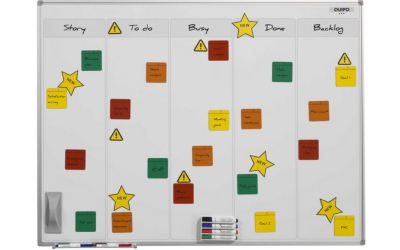 Working together in an agile company puts teamwork in the forefront. The classic Role allocations from the management, which bears the responsibility, and the employee, who acts, will be abolished. The new motto is: "Work smarter, not harder", because when it comes to agile work a team always takes joint responsibility for the decisions that are made.The management has the task of supporting and strengthening the team.
Which principles is agile working based on?
The customer is always right: The key focus of all agile methods is ensuring the customer is satisfied. This means giving customers' problems and expectations centre stage in all agile methods. As a note: The customer can be thought of literally in this context, or could also refer to a customer within the company that has asked for something to be completed.
The agile work process is always a team effort. The team organises itself, works together in close cooperation and is responsible for the action it takes. As a rule, a team comprised of five to eight is considered optimal.
Contribution to a project should be voluntary in order to ensure levels of motivation are high and remain so. Any tools necessary should always be available for use, as a lack of instruments and resources can risk success. Of course, that isn't always possible. However, in this case, it should be communicated and explained to ensure the members of the team aren't frustrated and that they remain motivated. Transparency is therefore key.
Specific, measurable objectives or milestones should be defined by the members of a team. The tasks that have to be performed to achieve the objectives are prioritised and worked through step-by-step.
Regular meetings are an essential component. In order to remain transparent, the progress made should be examined regularly and additional, progress-dependent steps should be derived, or when applicable, be defined again.
Every agile team monitors its own progress.
Since when has agile working been around?
You might, if you're feeling cheeky, say "It always has", because even building a house is, for example, an agile process. From an academic perspective, however, the first hypotheses and discussions about agile working were published in the 1950s and 1970s. What is known as the "Agile Manifesto" was published in 2001. It primarily relates to the work done by software developers looking for ways to organise complex IT projects. The basic principles of agile working are all based on this.
What are the advantages of agile working?
Agile working is highly efficient
Within the context of agile processes, rapid reactions to change are possible
A product or a situation consistently improves; quick interim solutions then lead to the final outcome
Qualified and motivated employees soon see the results of their work, which keeps them motivated
Please note: The prerequisite for this is that a company promotes agility and introduces it without forcing it upon the employees – after all, if they don't follow suit, it won't work. For managers, this means putting trust in them and relinquishing control, while for employees, it means assuming responsibility and committing to teamwork.
What are the disadvantages of agile working?
The final product, or the end-user experience, does not generally form the focus of the work done by the agile team. Depending on how complex the path to the final product is, you can also lose your way among all the agile interim solutions.
In traditional companies with a conservative style of leadership, the principle of agile working may clash with the formal, standard company processes. Agile action by the employees rarely functions in harmony with stipulations and constant monitoring from above.
Some employees would rather follow instructions given by management, and do not feel comfortable with assuming too much responsibility.
How do you introduce agile working to a company?
Introducing agile working to a company is a learning process for everyone involved. This is why many companies engage the services of external consultants. Agile organisation structures must evolve slowly, with a company growing into them, so to speak. This takes some time and is, in a certain sense, itself an agile process as well.

First and foremost, a shared understanding of agility must be created in your company. Most large companies rely on employees when introducing agile processes, ones who have made a positive impression in the past with a high degree of personal initiative and readiness to assume responsibility. Employees like this are highly suited to agile teams.

Both the human resources department and management level should monitor and observe the first steps, however without dictating rules, when participating in the first team meetings. What is referred to as a retrospective, a regular meeting that is generally held every two or four weeks, is particularly suitable for this because here is discussed what has progressed well, and what hasn't gone so well.
What forms the basis of an agile process?
These three processes should be part of every agile process:
Regular meetings/dailies: 'Stand-up meetings', which generally don't take longer than 15 minutes, can be held daily. Depending on the topic covered by the work and the group's needs, it can also be held as a weekly meeting lasting one hour. The team should use this opportunity to discuss what each member of the team needs to achieve their objectives and what they can do to provide support to the others.
Transparency: A communication board is used to show clearly to everyone involved who is working on which topic, what has been completed and what still needs to be done. When problems arise that prevent a task from being completed, they must be recorded on the board. A Kanban board is generally used for this. You can structure one yourself with the aid of a pin board and post-it notes, or you could also work with planning boards.
Retrospective: Meetings are held regularly in which team members sum up what worked well and what went wrong. The negative aspects should be counteracted. This is why approaches to help realise improvements are developed, which should be implemented immediately.
How does agile working function within a project?
Linear projects are suitable for trying out agile working methods straightforwardly. The following procedures will also make your projects more agile:
Step by step: Split the large project into smaller subprojects, also known as sprints, the results of which are announced, thereby allowing their success to be measured. Each subproject is equivalent to one task on the Kanban board. When you organise specific subprojects into a logical order, because they build up on each other, then you're also automatically setting priorities within your project timetable or what is known as a roadmap.
By the way: Other task packages may arise during a subproject. This is why project members often prepare small Kanban boards of their own to record the progress made with their personal tasks.
Remain flexible: To ensure you can always respond promptly to changing requirements within the project, only the next subproject, or in some cases the subproject after the next, is specifically planned. While everything that comes after that has already been outlined, the details are still to be decided.
Change perspective: Regardless of what is being planned and implemented over the course of the project and its associated subprojects, the customer or the user always remains the key focus. Always ask opening questions such as "How can I help my customers to...?" This ensures no-one loses sight of the intent and purpose of the project.
What is an agile management framework?
An agile management framework is built up when you are certain that you'd like to employ agile working processes in your company. This means the set up of a framework is always preceded by the introduction of agile methods using pilot groups. They can then help you with their experience when establishing the framework for your company. In principle, there are two methodical frameworks, and both are usually used: Scrum and Kanban. Together with your pilot groups, you now define in which cases which framework should be used.

There are a whole series of other methods in software development that specifically relate to this area of work. They are less suited for application in other areas such as marketing, product or content management.
What does the Scrum method refer to?
Scrum means hustle and bustle, or a jostling crowd. This really is appropriate, because Scrum is based on the assumption that most projects are generally so complex, meaning so much is going on that it is difficult to provide an exhaustive project plan right from the start. This is why the Scrum method counteracts the hustle and bustle with a small team working in concentrated cooperation. This team depends on the fact that individual tasks within a project build up on each other step-by-step (incrementally) and repeatedly (iteratively) while exploiting the experience gained along the way (empirically).

The Scrum method is based on three basic principles: Transparency, inspection, and adaptation. This means that everyone is always informed about the project status, as well as about potential problems that might hamper progress. There are regular checks of whether the planned work steps are still expedient. And, when applicable, the development plan is adapted to new requirements.
Scrum splits a large project into many subprojects. Within one subproject, certain tasks must be performed. These tasks are worked through over a fixed period of time, or the 'sprint', by the team responsible.
To ensure that workflows compliant with the rules can be adhered to within a Scrum process, there are defined roles within the Scrum team.
Which roles are there in a classic Scrum project?
In software development, there are five typical roles that should always be present so that an agile project can succeed:
Scrum master: This is, so to speak, the custodian of the agile framework. At the same time, the Scrum master is the contact person for the development team. This person knows the background and interdependencies within a project, advises the team and tries to keep unnecessary and negative external factors well away from them. This person's key sparring partner is the product owner. Together, they define the tasks within a subproject.
Product owner: This person defines the objectives of the subproject for the project team in 'sprints'. This involves ensuring that everyone involved understands the requirements. Having been given responsibility for the project, the product owner also puts together the individual task packages within a subproject. This means that the product owner prioritises which task is the most important, and which ones can be done later.
Subject matter expert: This is more or less the person who has knowledge of a specific topic. And because one person can't always know everything, and instead many people have different areas of knowledge, agile project management also refers to the subject matter group. The members of this group are usually those who lay down the requirements for the product owner, who then records them, discusses them with the team responsible for implementation, and prioritises them.
Business owner: This is the person who makes a project possible in the first place, and is, so to speak, the "main sponsor". However, responsibility is then assigned to the product owner. This person must then consult the business owner when more support – usually of a financial nature – is required.
Developer team: These are the people who actually work on the project. They put the requirements that were prioritised beforehand by the product owner into practice.
Kanban allows the requirements laid down for your project team to be visualised, prioritised and the progress made when working through these requirements to be illustrated. Each task is recorded on a card.

Process:

You start by parking all cards in a column: What is referred to as a backlog or your to-do list, which only has to be prioritised in the next step.

Only the requirements that have been given priority and must be completed first are organised in the column next to it. We're calling it "To be completed".

Each member of the team is now given one of these tasks. The individual team members usually decide which task they will undertake for themselves.

When a task has been finished, the card is moved from "To be completed" to the next column, "Completed".

If too many cards are left pinned in "To be completed", then this is visible for everyone and an immediate intervention is possible, allowing the solutions to be developed that are necessary to implement the task.

By the way: Each project is, in principle, comprised of individual tasks or work packages. This is why the Kanban method is a method that you can use for all projects, and can be combined with other methods.
What is the difference between Scrum and Kanban?
In principle, both frameworks feature similar processes. Scrum, however, is more strictly regulated. This means that the workflows are more binding. Roles assigned within a team involve a higher level of responsibility, and deadlines that have been communicated cannot be negotiated. Kanban is, in contrast, more open. It focuses more on providing transparency. A work task that has not been completed can be postponed to the next week without making a complete reprioritisation necessary. Kanban is therefore more informative, but also somewhat more "disorganised", than Scrum.

Note: Many companies frequently use hybrids of Scrum and Kanban. These evolve automatically from the agile work steps. And they have, meanwhile, also been given a name: Scrumban.