Putting light in the limelight.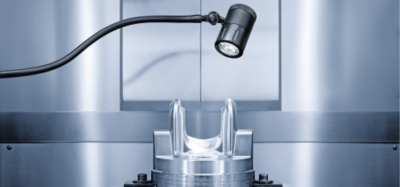 Light – something we take for granted. The many proverbs and expressions that mention light already provide evidence of this: A bulb lights up the room, a flash of inspiration lights up the brain. When someone sees the light, then they've come to a conclusion that used to be shrouded in dark. Someone who didn't see a glimmer of hope before can now see the light at the end of the tunnel. And yet we never really seem to realise what a blessing it is. Life is not possible without light. "More light" are also said to have been Johann Wolfgang von Goethe's last words.
We can no longer satisfy his wish. But if you need more light, and good lighting as well, then you've come to exactly the right place. We'd like to present lights to you with the highest standards of quality. Or to be more precise: innovative light solutions from Waldmann. The specialist for lighting concepts offers energy efficient lights and lamps adapted for customer requirements and for different industries and areas of use.
Did you know that adequate lighting is one of the decisive factors for productivity and motivation? Those who can see well and without strain won't just increase productivity at work, but rather the quality of work as well. Illuminating, isn't it? Workplace lighting that is suitable for use anywhere and which is exactly right for everyone doesn't exist – the lighting solutions that we're showing you were developed according to the specific characteristics and requirements of the respective work process.
Discover light made to measure for yourself, and turn a sustainable and efficient use of energy in your company into reality: whether with machine lighting, workplace lighting, system lighting, LED lamps, office lamps or special lights for industrial applications.
Lamps: in a new light.
There are workplaces. And workplaces which put huge demands on your eyesight: in production, assembly, quality assurance or analysis, in laboratories, in the electronics, metal or watch-making industries, for example. Lighting without interruption is indispensable in these workplaces. The solution? A functional flood of light, or put differently: arm-mounted lamps, with the latest LED technology and a long service life.
Arm-mounted lamps provide bright lighting that can be precisely adjusted to illuminate a large area – a decisive factor influencing the quality produced in machines, workshops, laboratories and at assembly workstations. How does it work? Quite simply: with a light output that can be adapted according to the activity, with a high quality of light and ergonomic handling. This is what optimal working conditions look like. The light components from Waldmann are developed for the specific characteristics and for the requirements of the respective work process for good reason.
Good light is literally something that takes adjustment. And our selection of light solutions allow us to help you to find exactly the right product for you. To the lights .

Do take time to watch the video about TANEO arm-mounted lamps and system luminaires. And you can find out more about the Waldmann company here. And you can also download our practical light lexicon.

Magnified rays of light.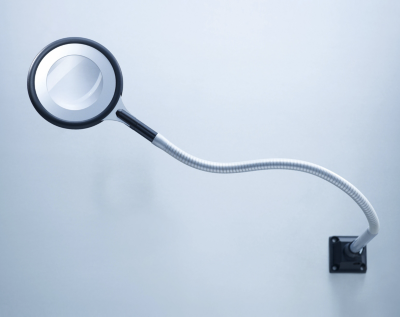 For highly detailed and intricate jobs in the laboratory, in the medical field and in industrial production processes, the human eye doesn't always have quite what it takes; our eyesight quickly reaches its natural limits when performing demanding tasks. To see details in all their brilliance, intelligent solutions for undistorted magnifications under optimal light conditions are needed.
The magnifying lamps from Waldmann will shed light on even the minutest of details. This makes them ideal for precise examinations of parts in research, development or production. Objects with minute dimensions are magnified with little distortion and are brightly illuminated for visual inspections.
Sophisticated LED technology, innovative arm technology and a field of vision that caters to the viewing distance all allow the TEVISIO magnifying lamp, for example, to increase efficiency and ergonomics at the workplace. And to add design: the German Design Council honoured the TEVISIO with the prestigious international "German Design Award 2014" at the Ambient Trade Fair in Frankfurt.
You can take a closer look at our light solutions, and shine a critical light on them so to speak, before deciding to put the right one for you in your shopping basket. To the Waldmann lights . More about Waldmann.
Lux ex machina or the art of making light.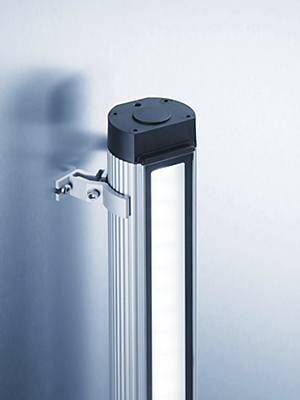 The harshest conditions, tight spaces, high temperatures, dirt, dust and darkness. No, not an adventure holiday in the southern Appalachians. These are the challenges that light engineers need to factor in when designing lighting used for, and in, machines.
Good lighting in machines not only creates good visual conditions, but also increases safety. New lighting technologies also increase energy efficiency and require less maintenance. Old lighting solutions no longer sufficiently satisfy criteria like these – which is why Waldmann has intelligent lighting solutions with can replace the classic neon tubes with no great effort involved. For example, the MACH LED PLUS machine lamp with the latest LED technology. It is brighter, more robust, more efficient, safer – and is easy to retrofit. And not only is it compatible with the classic neon tubes in form, dimensions and connection options, but is also a universal solution for initial machine configuration.
Light reaches its destination in very small tooling machines straightforwardly and conveniently with a SPOT LED. The compact, high power and robust LED lamps generate a flicker free light and can be aligned exactly even when space is tight using the flexible arm guide, and can optionally be used as a spot light or as surface lighting.
Learn more about the Waldmann company. Find lamps and lights here. You can also take a look at our practical light lexicon.
Lights off, LED spotlight on: Watch the product video here.
500 lux for more concentration and well-being.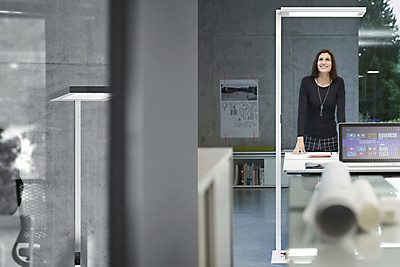 "Go back through the presentation." "Your signature down here, that's right." "Did you read the mail?" "Seen the boss today?" These days, we use our eyes to obtain 80% of all information we need in the office. Poor lighting can quickly lead to fatigue, problems with concentration, eye strain and headaches in office environments. In turn, good light can have a positive effect on motivation, productivity and performance, and lead to better results at work. The lighting used at the workplace should therefore have a minimum light intensity of 500 lux. By principle, however, demands on lighting are highly individual.
The ergonomic workplace lamps from Waldmann can meet your personal demands with ease. The high quality lamps are particularly easy to adjust and can be moved into just about every position. The different lamp designs also help to ensure that the right personal light solution can be found. Along with the range of designs and colours, the PARA.MI office lamp, for example, impresses with its practical functionality: the lamp head can be rotated and swivelled.
The self-locking joints can be placed at any angle, and are maintenance free. All parts are easy and effortless to move. In short: Waldmann lamps for office workplaces are ergonomic and promote health and well-being, energy efficiency and cost savings. To the Waldmann lamps . Learn more about Waldmann here.
Never compromising with lighting.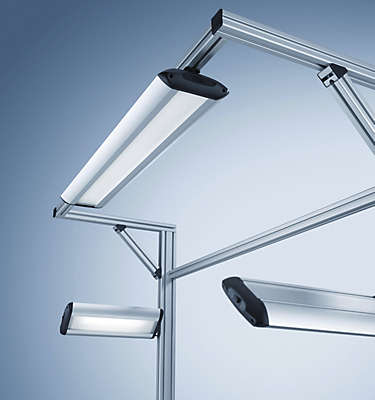 Anyone who requires good light as standard at industrial workstations will find exactly the right products here among the Waldmann system lighting. Depending on the type and structure of the workstation, the lamp modules can be used individually or in combination. It's systematic – because the right lighting is an important aspect of an ergonomic set-up of industrial workstations. Not just for employee productivity, but also in terms of the quality of work. The illuminating principle: if you can see properly, the work will be good.
As simple as that sounds, the technologically complex and intelligently designed the lighting concepts behind it are: large-surface, homogeneous light takes the strain off the eyes when performing visual tasks in assembly, and stepless dimming allows the amount of light to be adapted individually at any time. The LED system luminaire family TAMETO offers even more options for optimal, while also efficient, light at assembly workstations. Because they feature different mountings, lengths and light intensities, the lamps can be perfectly integrated into a particular workplace; there are even fully wired lamp versions available for interlinked workplaces.
And TAMETO lamps that are installed to one side also allow either completely shadow-free illumination, or an intentional shade effect, to be produced. This is always important when fine irregularities need to be easier to see on surfaces. Of course, this light solution is also suitable when it is simply a matter of needing more light for certain visually demanding tasks. With up to 1,500 lux, TAMETO can even be ideally used for precision assembly tasks. To the lights .
Everything is illuminated: the product video on the lamp.
Wenn Sie Fragen haben, fragen Sie!
We'd also like to shine a light on things. If you need advice – please ask us. If you wish to plan a lighting system on site with our experts – please ask us. And if you need more information about light solutions, then ask us about this too! We are there for you, will cater to your needs and are happy to help you.
You'll find the contact partner or contact forms you need right here.