Back
Practical and time-saving: counting scales for versatile use
For small parts in large quantities
Whether for stocktaking, packing parts into containers, or confirming production quantities, when it comes to counting small parts, every single piece counts.

You'll find out here exactly how counting scales function, how you can determine exact quantities, and which counting scales to use when.
What are counting scales?
As the name suggests, counting scales count and weigh. And they do this for small parts in large quantities – with the option of setting different levels of precision and using different weighing ranges. Counting scales are especially helpful and will save you a lot of time and money when a stocktake is due or there's an order picking job, when you want to pack parts into containers, or confirm production quantities.


If you're working with very large quantities, what we refer to as counting systems can also be used. They are comprised of a bulk counter and reference scales connected to the larger bulk counter using an interface cable. The reference scales are mainly used for precision weighing of the smallest components. It determines the average weight of each piece, and then sends the data to the bulk counter, which in turn calculates the exact piece count for large quantities.


By the way: we can also calibrate your scales for you if you wish. Simply add calibration to your order. Please note that this cannot be done at a later date. (Only possible for scales with calibration class)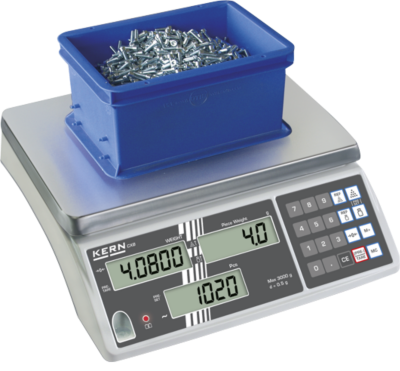 Questions & answers about counting scales.
What is meant by readability?
The readability of scales refers to the smallest weight value that can be determined precisely. To ensure the greatest level of reliability possible, we recommend that you select counting scales featuring a smallest readable weight value (part weight) that is smaller than the weight of the object to be counted.


What is the smallest part weight when counting pieces?
The smallest part weight is the smallest piece weight that the scales accept and display when counting pieces.


What is meant by counting resolution?
The counting resolution is a measure of the quality of the counting scale. It describes the maximum number of pieces that can be counted with a counting accuracy of 1% when there is a minimal fluctuation in part weights and a sufficiently large number of pieces to use as a reference.

Sufficiently large number, in this context, means:
– 20 parts for counting with counting resolution ≤ 60,000 points
– 50 parts for counting from 60,000 – 150,000 points
– 100 parts for counting ≥ 150,000 points


What is the recommended number of reference pieces?
If errors occur during counting, they are most often caused by the different weight tolerances of the parts being counted. This is why it is worth determining an average weight at the beginning of each counting process, which is called the reference weight.


How is the reference weight determined?
The reference weight is determined by placing several pieces for counting on the scales. This is called the reference piece count. The following applies:

– 5 parts for counting are often sufficient
– 10 parts for counting are often usual
– 20 to 100 parts for counting applies in the event that parts for counting vary considerably in weight
Important: the "automatic reference optimisation" function gives you the option of incrementally increasing the reference piece count, thereby allowing the average weight of parts for counting to be determined more exactly, step by step. This increases the accuracy of the subsequent counting process considerably.
How to use the different counting scales.
Basic counting scales
These scales are not only easy to use, but are also particularly inexpensive. What's more, you can use it right away without studying the operating instructions first, which is made possible by the control panel featuring graphic support, and the self-explanatory user prompts on the keypad.


Professional counting scales
These scales give you 3 different displays: firstly, for the reference weight (i.e., the average weight of the parts for counting), secondly, for the total weight of all parts for counting, and thirdly for the total number of pieces of all parts for counting. The integrated memories, for example for the container weight, the item number, the reference weight, or acoustic and optical counting aids and an alphanumeric keypad for convenient data entry, are also particularly useful and ensure the scales are straightforward to use.


The counting systems
When there are large quantities, containers or palletised goods to count in particular, the weighing range of tabletop counting scales isn't always sufficient for an accurate count. In this case, our high performance counting systems are also available, which combine the advantages of high precision reference scales with those of bulk counters suitable for heavy loads.
Our top products from this guide
Our top categories from this guide