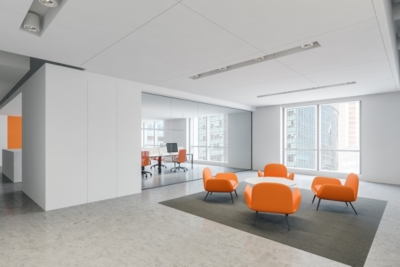 Latest information on COVID-19 for businesses
In times of the coronavirus, it is imperative that large gatherings of people are avoided. But how do you proceed when it comes to the very premises at your company set up for this purpose? Both break rooms and waiting rooms are places where people to spend extended periods of time together.
The latest guidelines and practical measures to be observed to reduce the risk of infection in break and waiting rooms can be found here
What is the latest guidance for managing breaks & waiting rooms?
It is important to comply with current hygiene regulations in businesses, especially those open to the public, and to implement effective protective measures for employees and visitors.
In the break and waiting rooms at companies, the rules for the protection of employees and visitors are based on the following assumptions about how the coronavirus is spread:
Viruses are primarily transmitted via the hands
All surfaces that are regularly touched by persons must be cleaned as often as possible (e.g. door handles, chairs, window handles or tables)
Keep doors open using floor-mounted door stoppers to stop people touching it
The more people meet up, the higher the risk of infection is
Define a maximum number of people who can use the break or waiting room at the same time
Break room: Plan staggered break times so that as few employees as possible are there at the same time
Waiting rooms: Make appointments so that there is little or no overlap between waiting times
More distance between people means less risk of infection

Reduce seating so that the minimum distance of 2 metres can be maintained
Seating areas can also be physically divided up using a partition system
3 tips for implementing the guidelines during breaks and while visitors are waiting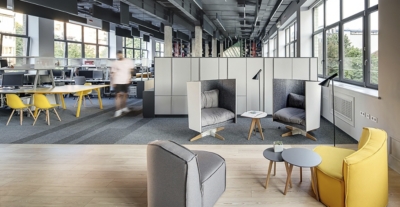 Have signs indicating the max. number of people
People should be able to maintain a distance of at least 2 metres between each other, either sitting or standing. Indicate the maximum number of persons with Signs signs and, if necessary, put down Floor markings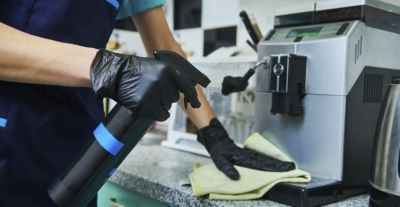 Identify all contact surfaces
Frequent disinfection of all surfaces is especially important when different people are entering and leaving your premises. For example, if there is a coffee machine, it should be disinfected before and after each use.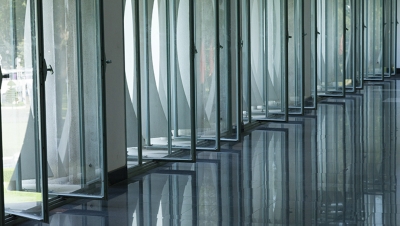 never go without fresh air
Airing out enclosed rooms is essential. If there are no windows, you must use air purifiers to ensure the air is clean. Alternatively, move your break or waiting area to an outdoor area when the weather is fine.
Getting it right: Safety and hygiene in shared spaces
Checklist for break and waiting areas
Preparation for use
Clean and disinfect surfaces and objects that are touched
Define the maximum number of people who can be in the room at the same time
Identify the maximum number of persons with signs and floor markings
Break room: Schedule staggered break times
Waiting room: Make appointments so that waiting times do not overlap
Reduce the number of chairs so there is a distance of 2metres between them
Divide up seating areas using partition systems or infection control barriersn
During use
Several times a day: Clean and disinfect all surfaces that are touched by persons
Before and after use: Clean and disinfect all devices (e.g. tea kettles)
If you have any further questions, please contact us on 1 800 677 300. Or contact us via e-mail on sales@kaiserkraft.ie.