Back
Visualisation in the warehouse and production: How Kanban can boost efficiency
The point of use is the best source of knowledge when it comes to production requirements: This is the basic principle of Kanban. The Japanese system for production management has become established in many cutting-edge production operations, and has evolved into a fixed component of today's agile management practices. In order to profit from cost reductions, efficiency increases and disruption-free material flows, good organisation, clear communication and the right visualisation are required.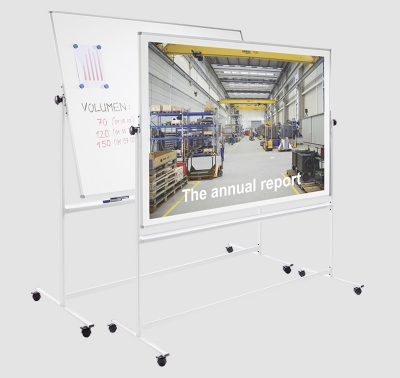 The pull principle from Japan: Kanban at the company
In its basic manifestation in manufacturing and production, Kanban turns classic structures used for procurement and material flow upside down. While the goods required are otherwise ordered by a central planning office and allocated to the respective processing facility, the Kanban method leaves it up to the point of use to kick off these processes – based on its own requirements and at exactly the right time.


This pull principle combines the key crossover points of the company – purchasing, logistics, storage, production – and when implemented under ideal circumstances, it is done in a way that reduces the need for storage areas and decreases procurement costs, while simultaneously optimising throughput times and making the whole process more transparent, more flexible and more reliable.


The advantages of this method are meanwhile being exploited in other corporate areas such as marketing or the HR process. In doing so, factors used within Kanban frequently overlap with other methods such as Scrum, all of which are covered by the agile management concept. The following aspects always take centre stage:


The workflow is shown by means of visualisations, making it easier to steer
The workflow is split up into smaller individual parts or tasks, making it more manageable
The workflow is not changed with immediate effect, and optimisations can instead evolve over the course of the process



The pull principle also applies in the broader context of Kanban: An employee can only work on a certain number of tasks at one and the same time. Only when the employee's capacities are freed up again may the office responsible for allocating tasks assign new ones. Of key importance: The office responsible collects the new tasks from the forerunner itself – they are not simply passed on for processing.

This allows bottlenecks to be avoided and requirements or problems to be identified with considerably more clarity. Given these aspects, Kanban promises even more success in manufacturing and production:


Smaller buffer storage spaces at the respective point at which a product is used reduce paths and increase transparency
Asynchronous removal and product provision optimises reactions to fluctuating throughput
Needs-oriented ordering allows flexible adaptation to changing production
No stockpiling, punctual ordering processes and clear communication are decisive
Means of visualisation that are as straightforward as possible make actual requirements clear
At a glance: Kanban needs an outline
The significance of visualisation and communication is actually reflected in the name of the system. Kanban is Japanese for "signboard" and refers to the cards that represent the key source of information when triggering and tracking the movement of a good. This signboard or card is usually high-tech and digitised today, however barely anything else about the structure of the principle has changed since it was introduced at Toyota in 1947.


Along with the Kanban cards, the Kanban boards also play a decisive role. They are the central board providing information about the work processes, and feature a conceivably straightforward layout:


Three columns: To-Do, In Progress, Done
Each individual task is placed in the respective column and moved around according to its work status

This basic layout is easy to refine, however always adheres to the same principle. By colour coding the tickets or dividing the centre column into more exact categories, the Kanban board can become a powerful management tool:


It clarifies the current workflow status at a glance
It shows shortfalls, responsibilities and/or capacities
It replaces long meetings and detailed explanations
Its information content continues to increase as employees' experience with Kanban grows
Clear task descriptions allow employees to start/complete their tasks with more self-sufficiency

It is important that a certain level of discipline is maintained when using Kanban and the planning board, and that the processes or projects depicted do not become too complex. In manufacturing and production, it may, for example, be worth creating Kanban boards for individual production centres and setting them up at the best location respectively. Of course, these Kanban boards should also provide options for feedback to make gradual process optimisations possible.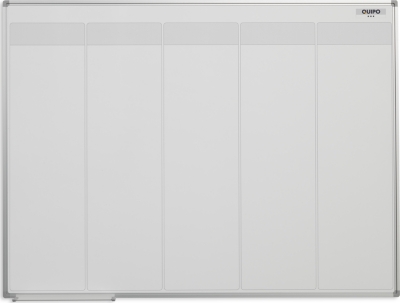 Online tools versus the Kanban board: Which method of visualisation is better?
Many online tools used successfully for project management are based on Kanban and have seen the whiteboard move online. However, this in no way diminishes the significance of its analogue counterpart – quite the contrary. Whiteboards and Kanban boards are a much more sensible solution in many cases. A comparison of the two methods underscores this:
For teams working on-site
Always visible, always within sight
Provides a quick overview of changes
Limited space reduces level of detail
High degree of formalisation and symbolism
Board for information only
Direct topic of discussion at meetings
Snapshot
Board management made more straightforward

For decentral, virtual teams
Only visible when online
Email messages are easy to miss
Potentially infinite board division
Each ticket can accommodate a lot of information
Work tool due to links/references, etc.
Requires technology for presentation
Changes tracked using logs
Board management must become established
Given these prerequisites, the analogue Kanban board best demonstrates its strengths in production companies or in individual departments, and creates a direct connection between the process description and the "real" on-site implementation of the respective tasks. Furthermore, the limited space available provides an excellent reason to consider efficiency aspects of tasks and responsibilities more stringently.


Just like Scrum, Kanban also operates best when brief daily meetings are held, which are ideally organised with participants standing up directly at the board. The key questions (who will do what, what needs to be done, where has something gone wrong) can be answered quickly, and making changes to the board becomes a joint task that is quickly implemented with notice taken by all participants in the meeting.


The virtual board, in contrast, is the perfect tool for tasks and processes that are, by their nature, implemented virtually – for example, when designing a new corporate identity or managing all online activities. While this necessitates a period of acclimatisation and user training, once the process has become established, the work required for making enquiries by email or by phone decrease considerably. Furthermore, the online tool is a process archive that is suitable for use during reviews and other agile activities.


Despite there being no immediate option for doing this when a physical Kanban board is used, technical developments designed for presentation and moderation make this easy to implement. The Capture APP kit allows photos of analogue whiteboards to be digitised, thereby permitting further, virtual processing based on specific standards.


Ultimately, the decisive fact is that Kanban boards and other visualisation aids only provide a means of support. The right communication and cooperation between employees forms the heart of all activities in an agile company. And you can promote these by using the right equipment. Our employees will be happy to provide you with help in person in making your selection.
Our top categories from this guide