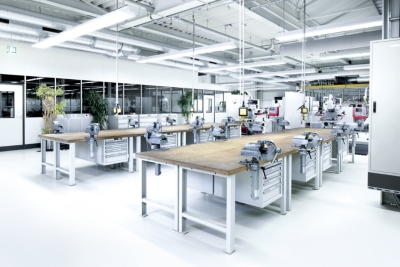 LISTA shop
LISTA workbench or LISTA drawer cupboard? Whatever you are looking for, the European market leader from Switzerland has what you need for production and storage fittings. LISTA cupboards and LISTA workbenches can be found in over 100,000 companies all over the world: in large industrial halls and laboratories and in small and medium-sized companies. The logical conclusion? Anybody who thinks about drawer cupboards, thinks almost automatically about LISTA. We say: objective achieved!

The success of LISTAis due to several factors. One of the most important of these is the intelligent modular system that combines all of the products. A LISTA drawer cupboard and a LISTA workbench all match and can all be combined with each other. System fittings and workplace systems can be flexibly expanded or converted as required without great effort. Simply practical, simply clever! Alfred Lienhard was also clever. He was responsible for laying the foundation of the success of LISTA cupboards and LISTA workbenches and sustaining it. In 1945 at the age of 20, he founded he own locksmith's workshop – the Lienhard Stahlbau company. Or LISTA for short.

Today LISTA is a genuine global player that concentrates on its core activities – providing efficient production and workstations with the first-rate, robust drawer cupboard – under the company slogan "Making Workspace Work". Find your new LISTA workbench or new LISTA cupboard here.
Why should you choose LISTA modular furnishings?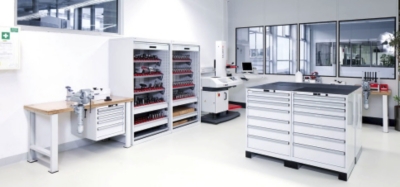 Because we decided in favour of them, too. Because with LISTA we can offer you durable and robust products with consistently high quality. No wonder we even give you a ten-year guarantee on the entire LISTA product range. Modular furnishings from LISTA are also low-maintenance, so that you will still be using your company furnishings years later.
A uniform modular grid allows you to individually combine and add to all LISTA products: Combine workbenches, hinged door cupboards, sliding door cupboards and drawer cupboards with each other. Making modifications to the room is no longer a major challenge. Save space and equip yourself with LISTA! The extensive range of drawer division material fits into every drawer, and can therefore also be used flexibly.
Slide through everyday work with ease
You can configure LISTA drawer cabinets at KAISER+KRAFT so that you can use them for your requirements perfectly: With the right size, individual drawer configuration, a secure lock, a sufficient weight capacity and a huge variety of colours.
And because they can be organised so flexibly, they are also used in a wide variety of areas: Whether in the workshop, pharmacy or museum – the durable steel cabinets offer a secure place to store all goods. All drawers are fully extendable and can be supplemented with individually selectable drawer dividers so that employees quickly find what they need. High-quality materials such as sheet steel ensure a long service life and low wear. The drawer runners are smooth running and quiet.
Your advantages: Maximum utilisation of space, maximum security, maximum organisation.
No tricks: On LISTA drawer cabinets, the front height of the drawers also corresponds to the cover height. This enables maximum utilisation of space.

No risk: With LISTA cabinets, you can always choose a lock system that meets your individual requirements. The standard "key lock" consists of an exchangeable cylinder including 2 keys. If required, you can also obtain additional keys for the same lock. Several cupboards can be fitted with different locks (standard) or with the same locks (extra charge). The implementation of main locking systems is also possible without any problems.
Instead of a cylinder lock, LISTA cupboards can also be fitted with the battery-powered "code lock" combination lock. Advantage: several employees access the same cupboard using a combination of numbers. Lost keys or the secure storage of keys are a thing of the past.
As a last option, the "remote lock" enables operation via handheld radio transmitter. Access to individual drawers or compartments within the drawer can also be configured via a software interface.

However, we offer security not only for your stored goods, but also for your employees. This is why LISTA drawer cupboards have an integrated individual drawer stop – only one drawer can be opened at a time. By opening several drawers, a cupboard can tip over. Lift-out protection also prevents drawers from falling out.

No confusion: To ensure that you always know what is inside the drawer, you can slide the marked labels under the vision panel on the grip rail. This is how you make it easy for yourself, because good organisation is the key to effectiveness and productivity.

Label your drawers professionally with the free "LISTA Script" labelling software. Please contact our sales offices for further information.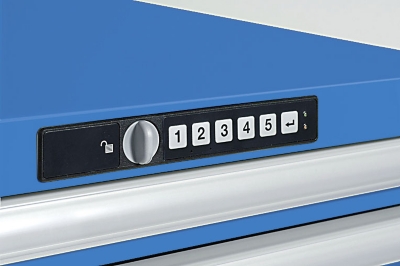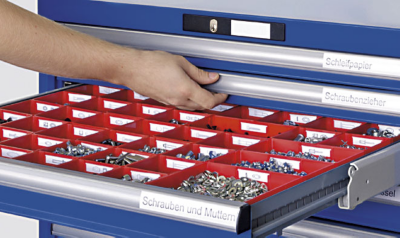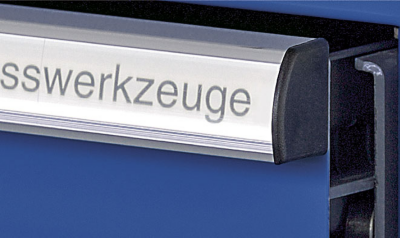 LISTA workbenches can be flexibly configured for any task. A vice could be mounted underneath the worktop so that it can be folded up, hook-in systems offer an additional storage option for work utensils that should always be at hand, and sockets can also be integrated into the workbench. Does your workbench have to be mobile? Then choose a mobile model. What surface does it have to be? Choose the right material and let the high stability of these workbench tops convince you.
LISTA workbenches are also available with height adjustment, so you can easily create ergonomic workplaces. One major advantage of the LISTA workbenches is pre-assembly. Whether hexagonal, long and narrow or short and wide, you configure the workbench and we deliver the goods. Of course there is also a large selection of pre-configured models in our webshop. Thanks to the many possible combinations of this modular system, LISTA workbenches can be used in a systematic manner in any industry. In addition, a ten-year after-sales service enables long-term planning of extensions.
Bring comfort to the workplace by adapting work tables to individual requirements!
And which benchtops are best?
Choose from six different worktops! Multiplex and beech worktops are suitable for universal use, sanded, oiled and waxed and are extremely resistant to mechanical stress. A chemical-resistant and hygienic synthetic resin panel is ideal for use in the laboratory. The urphen worktop with scratch-resistant UV coating is just as resistant. Together with synthetic resin panel and nitrile panel, it is often used in the electronics industry.
Nitrile panels have an anti-slip rubber coating, are resistant to fuels and oils, and can withstand temperatures from –10 °C to +70 °C. In automotive workshops, they are mostly used next to beech worktops and panels with a sheet steel covering. The latter are particularly resistant to moisture, oils and greases.

In addition to the multiplex, beech and urphen worktops, you can also order matching edging strips, rear panels and edge protection.
A configured LISTA cupboard system takes into account not only spatial requirements, but also the personal expectations of users and the characteristics of the items they wish to store in it.
All LISTA cabinets are made of sturdy and durable sheet steel.
The doors can be ordered either in solid sheet metal or with a vision panel. Vision panels provide a better overview of the objects stored and promote tidy storage in the cupboards. And the organised objects remain secure in all types of cupboards, because LISTA always works with the locking systems described previously.

Put your trust in LISTA cupboard systems!
Which type of cupboard is the right one?
Sliding door cupboards from LISTA show that sliding storage is secure storage, because with lockable sliding doors your stock is in good hands. With this type of cupboard, you can quickly reach the materials you need in particularly small workspaces. Unlike ordinary cupboard doors, sliding doors do not protrude into the work area and therefore do not represent a potential obstacle.

Roller shutter cupboards are the best variant of sliding door cupboards because they do not block foot traffic areas either.
The roller shutters are smooth-running and can therefore be operated quickly with just one hand. The cupboard doors do not have to be pushed completely upwards, they automatically stop at any height at which they are released.

You've got plenty of space? Then hinged door cupboards are the cost-effective alternative. As with all cupboards, you can configure the interior individually and in line with your needs. With divider sets and sturdy sheet steel dividers, you can organise storage areas inside the cupboard. Adjustable shelves, pull-out shelves and drawers can be easily integrated. Hip-high cupboards can serve as additional workstations with an add-on desktop.
Everything has a system – even before it gets to work
LISTA cloakroom lockers offer your employees the optimal way of storing clothing and personal items even before they get to work. LISTA modular furnishings not only include modular cupboards for your business, but also for your break rooms.
With the help of additional shelves, holders and signs, the locker in the changing room can also be individually configured. Bad air doesn't linger, because LISTA lockers impress with a well thought-out ventilation system: The openings in the housing allow the air to circulate continuously in the locker. LISTA cloakroom lockers can, of course, also be found in sports and leisure facilities. In most cases, even more versatile lock systems such as combination locks, coin deposit locks or RFID transponder locks are used to ensure theft protection.
As you can see, there is hardly a (working) area in which you will not encounter LISTA products. Companies from all industries have long since noticed what you get from high-quality modular furnishings.
With LISTA, we not only offer you individual parts, but also the possibility of furnishing your entire business with a system. And because there is everything for the company here, you are free to supplement your modular furnishings with further articles from the KAISER+KRAFT product range.
Read more about the topic of modular furnishings in our purchasing guides: