Ref.: 808776 10
Steel strapping
for strap dispensers, oscillating coil, waxed and blued
Very high tear resistance, low strap stretch
Can be closed with or without seals
Difficult to bend, rigid
This label from kaiserkraft evaluates products based on a wide range of sustainability criteria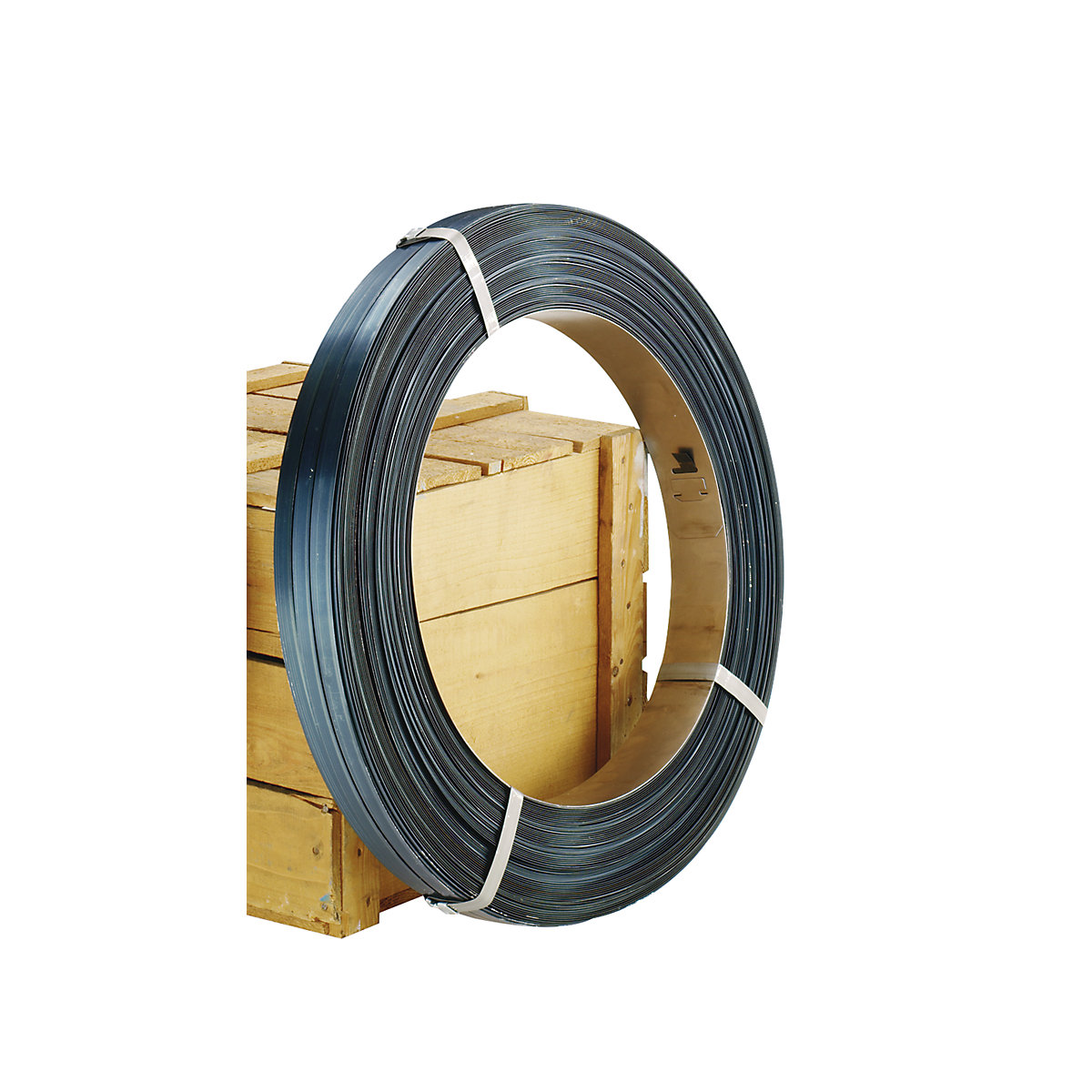 strap width 16 mm
---
Good reasons to purchase products from us
Guarantee of up to 15 years
30 day right of return
Free delivery from Germany
Fast delivery
---
We will be happy to help you
1 800 677 300
Monday-Friday 8am-5pm
Oscillating coil – waxed and blue-annealed.
Pack of 1 roll.
For bulky, sharp edged and high temperature goods. Secure heavy loads or sea freight as well using steel strapping. The strapping is also suitable for the long term storage of goods. We recommend wearing gloves and safety goggles when handling sharp edged strapping to minimise the risk of injury.
Very high tear resistance, low strap stretch
Can be closed with or without seals
Difficult to bend, rigid
Material

steel

Material thickness

0.5

mm
Core diameter

400

mm
Winding

package strapping

Place of use

indoor use

Usage period

long-term storage

Application

heavy products




bulky products




high temperature products




sharp edged products

Product type

strapping

Supplied

assembled

Weight

52

kg
Strap width

16

mm
Strap length

832

m
Tensile strength

700

kg/cm²
Sustainability
Enkelfähig
Enkelfähig product
Enkelfähig refers to multi-generational thinking, and reflects the extent to which a product or service contributes to the emergence of a sustainable, social and fair future in which our grandchildren will still be able to live. Enkelfähig asks the same question of every product: will this product help create a better tomorrow for future generations?
The 2 categories in which this product performs particularly well are listed below.
For more information about the product evaluation and the Enkelfähig Initiative, please visit our
Enkelfähig information page
.

Circular economy
A circular economy is an economic system in which waste is avoided and resources are used efficiently by recirculating materials, products and waste in closed cycles and reusing them as raw materials or sources of energy for new products.
This product makes a greater contribution to achieving a circular economy. The greater contribution compared to other products is the result of several factors, including the use of hardwearing materials, the ability to be recycled, and the use of recycled materials in the product design. Sustainable packaging is also factored into any assessment within a circular economy.

Innovation and technological progress
This product scores points within its product group due to the use of an innovative product design or innovative materials that advance product sustainability. Compared to other products, the product utilises, for example, material solutions that are more sustainable, the use of an increased share of recycled materials, or an optimised product design that has a positive impact on the recyclability, service life, durability and therefore the general sustainability of the product solution.
---
Good reasons to purchase products from us
Guarantee of up to 15 years
30 day right of return
Free delivery from Germany
Fast delivery
---
We will be happy to help you
1 800 677 300
Monday-Friday 8am-5pm