a.m.p.e.r.e – Road marking paint
25 kg pail
For application in indoor and outdoor areas
Highly resistant to wear and weather
Dries quickly

Hazard class GHS02 – flammable, self-heating, self-reactive, pyrophoric, water-reactive, organic peroxides

Hazard class GHS07 – Attention, irritating substances

Hazard class GHS08 – health hazard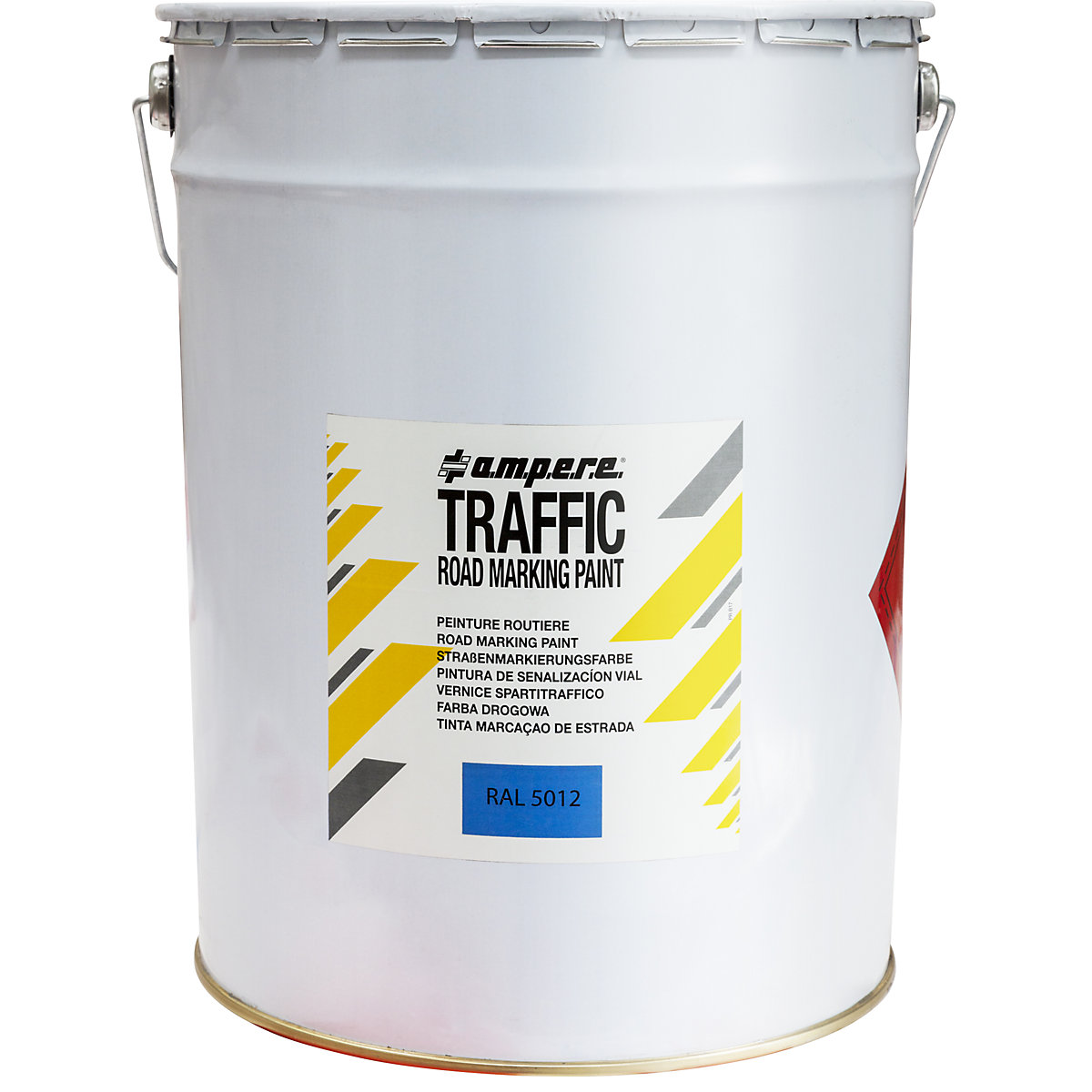 Ref.: 569680 10
a.m.p.e.r.e – Road marking paint, 25 kg pail, white
Price / items (Excl. VAT)
Traffic Road Marking Paint®

Road marking paint for professional markings on concrete or asphalt roads.
Application using a roller, brush or spray method (not suitable for an airless sprayer). Use with Traffic Paint thinner for application using the spray method (see Accessories).

Areas of application:
Marking parking spaces, marking roads, marking halls, marking company premises, marking special fields, marking race tracks, coatings and much more.

Dries quickly:
Dry: approx. 20 minutes.
Hard: approx 4 hours.
Can be driven on after approx. 12 hours.


*Colours may exhibit slight differences to the RAL numbers specified.
Please note:
Test the paint prior to application, as adhesion can vary according to the road surface and weather conditions. When marking sealed or treated surfaces, we recommend testing the paint for compatibility, drying time and adhesion in each case. The surface may need to be briefly sanded back or a primer may need to be used to ensure optimal adhesion. If the surface has not be prepared accordingly, the marking paint may peel off after a short period of time.
For application in indoor and outdoor areas
Highly resistant to wear and weather
Dries quickly
Hazard class GHS02 – flammable, self-heating, self-reactive, pyrophoric, water-reactive, organic peroxides

Hazard class GHS07 – Attention, irritating substances

Hazard class GHS08 – health hazard

Contents

15.15

l
Drying time

20

min
Hazard class

GHS02




GHS07




GHS08

Product type

outdoor marking paints

Supplied

assembled

Customers who purchased this item also purchased