a.m.p.e.r.e – Industry Floor Paint® ground marking paint
capacity 5 l
For indoor use
Easy to use
Hardwearing and durable

Hazard class GHS02 – flammable, self-heating, self-reactive, pyrophoric, water-reactive, organic peroxides

Hazard class GHS09 – hazardous to aquatic environment

Hazard class GHS07 – Attention, irritating substances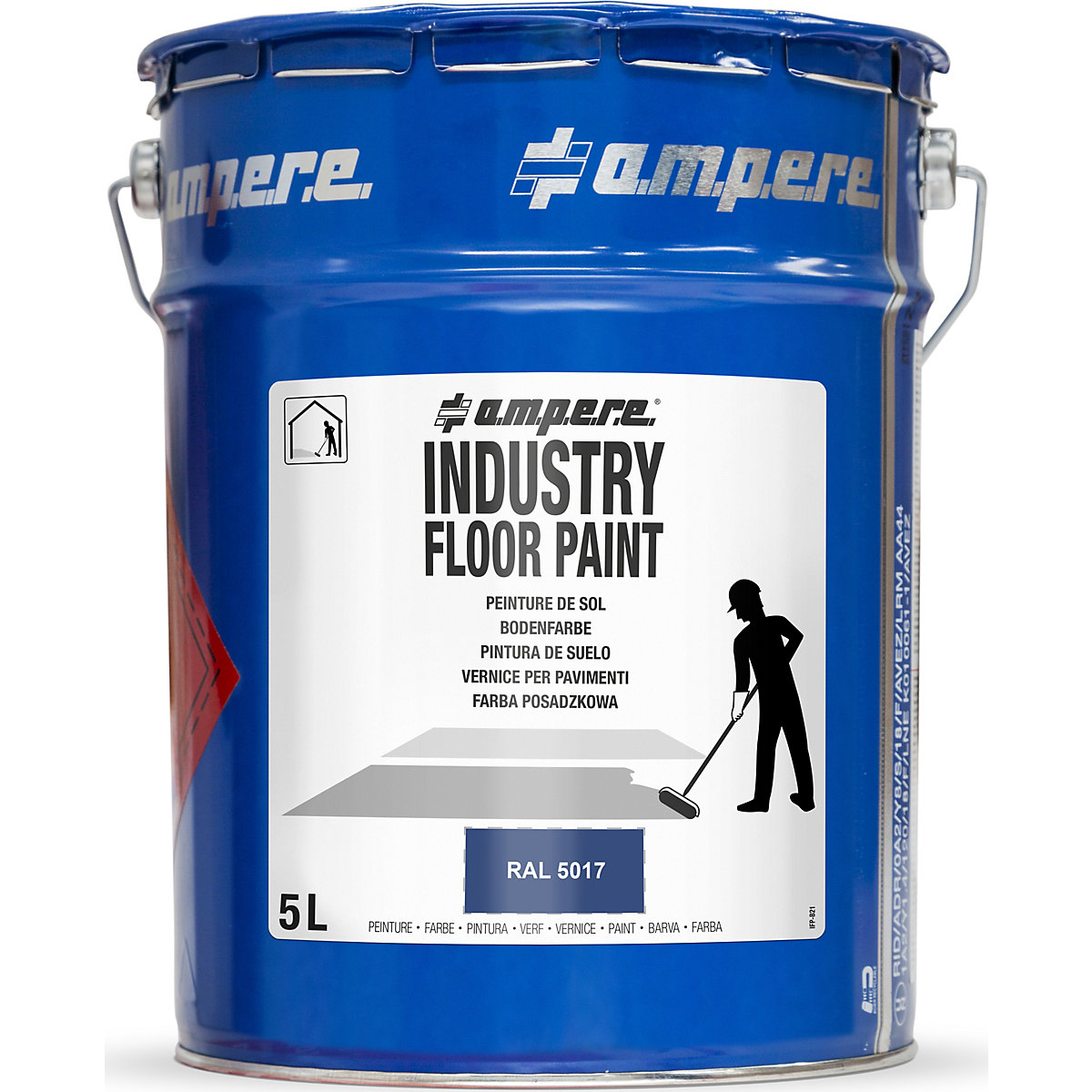 Ref.: 686377 10
a.m.p.e.r.e – Industry Floor Paint® ground marking paint, capacity 5 l, blue
Colour: blue
---
Good reasons to purchase products from us
3 year minimum warranty
30 day right of return
Free delivery
Fast delivery
---
We will be happy to help you
1 800 677 300
Monday-Friday 8am-5pm
Ground marking paint – for indoor use.
Extremely easy to work with, lends the surface a satin finish.
Ideally suited for use on industrial floors, in warehouses, utility rooms, garages, car parks and much more.

Industry Floor Paint® ground marking paint
– Easy to clean
– Does not yellow
– Chemical resistant
– VOC: max. 500 g/l
– Application temperature: +10 °C to +30 °C
– Application by means of a short-haired roller
– Thinning and tool cleaning: Solvent Floor Paint® thinner (see accessories)
– Drying time: dries in approx. 1 hour, can be painted over in approx. 8 hours

Yield: up to 10 m²/l per coat

ATTENTION: prior to application, the floor should be cleaned and any dust be removed.

IMPORTANT INFORMATION ON INDUSTRY FLOOR PAINT®
Test the paint prior to application, as adhesion can vary according to the road surface and weather conditions. When marking sealed or treated surfaces, we recommend testing the paint for compatibility, drying time and adhesion in each case. The surface may need to be briefly sanded back or a primer may need to be used to ensure optimal adhesion. If the surface has not been prepared accordingly, the marking paint may peel off after a short period of time.
For indoor use
Easy to use
Hardwearing and durable
Hazard class GHS02 – flammable, self-heating, self-reactive, pyrophoric, water-reactive, organic peroxides

Hazard class GHS09 – hazardous to aquatic environment

Hazard class GHS07 – Attention, irritating substances

Hazard class GHS08 – health hazard