FIRST absorbent sheeting
sheets, medium version
Single ply – for basic or single use, ideal for emergencies or under machines – open, absorbent fine-fibre texture on both sides
Effective absorption and containment of spillages – preventively or in emergencies
Extremely absorbent – low material consumption, dust free, hardwearing, tear resistant, highly absorption capacity
Made of 100% polypropylene – simple and cost effective to dispose of
Medium for small quantities of liquid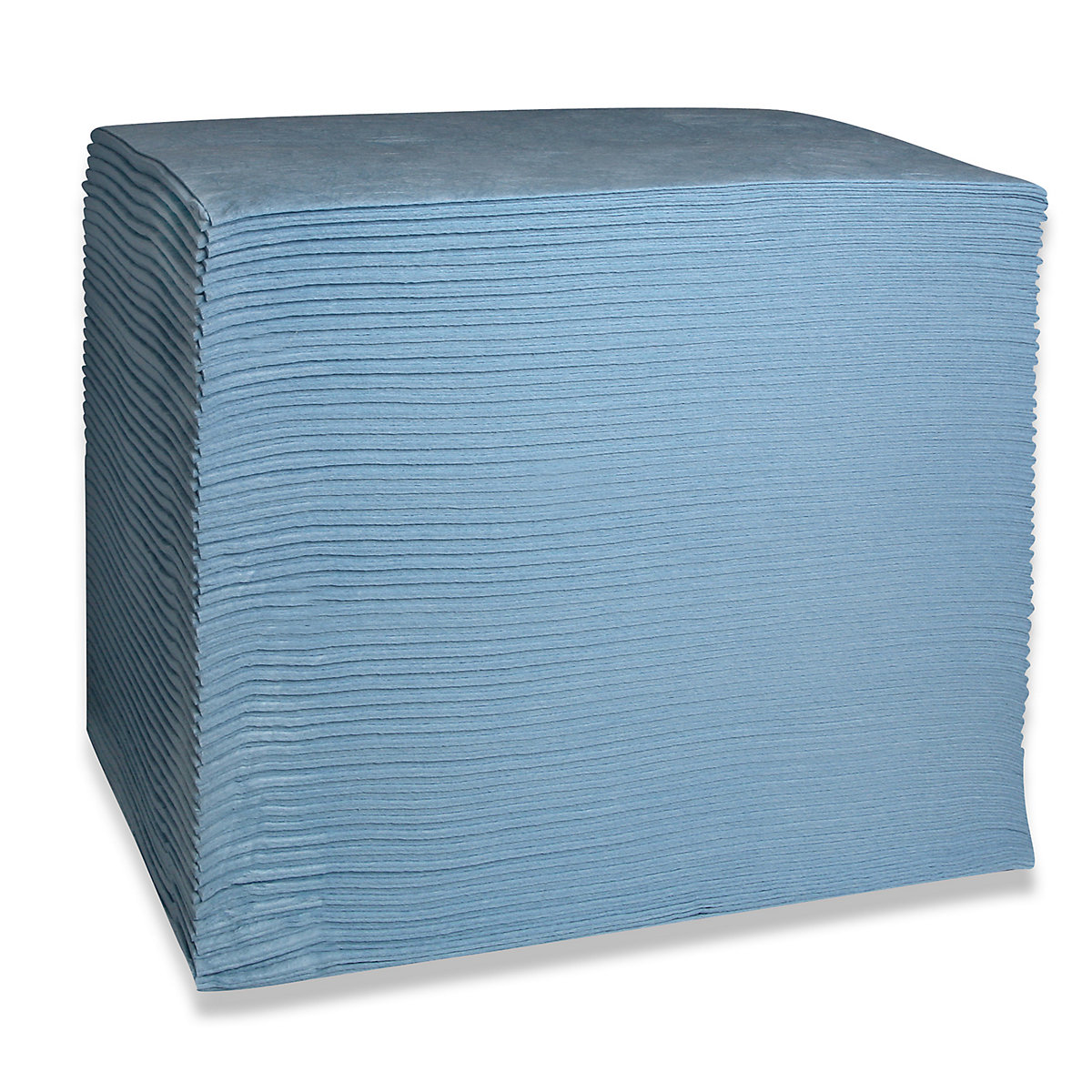 Ref.: 123198 10
FIRST absorbent sheeting, sheets, medium version, for oil, 500 x 400 mm, blue, pack of 200
For basic or single use. Ideal for emergencies and under machines. Open, absorbent fine fibre texture on both sides.

Sheets perforated in centre.
Universal version (grey)
For coolants, solvents, lubricants, paints, oils, water, weak chemicals etc. (absorbs all liquids).
Oil version (blue/white)
For oil, petrol, diesel etc. Water repellent, floats on water. Ideal for separating oil/water.
Chemical version (warning colour yellow)
For acids, alkaline solutions, corrosive media, alcohol etc.
Please request a free sample of absorbent sheeting for testing.
Please specify model: oil, universal or chemicals.
Single ply – for basic or single use, ideal for emergencies or under machines – open, absorbent fine-fibre texture on both sides
Effective absorption and containment of spillages – preventively or in emergencies
Extremely absorbent – low material consumption, dust free, hardwearing, tear resistant, highly absorption capacity
Made of 100% polypropylene – simple and cost effective to dispose of
Medium for small quantities of liquid
Material

polypropylene

Absorption

144

l/pack
Length

500

mm
Width

400

mm
Application

normal

Situation

reaction to leaks (emergency)




leak prevention

Property

absorbent / soaking up

Frequency of use

single

Format

sheets

Sheeting grade

medium

Product type

absorbent sheeting

Supplied

assembled

Weight

7.2

kg
Information on absorbent agents and spillage management products

(DE)
Customers who purchased this item also purchased