Ref.: 703839 10 (rubauni15)
BRUTE® universal container, round – Rubbermaid
capacity 166 l

This label from kaiserkraft evaluates products based on a wide range of sustainability criteria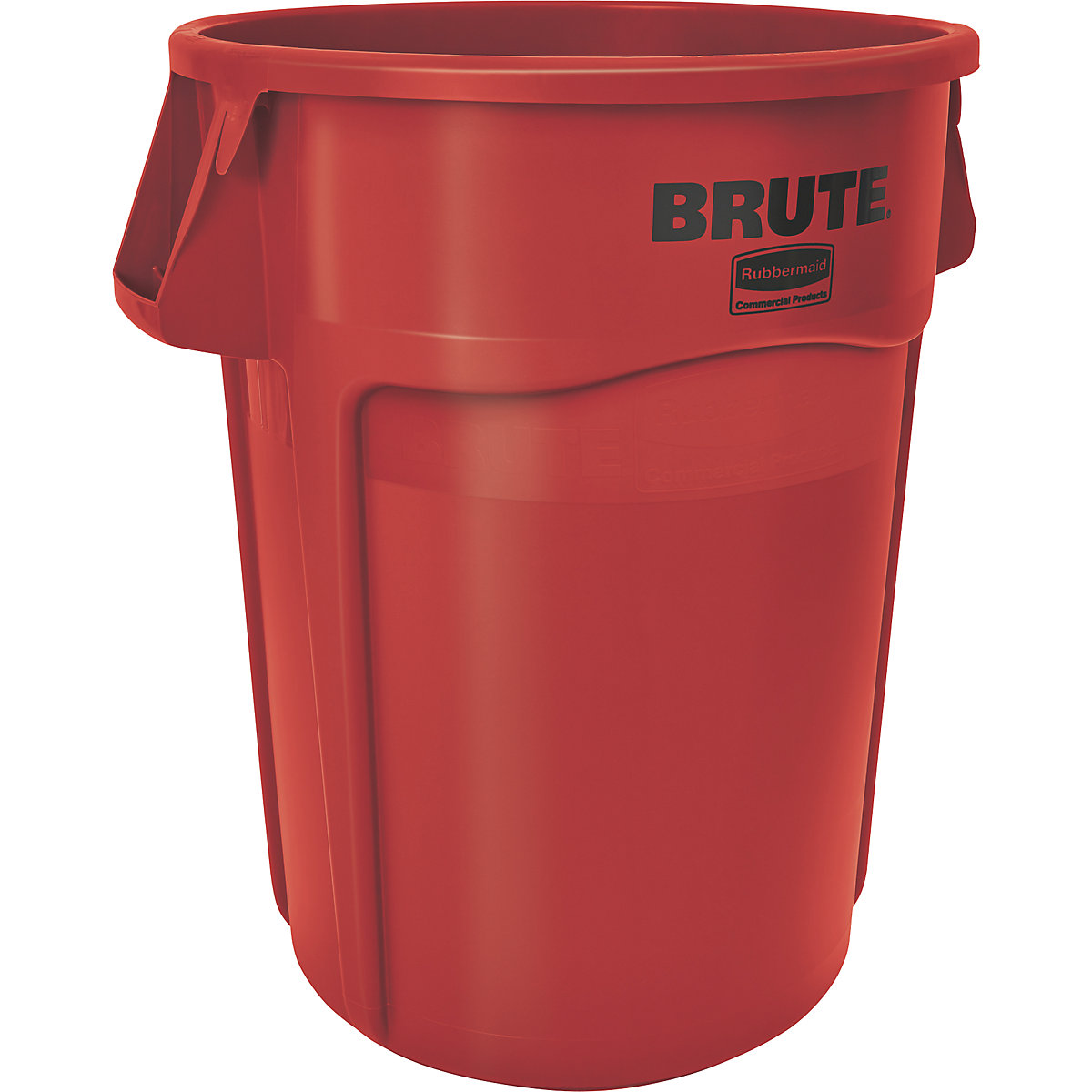 red
---
Good reasons to purchase products from us
Guarantee of up to 15 years
30 day right of return
Free delivery from Germany
Fast delivery
---
We will be happy to help you
1 800 677 300
Monday-Friday 8am-5pm
BRUTE® bins have innovative air channels, making it 50% easier to lift out full waste sacks. This increases productivity while reducing the risk of injury. The integrated clamps make installation effortless and replacement of waste sacks efficient as there are no knots to untie. Tested in 20,000 cycles. The reinforced base is specifically designed for pulling and dragging over rough surfaces and extends the service life, as well as the overall robustness of the bin, even in the harshest of environments. The rounded recessed grips on the bottom provide a better grip and allow ergonomic emptying of the containers. The integrated ribs on the bin rim make the container stable and shatter proof. The stackable system allows for easy transport and storage in small spaces.
Suitable lids available in the webshop.
Also suitable for outdoor use
Capacity

166

l
Height

800

mm
Weight

5.5

kg
Diameter at top

610

mm
Material

polyethylene

Feature

stackable

Temperature resistance

–29 °C to +60 °C

Fittings

safety grips

Cover

no

Product type

universal containers

Supplied

assembled

Colour

red

Material properties

not suitable for foodstuffs

Certificate

Sustainability
Recyclable products are products that can be recycled at the end of their service life, providing they are separated into all their individual components in designated recycling facilities. This means that the individual components are made of materials that can be exploited using the recycling process and be reprocessed into new products. Recyclable products help reduce the environmental impact of waste and to conserve resources.
Enkelfähig
Enkelfähig product
Enkelfähig refers to multi-generational thinking, and reflects the extent to which a product or service contributes to the emergence of a sustainable, social and fair future in which our grandchildren will still be able to live. Enkelfähig asks the same question of every product: will this product help create a better tomorrow for future generations?
The 2 categories in which this product performs particularly well are listed below.
For more information about the product evaluation and the Enkelfähig Initiative, please visit our
Enkelfähig information page
.

Circular economy
A circular economy is an economic system in which waste is avoided and resources are used efficiently by recirculating materials, products and waste in closed cycles and reusing them as raw materials or sources of energy for new products.
This product makes a greater contribution to achieving a circular economy. The greater contribution compared to other products is the result of several factors, including the use of hardwearing materials, the ability to be recycled, and the use of recycled materials in the product design. Sustainable packaging is also factored into any assessment within a circular economy.

Innovation and technological progress
This product scores points within its product group due to the use of an innovative product design or innovative materials that advance product sustainability. Compared to other products, the product utilises, for example, material solutions that are more sustainable, the use of an increased share of recycled materials, or an optimised product design that has a positive impact on the recyclability, service life, durability and therefore the general sustainability of the product solution.
---
Good reasons to purchase products from us
Guarantee of up to 15 years
30 day right of return
Free delivery from Germany
Fast delivery
---
We will be happy to help you
1 800 677 300
Monday-Friday 8am-5pm