MUNK – CLIP-STEP step ladder
double sided access, slip resistant R13, heavy duty
With anti-slip tread cover clip-step®
Flexible adaptation to floor using nivello®
Ergonomic grip zone due to ergo-pad®
Sturdy, permanent step-strut connections
Max. load 250 kg
clip-step tread cover with certified aluminium checker plate



Intertek Germany – tested construction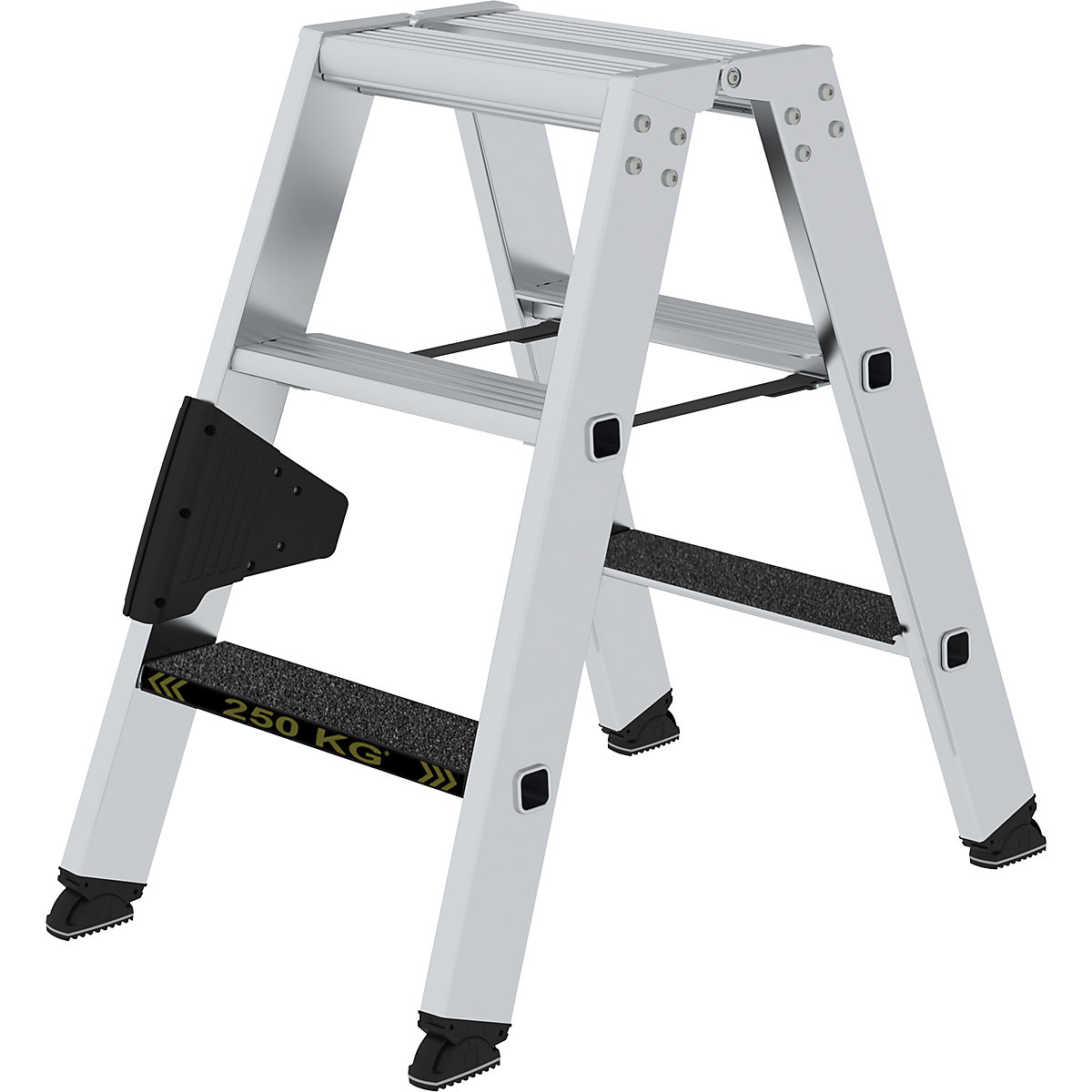 Ref.: 453586 10
MUNK – CLIP-STEP step ladder, double sided access, slip resistant R13, heavy duty, 2 x 3 steps
Price / items (Excl. VAT)
clip-step® is attached to the highest standard step rated for ascent. Step spacing 235 mm. Step depth 80 mm.
Due to the improved, slip resistant properties of the steps, the ladders can also be used in areas where ladders are occasionally climbed with wet footwear, and therefore do justice to stricter requirements of protection against slipping and occupational safety.
Double sided access provides extra flexibility in use. The maximum possible area can be worked on conveniently without needing to move the ladder.

Spread secured from 2 x 3 steps for additional stability. Certified tread cover with aluminium checker plate. For use in wet and oily work areas. Slip resistant in accordance with category R13 and V6 classified displacement area.
Extremely durable.
For professional use in industry and trade.
With anti-slip tread cover clip-step®
Flexible adaptation to floor using nivello®
Ergonomic grip zone due to ergo-pad®
Sturdy, permanent step-strut connections
Max. load 250 kg
clip-step tread cover with certified aluminium checker plate


Intertek Germany – tested construction

Product type

step ladders, double sided

Access

double sided

Access type

steps

Frame material

aluminium

Material of treads

aluminium

Step depth

80

mm
Frame colour

aluminium silver

Feature

folding

Max. load

250

kg
Model

R13 slip resistant

Supplied

assembled

Customers who purchased this item also purchased
Together we are strong: Helpful information about this product.