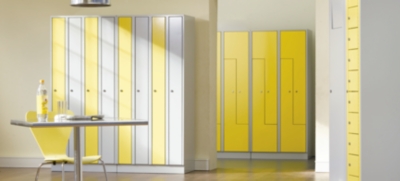 Wolf shop
Cloakroom lockers, clothes lockers, small locker cupboards or laundry distribution cupboards? With a cubic lock box or preferably with a shoe shelf bench? At first, the equipment for a wardrobe or changing room doesn't really sound like a big challenge. But this is a false assumption: common room furnishings are a science in themselves!
This is why it's good that we have EUGEN WOLF. Wolf clothes lockers, Wolf cupboards, Wolf benches – you will find just about everything you need for your common rooms in the product range provided by EUGEN WOLF. You can rely on what will soon be 100 years of experience, as the company was founded back in 1923 by the master mechanic Eugen Wilhelm Wolf in Musberg, near Stuttgart. Initially with a very wide product range, its focus quickly shifted towards steel cupboards as well as assortment boxes and storage bins from 1955 on. It finally specialised in office and company equipment from 1975 on – nowadays EUGEN WOLF Metallwarenfabrik GmbH is considered one of the leading manufacturers of steel furniture in Germany.

Whether you are looking for an add-on cupboard as an accessory, or for an extensive Wolf cloakroom locker – you will find everything you need here in the Wolf Shop!