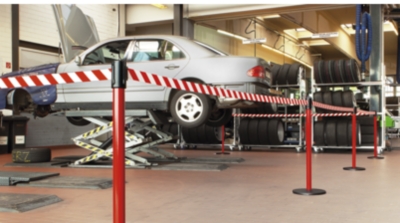 Tensator Shop
We should all be deeply grateful to Tensator GmbH. Why, you ask? Quite simply because the company has been developing guidance systems, barrier technology, belt posts and similar items for more than 50 years. Or, as Tensator itself likes to put it: "We concentrate on making queuing effective." By now, you should be able to understand why we are making a public appeal for appreciation of their products. Because we've all been there: at trade fairs, on open-house days or in front of the coffee bar – everywhere that people form crowds, chaos can quickly erupt when the corresponding organisation is not provided.

A good thing that there's Tensator queuing solutions. The belt systems, partition stands and other customer guidance systems will turn chaos into organisation with a minimum of effort, and are therefore not only popular in the retail sector, in cinemas and museums, but also in banks, restaurants or at the airport. However, when providing their services, Tensator products, like the popular Tensabarrier system, do have to straddle a wide gap: on the one hand, the guidance systems must clearly point the way and prevent jostling, while on the other hand, this must be done as gently and inconspicuously as possible so that people waiting do not feel confined and bossed around. Add to this the high expectations of flexibility, because guidance systems and barriers are often required at different places of use at short notice and should, in the best case scenario, be as quick to set up as they are to pack up again.

Don't worry: Tensator products can be used in your sleep. It's not without reason that the British company with headquarters in Milton Keynes and subsidiaries in France, Germany, Poland, Dubai and the USA are now worldwide leaders in guidance systems. In this sense: place your trust in the market leader and find your new Tensator queuing solutions here!