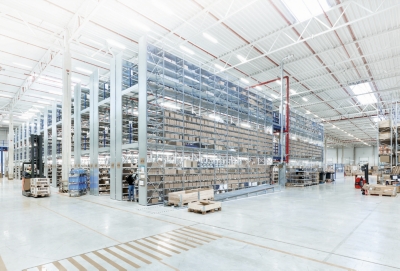 BITO-Lagertechnik
What do metal fittings for leather goods and jewellery have to do with warehouse technology? The answer is revealed in the unusual success story of the warehouse technology company BITO-Lagertechnik Bittmann GmbH. This international industrial firm based in Meisenheim, in the German state of Rheinland-Pfalz, is a leading manufacturer and supplier of all aspects of warehouse technology. It has a long history dating back to 1845, when Leopold Bittmann founded his family company.

The Bittmanns manufactured everything from jewellery to coffee strainers to zips, until in 1959 (with the company now in its fourth generation), Fritz August Bittmann and his father had the idea of producing warehouse technology.

BITO-Lagertechnik Bittmann GmbH has since become one of the few one-stop providers of innovative and high-quality warehouse technology. They develop, manufacture and sell a wide range of products including shelves, containers, picking and transport systems for all sectors. A medium-sized family business, they are also a global player, with local branches in a number of countries and more than 70,000 customers worldwide.

However, the company stays close to its roots – production still takes place at the 45,000 m² main plant in Meisenheim. Here, state-of-the-art, energy-efficient machines manufacture shelving systems ranging from individual shelves to multi-tier units, first-class shelf technology and efficient container systems. And as the name BITO stands for long-term thinking, an innovative vision and a solution-focused approach, there is now an additional production plant in Poland.