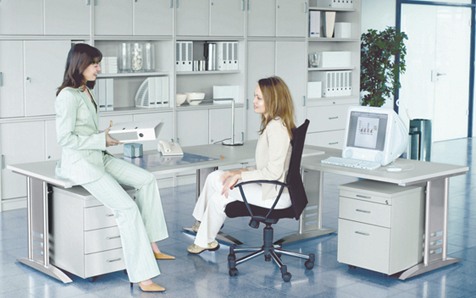 Looking for new furniture for your office?
KAISER+KRAFT can help you select the furnishings that are just right. 
As one of the leading B2B mail order specialists for office furnishings, we do not only offer our customers an exceptionally diverse product assortment and comprehensive product knowledge, but rather an impressive service package as well:
Free shipping
30 day right of return
Fast delivery
3 year minimum warranty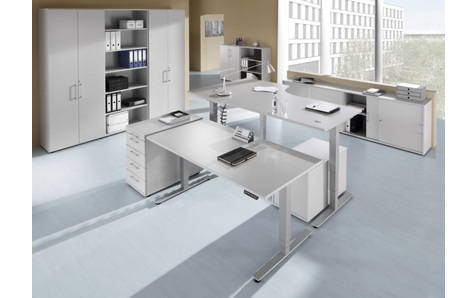 If you are looking for completely new office furnishings, you have come to the right place at KAISER+KRAFT. Here you won't just find all types of office furniture, but rather also be able to select from tastefully coordinated office furniture series as well. When selecting the right products, you may also want to take advantage of our CAD planning service. Our CAD planning team advises you based on your requirements and can gladly help you implement a complete office package. 
We are also happy to offer an assembly service for your new furniture. For only 10 % of the purchase price, we will deliver and set up your furniture, and dispose of the packaging. You can request the assembly service directly from the product by clicking on the field provided for this in the confirmation window.
The office packages shown here are a convenient option for purchasing a complete office with just one click. There are not just desks and mobile pedestals here, but rather filing shelves and office chairs as well – all from a single source and perfectly matched.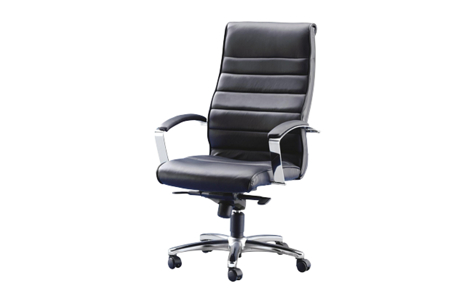 For those who spend eight hours a day at a desk, special consideration should be given to functionality when selecting the right office chair.
Ergonomic swivel chairs are particularly suitable for those who are sitting for long periods. They protect critical areas of the back and make an ergonomically sensible contribution to a sense of well-being at the workstation. Important repetitive movements such as bending or tilting to the side can be supported with an integrated point synchronous mechanism. A three-dimensional dynamic seat joint, as found on operator swivel chairs , guarantees the best possible freedom of movement whilst sitting.
At KAISER+KRAFT you will find a large selection of ergonomic office chairs in different designs and made of a variety of materials. We have put together some of our most popular models for you in this overview. Our complete assortment can be found here:
Desks are a central component in the design of an office workstation. On the one hand, they must facilitate the tasks of the individual worker. On the other hand, they should be visually integrated with the room.
Height adjustable desks offer specific ergonomic advantages, as they can be adjusted for each individual employee.  Corner desks are recommended if enough space is available, as they offer office staff a sufficient work surface and storage space. There is usually even enough space underneath them to accommodate two mobile pedestals.
Combine single desks and extension tables with clever linking elements in order to create individual desk configurations. You can find everything you need for this in the KAISER+KRAFT Online Shop. We have put together a selection of our current desk models for you in this overview. Our complete assortment can be found here: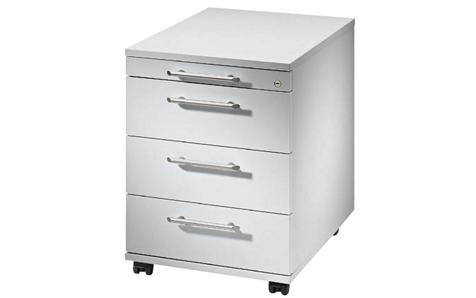 Mobile pedestal are practical aids, which offer additional storage space at the workstation. The functional drawer cupboards can either be inconspicuously positioned under the desk, or placed next to the desk for additional storage space. If the base cupboard does not need to be repositioned, a fixed pedestal may be used instead.
At KAISER+KRAFT you will find desk pedestals with suspension file drawers, utensil drawers or simple drawers for files, books and other work materials. The design of the mobile pedestal can be optimally coordinated with desks and office shelving units from our assortment. This makes it possible to combine single pieces of office furniture to create a coherent, complete office package.
We have put together some of our current models for you in this overview. Our complete assortment can be found here: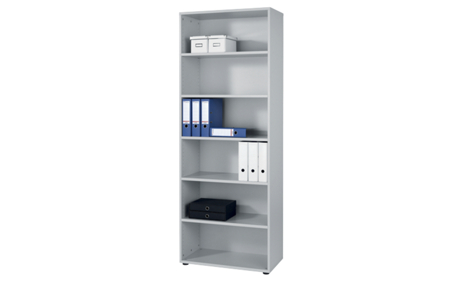 No well organised office can be without office shelving units. They offer storage space for files, documents and books. However, they can also be used for office equipment such as printers, scanners and fax machines. There are shelf units with special cable outlets for these devices.
At KAISER+KRAFT you will find a large selection of office shelf units in different heights, widths and colours. A low height side shelf unit is ideal for use as storage space underneath a row of windows. If limited space is available, corner shelf units offer a space saving solution, which allows for more optimal use of the remaining space in the room. On the other hand, wall shelf units can be used in large offices which require a significant amount of storage space. 
We have put together a small selection of our office shelving units for you in this overview. Our complete assortment can be found here: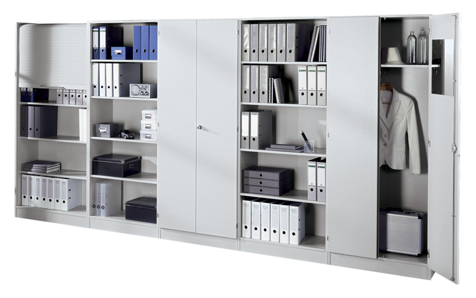 Filing cupboards offer security, organisation and space. Three factors which play a crucial roll in creating a functional office. If the filing cupboards are lockable , they can be used to store important, sensitive documents behind lock and key. If you need quick access to files which are used on a regular basis, consider using  shelf units  with open compartments. 
If it is possible to position an entire filing cupboard unit against a wall, this solution offers the utmost in orderly, well organised storage space. This may also be an ideal location for an integrated wardrobe, or for frequently used utensils such as brooms, vacuum cleaners or watering cans. All of these items can be stored there without compromising the overall appearance of the room. 
We have put together a selection of our filing cupboards for you in this overview. Here you will find our complete assortment: