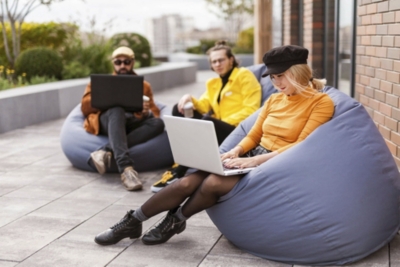 The best tips for the new open air office
Outdoors is the news indoors
2020/07/08
Thoughts stray, eyes are sore, the body wants motion. After hours in an office chair, most employees only want one thing: To get out into the fresh air.

What we know instinctively has long been scientifically proven: A stimulating environment, oxygen, light and physical activity help us stay creative and productive. The idea behind this is not, of course, to offer employees maximum entertainment during their working hours so that they leave their tasks unattended. But: How can an outdoor break be put into practice in everyday working life?
Turn the outdoors into a new indoors: By inviting your employees to leave the office setting with a well-designed and pleasant outdoor area. No matter whether it's a roof terrace, garden or courtyard – every open space opens up a wide range of possibilities, far beyond the mere planning of breaks.
We have compiled the best tips for your new open-air office here.
5 steps for creating an enticing outdoor area
The large corporations are showing how modern outdoor facilities can look: Microsoft and Amazon, for example, installed meeting rooms in tree houses, and Facebook created a large roof garden for its employees. Such large-scale projects are of course not realistic for most SMEs. But even with a smaller budget, the potential of your outdoor space can be fully harnessed.
We will show you which equipment is important and how to design a performance-enhancing and beautiful outdoor area one step at a time. Please do not be discouraged if you do not have a large open space. You will be surprised how quickly a strip of grass next to the entrance can be transformed into a feel-good area. Size is not important either. Rather, what counts is a functional and a well-thought-out design.
1. Furniture: For outdoor relaxation and work
Consider your open space as an extension of your office. The furniture should, therefore, match the other rooms and your corporate image. Hammocks are appropriate in the creative or start-up industries, for example, but are not necessarily the best choice in traditional industries.
Remember also to keep an eye on the intended use: Low lounge furniture is not practical for lunch. Space-saving picnic benches, on the other hand, are more suitable.  
Take note: So that your team can work outside and hold meetings, sockets and Wi-Fi should be available near the furnishings.
Where space is limited, multifunctional furniture gives you more room to manoeuvre. Easily carried chairs can be used for the meeting and then placed in the sun for a break.
Make sure that the outdoor furniture of your choice is not only visually appealing but also robust and weatherproof. A shelter provides additional protection.
2. Shelters: Don't leave anyone out in the rain
If you don't want to go indoors every time there's a downpour, you need a roof over your head. This is especially true for outdoor spaces, which should attract your employees outside, even in bad weather.
Key areas that need cover are bicycle racks, smoking shelters, communal dining and meeting areas.
Shelters extend the life of your furniture and numerous potted plants.
Even if midsummer days in our climate are limited to a few days – shade-giving parasols or awnings are essential. After all, people don't really want to eat or work in the blazing sun for long periods of time.
3. Plants: Minimum fuss, maximum benefit
When it comes to plants, you can easily make use of the full potential: They don't cost much, but they can transform dreary patios or terraces into natural oases in no time. Green leaves and colourful flowers have a positive effect on the mood and improve the feel-good factor. In addition, a larger area can be attractively arranged with plant boxes. Thus they belong in every great outdoor area.
Use small trees and larger plant boxes as privacy screens for meeting areas and to create cosy nooks for your employees.
Planter boxes with castors can be adapted to different needs. On castors, even fragile plants can be easily transported indoors for the winter. Planters without castors look more elegant and durable. Use them where you have the most foot traffic, such as reception.
Grassy areas are extremely multi-functional: whether your employees want to stretch their legs, do a body workout or simply relax, there are plenty of possibilities...
4. Lighting: Making it bright and welcoming outdoors
Good lighting in outdoor areas serves two purposes: Firstly, it extends the time you can use the space. Shorter days in the winter months or evening events outdoors are no longer a problem. Secondly, atmospheric lighting sets the stage for your outdoor areas.
Combine various light sources at different heights with each other. For example, facade lighting via wall spotlights with indirectly illuminated plants and individual light points at ground level. This creates an attractive atmosphere.
If work is to be performed outside, good light in the furnished areas is a must. Battery operated LED lights do not need an electric cord and can be used in a variety of ways.
You are also required to illuminate paths sufficiently for the safety of everyone. This applies especially to tripping hazards such as stairs.
Everyone went home, but the lights are left on? Motion detectors save you the surprise of a steep electric bill. If necessary, you can easily switch them to continuous operation. Solar lights provide an environmentally friendly remedy.
5. Extras: Small details with a big effect
You have found the right furniture, provided lighting, shelter and landscaped your premises? Congratulations, your basic framework is in place. What is now missing are small but effective accessories and equipment to give your outdoor area the finishing touches.
How frequently your outdoor space is used by employees depends mainly on its ambience. How do you create a pleasant atmosphere? It's easy: provide cushions, blankets and lanterns. How about a bar for drinks or a table tennis table to liven up the area? Decorative objects, water features, a nice basin or a work of art can also enhance the outside area.
Integrate bicycle racks into your design scheme. The advantage? All bicycles are neatly and safely stored and your outdoor area looks more spacious and professional without randomly placed or overturned bicycles.
Banana skins, food wrappers, cigarette ends – waste is constantly being produced, even outdoors. Place litter bins and ashtrays in strategic locations to keep your outdoor area clean and inviting. Fire-resistant and flame-extinguishing models increase fire safety.
Grit containers and salt spreaders make your premises fit for the winter. This means that your employees can enjoy fresh air even in frost and icy conditions.
Keep in mind! During the planning phase, please ask yourself the question: How will the area be used? Your answer to this question is crucial for the final design. The following aspects could be on your list: Our Outdoor Space should …
To enable workers to exercise
Have spaces that encourage creativity
A place for colleagues to have lunch together
Appropriate for outdoor meetings
Reflects the corporate image
Will be a good substitute for the desk in summer
Can be a space for hosting after-work events
Instigates informal discussions
Tip: Involve your employees as well. Perhaps there are ideas that you hadn't considered at first.
Relax outside and recharge your batteries
Actually there is only one golden rule for your break: Leave the desk! Whether your employees do the same or prefer to spend their time in front of their computer screen or eat in the break room is something you will unfortunately hardly be able to influence – because breaks are leisure time. Therefore, you cannot predefine how the ideal break should be arranged, but you can set a good example.
To really get your head clear, you should leave the building. Walking helps to think more clearly again. Stress levels are also demonstrably falling. In winter, walking becomes even more important to get more daylight and to dispel the gloomy mood – by the way, this even applies when the sky is cloudy. And for those who prefer to stay indoors, please keep your hands off the telephone, e-mails and the Internet. It's better to step on your feet because exercise is good for every break and especially for you.
2. Not (only) talking about work
Filling up with positive energy and returning to work with good thoughts, unfortunately, does not work if you spend the break talking about work, brooding about work and scolding about work. Instead, keep up your social contacts, talk about the weekend or sports that interest you. Do everything you enjoy – just don't talk about work.
Those who take regular breaks and eat consciously and slowly will get through their working day better and more relaxed. When hungry, many people quickly become unfocused, irritable and less efficient. Not to mention the ravenous appetite attacks, which are never particularly healthy. And please never forget: the world does not end in 5 minutes.
Power napping is considered to be the ultimate way to "sleep" quickly in order to become powerful again more quickly. But please never stay longer than 20 minutes: Alarm clocks are obligatory because from 30 minutes the deep sleep phase can already begin. To be torn out of deep sleep would be counterproductive during a power nap.
Experts say that these short breaks are useful – for example, to exchange ideas with colleagues and strengthen the relationship, or to close your eyes and take a deep breath.
Keeping your premises safe & clean
Your outdoor area will only be shown to its best advantage if it is always maintained and cared for. To ensure that you and your employees can use the outdoor area without hesitation, you should also consider a few safety aspects.
The outdoor facilities are exposed to the weather conditions for better or worse. Covered areas allow your employees to enjoy the fresh air even in strong sunshine or bad weather. Roofed areas and shelters protect smoking areas or bicycle parking lots from wind and rain. Awnings and parasols provide effective protection for your seating.
In order for your employees to feel comfortable outdoors, safety must always be guaranteed. High hedges, fences and walls not only protect against prying eyes but also against unwanted intruders and vandalism. In winter, when snow and black ice are present, it is important to prevent your employees from slipping. To do this, you should equip yourself with gritting material, gritting trucks and grit containers.
Only a well-tended outdoor area makes a good impression. That's why you should take the care necessary for proper office cleaning outside and keep your outdoor area clean all year round. It is also worth laying out dirt-trapping mats to prevent dirt from being carried from outside to inside.
Even if the days are getting shorter, your employees should be able to use the outdoor area. Therefore, good lighting is essential. After all, no one should stray from the path or get injured in the dark. Solar lights are particularly practical here, as they do not require electricity.
The non-smokers among your employees should not have to stand permanently in smoke when they spend time outdoors. Therefore, it makes sense to create a separate smoking area. Equip these with ashtrays, this way, you can ensure that cigarette butts do not soil your paths and entrance areas.
Tip: Include your employees as well. Perhaps there are needs that you would not have thought of initially.
We would be happy to help you find the right products for your grounds. We are available to answer your questions free of charge on 1 800 677 300. Or send an e-mail to sales@kaiserkraft.ie