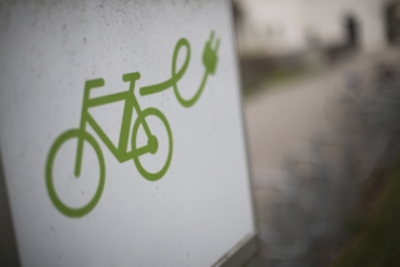 Time to take the load off your legs
2021/02/24
Whether it's a cargo bicycle, an e-cargo bicycle or an e-scooter, the classic pushbike has long been superseded by larger, more sophisticated and, above all, much more powerful rivals.
It's hard to imagine a city where there are no cargo bicycles and e-cargo bicycles. Besides, they are becoming increasingly popular as a practical way of getting around and which combine a new experience of cycling with riding fun and with straightforward use. They are also being used more and more often as an alternative way of commuting to work.

This is also a great development that's helping to promote e-mobility, while also underscoring the keen interest that many countries are now showing in new technologies. This provides further encouragement for customers to invest in this technology, on which development is continuing. Technological achievements in terms of battery costs, battery capacities and charging power are also making electric vehicles more affordable and attractive overall.

It therefore shouldn't come as a surprise that a recent study by statista.com revealed sales of cargo bicycles more than doubled in Europe between 2018 and 2020. Sales are expected to continue increasing. Is this surprising? No, because the benefits of this innovative means of transport are plain to see.
What are the advantages of a cargo bicycle?
Speed and flexibility
Compared to using public transport, for example, cargo bicycles offer far more flexibility. After all, they allow you to decide for yourself when exactly and from where the trip should start. And what about getting stuck in traffic? This frustrating experience has been banished to the history books – just like the search for a parking space.
Sustainability and environmental awareness
Anyone who rides a cargo bicycle instead of driving a car is, by doing so, helping to avoid damaging the environment. Because cargo bikes and even e-cargo bicycles produce no emissions, they are efficient and even help save money – after all, they don't need petrol.
Keeping fit and healthy
Anyone who assumes that riding an e-bicycle is something that only lazy people do is wrong. Because like when cycling "normally", riding a cargo bicycle or e-cargo bicycle also keeps you fit and healthy – and is good for the cardiovascular system, muscles and joints. The electric drive only needs the support of your own muscle power when pedalling.
Practical aid and effortless transport
A cargo bicycle lets you transport everything you want quickly and flexibly in everyday life, on the way to work, or even during work. And you can also cover longer distances and ride up hills – even with a heavier load.
The different types of cargo bicycles
(Basic) cargo bicycles/e-cargo bicycles with luggage carrier
Multitrack cargo bicycles/e-cargo bicycles (with 3 wheels)
Single track cargo bicycles/e-cargo bicycles (with 2 wheels)
Cargo bicycles/e-cargo bicycles with carrier at the front (also for child passengers)
Commercial cargo bicycles/e-cargo bicycles
Cargo bicycles/e-cargo bicycles for courier or delivery trips
The advantages of company bicycles. Or: why more and more companies are rethinking their operations
Companies also want to keep up with the times, look after the environment and keep their employees healthy, and company bicycles are becoming increasingly popular for this or, when it comes to in-house operations, cargo bicycles. They can also be used within the company grounds, for example, in order to cover longer distances, or ones covered frequently, more easily and with less effort.

To ensure employees also make the most of the opportunity to actually use their company bicycle to ride to work, you'll need to make sure you have all the infrastructure needed for them. KAISER+KRAFT has a range of ADFC certified bicycle racks, bicycle lockers and solutions to park bicycles securely. Whether with ground-mounted bicycle racks, parkers with frame rests, or wall-mounted racks – or for single use or for connection in rows – as well as covered bicycle garages. Why not see for yourself?
So what are you waiting for? You can put your trust in these company bicycles
Frequently asked questions and answers
How hard is it to ride a cargo bicycle?
Anyone who has been for a ride on a normal bicycle can also ride a cargo bicycle. When riding an e-cargo bicycle, all you have to do is push a button to start the ride. Only the faster cargo S-pedelecs, which can reach speeds of up to 45 km/h, require you to have a driver's licence.
How can I charge my e-cargo bicycle when I'm out and about?
Most cities have charging stations for e-bicycles, where the battery can be recharged. Because the demand for charging stations for e-cargo bicycles is growing steadily, the number of charging stations is too.
Does a cargo bicycle really provide support?
This question can be answered with an unequivocal "yes". A cargo bicycle makes it so much easier to transport items within the company. And it's easy to run errands with a cargo bicycle in your free time, as they feature a practical carrier that is ideal for transporting bulky backpacks, shopping bags or luggage.
Contact us!
We are available to answer any other questions, free of charge.