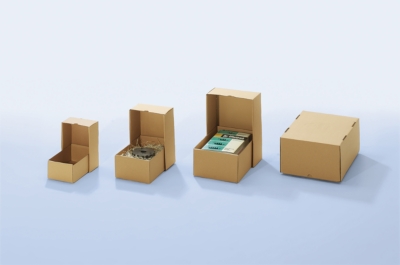 The right way to package goods!
2020/04/28
Sound familiar? The post is there and the package has arrived – dented, crumpled and torn open. "Well let's just hope the contents are OK." The delivery agent is not necessarily to blame for mishaps like this. Sometimes it's just the wrong packaging. Cardboard boxes that are too large or too thin, too little padding and too much moving around by the contents of the package.
You probably already know what you need to pay attention to when it comes to packaging materials, and how you can prevent a scenario like the one described above. Despite this, we would still like to show you the six key steps for packing your parcels perfectly for their journey.
Weighing and packing – using suitable cardboard boxes
Start by weighing your goods – don't skip this step. It will save you postage and additional costs, because you can use a lower quality cardboard if the contents are light in weight. The same applies to everything that is not fragile. Heavy and fragile items, however, require particularly resilient and multi-layered cardboard boxes, the weight of which may then affect the price of postage.
Compact scales, tabletop scales, counting scales or platform scales allow you to weigh objects big and small, heavy and light, right down to the exact milligram.
Whether folding cardboard boxes or moving boxes, whether a dispatch bag or cardboard box label, the products on your packing table should be large enough to pack a wide range of objects properly.
2. Supporting and protecting – building up padding
How many items should be in the parcel and how susceptible to damage are they? The answer will decide the type and quantity of the protective materials you use. Fragile items must be well padded: using bubble wrap and foam film, or corrugated cardboard and packing paper as well. Nothing should be able to slip out of place, so that neither the side of the parcel nor the rest of the goods to be shipped can be damaged. Surface protection nets prevent unsightly scratches and dents.
3. Packing and bagging – putting things in pouches
Are you adding documents or products that are susceptible to damage to the package? You can provide them with excellent protection using bubble wrap bags and pressure seal bags. Small parts won't be lost in flat bags and documents won't get bent. We also offer document pouches for delivery documents.
4. Sealing and sticking – closing the flap and gluing it shut
The complete parcel is sealed using the appropriate adhesive tape from a dispenser, using gummed sealing tape, or by using a stapler. Warning tapes and labels help keep goods susceptible to damage safe.
5. Stretching and shrinking – stabilising is half the work
To ensure that nothing slips out of place when there are several parcels on a pallet, everything is wrapped tightly in stretch film using a machine or handheld dispenser. Shrink film helps with bulky goods for shipment without a cardboard box; it envelopes and protects the goods on the pallet. Protective corners and edge protectors provide additional safety.
6. Strapping and loading – rounding it all off
Strapping allows a better distribution of weight and better balance when loading. This makes transport damage less likely, no matter how much trucks or containers are jolted. Depending on the weight, size, type and storage location of the goods for shipment, there are different types of strapping along with the corresponding tensioning and sealing tools. The product range extends from PP and PET through to textile, fabric and composite strapping, as well as polyester and steel strapping.
Not only are all types of strapping available from us, but also the requisite tensioning and sealing tools. We're also happy to offer them to you in a set.
Contact us
We are available to answer any other questions, free of charge.