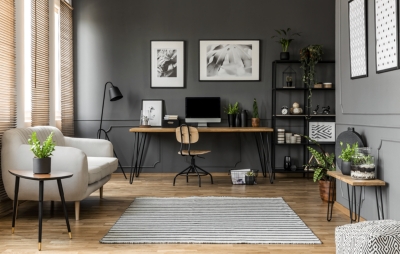 11 tips for working from home successfully
2020/08/31
More and more companies are offering their staff the option to work from home. But this brings its own challenges. In order to be really productive at home, it's not enough just to sit down and flip open a laptop. Home workspaces should be well set up and the working day well organised so that staff are able to establish a new working routine.

To make sure that you and your staff can work effectively within your own four walls, we provide you with useful tips on how to kit out your workspace, organise your working day and work together virtually with your colleagues.
Essential equipment for a home workspace
First of all, you should find an area of your home in which can concentrate and where you can have good posture whilst working. If you set up your workspace well, it will be easier for you to make the mental switch to "office mode" when you sit down to work, and allow you to switch off again at the end of the day. These four tips will help you to get to grips with the challenges of working from home:
1. Find a suitable space to work
Going from the kitchen table, to the sofa, to a garden chair certainly adds variation to your day, but isn't conducive to concentration. A more effective arrangement is to have a designated workspace in your home.

A separate office or study is of course ideal, but not always available. Instead, you can create a separate area to work in using partitions such as plants, bookshelves and dividers. These provide a visual separation between your workspace and your living space.
2. Make sure you have a good amount of light
Like an office, a home workspace should have optimal lighting. Daylight is ideal, but shouldn't be too bright. Use curtains and blinds to block out dazzling sun rays.

Watch out for glare! Make sure that your windows are not reflected on to your computer screen, as this will tire out your eyes more quickly. It is best to have your monitor positioned at right angles to the window.

If you have insufficient daylight, a desk lamp can help. This should have light intensity of at least 500 lux. Find out more about smart lighting concepts for every workspace here.
3. Choose a comfortable office chair
Just like in the office, when working from home you'll spend the majority of your time sitting down. So it's essential to have an ergonomic office chair that supports your back.

Unlike in the office though, you can choose the chair yourself rather than using a standard model provided by the company. This is an important point, since the right office chair is different for different people. Find out here how to choose the right office chair for you.
4. Make sure you have the equipment you need within easy reach
It is easy to underestimate how many things you need in order to work efficiently and productively. There are things in the office that you probably take for granted, but that can become a challenge at home.

For example, you need to be able to access all programs and the company's internal network using your home WiFi. You should have a headset on hand for video conferences and a printer that is properly connected to your computer. That way, you won't waste time and energy looking around for the materials you need.
How to organise your working day effectively
Once you have a properly equipped home office, there is nothing to stop you having a productive day at work. At least in theory – the reality is often a different matter due to distractions and a lack of routine. The following four tips help you to organise your working day at home effectively:
When you are working from home, it's all too easy for the boundaries between work and leisure time to become blurred. Without the daily commute, there is no spatial separation between your home and your workplace.

In order to counteract this, try setting fixed start and end times for your work day. Tell your family members when you will be "at work" so that they know not to disturb you and disrupt your concentration.
2. Wear appropriate clothing
It is tempting to spend the whole day in pyjamas or a dressing gown. But remember that what you wear affects how you feel. It's hard to be truly productive when wearing your PJs.

Of course that doesn't mean you have to wear a suit or a smart dress. But it's a good idea to dress in comfortable clothes in a style that you would also wear to the office. Then there's no need to panic when the boss suggests a spontaneous video call.
The same applies whether you are in the office or at home: take a break before your concentration lapses. You should take a five-to-ten-minute break following each hour of concentrated work. Don't stay sitting at your desk – instead, get up, walk around the house, open the window to let some fresh air in.

Do you often feel lethargic after lunch? How about taking a 20-minute power nap to get through that early afternoon slump and re-energise you for the rest of the day? Don't let yourself sleep longer than 20 minutes though, otherwise you'll go into a deep sleep.
Working from home means you avoid certain distractions: that particularly chatty colleague, for instance. But there are other ways you can get distracted at home: there are dishes to wash in the kitchen, you could switch the TV on at any time, and that exciting book you were reading last night is just waiting to be picked up again.

To make sure you can really concentrate on your work, these distractions need to be removed. Keep your smartphone, tablet and books somewhere out of the way and switch off all notifications if possible.
How to work with your colleagues virtually
When everyone in the company is working from home, working together as a team can be challenging. These three tips will help you to cooperate successfully even when you are all in different locations.
1. Use collaboration tools
If you're working at home, you can't just pop to the next door office to ask your colleague an important question. The way you communicate and work together with your team needs to change.

Luckily there is a range of useful tools designed to make remote collaboration easier. Here are some of our favourites:
2. Create the right expectations
In the office, working hours are clear: everyone tends to take breaks at the same times and if someone is not in the office, they are probably in a meeting or have gone home early that day. When everyone is working from home, it is not as easy to work out who is available and when.

To avoid causing annoyance within your team when you don't respond immediately to an urgent message, you should be clear about when you will and won't be reachable. Communicate to your colleagues when you are available in the chat and for video calls, when you want to work without interruptions and when you won't be at your desk. Your colleagues will learn to respect these boundaries.
3. Schedule in time for socialising
Don't underestimate the importance of short informal conversations and personal chats between colleagues. This is often the first thing that we miss when we start working from home – some of us can even feel quite lonely.

To counteract this, be sure to schedule in time for coffee and a chat. That could be a 10-minute phone conversation or a short video call with your favourite colleagues.
Contact us!
We are available to answer any other questions, free of charge.