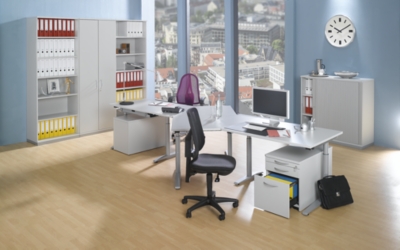 2020/04/08
Ergonomics in the workplace
Ergonomic sitting is very important, if personnel are to remain symptom-free and be able to concentrate on their work. An orthopaedic office chair is therefore the ideal choice for office workstations.
Incorrect sitting posture in the workplace has consequences
Health problems
Over the long term, working all day in a sitting position can be a significant strain on the back. Classic symptoms such as tension/cramps in the neck area and back pain are the precursors of worse disease patterns and should not be taken lightly. As a result of prolonged incorrect sitting posture, some muscles can be stretched less than others, which are kept under constant strain. This can even lead to chronic pain, which is difficult to remedy and prevent from recurring. 
Personnel should also not always sit straight as a ramrod, because a prolonged straight sitting posture ultimately has a negative effect on the spine and can even result in intervertebral disc problems. Additional side effects, such as tension headaches, vision problems and sensitivity to noise begin to accumulate if the precursors are ignored. The importance of not allowing the body to remain in a static position for hours at a time is often only noticed after it is too late. 
Consequences for the employer
Working whilst in pain always means a loss of performance and productivity. Sick days also begin to add up and this costs the company money. Good business process management aims to prevent these consequences. As a company, you want to reduce absence.
Incorrect sitting posture and the resulting absence from work due to illness result in the loss billions of pounds every year.




Choosing the correct chair increases the sense of well-being and therefore substantially improves the performance of staff.
Ergonomic sitting made easy
The first important step is accomplished by using ergonomic swivel chairs, point synchronous mechanisms, knee rolls and sliding seats. Ergonomic office chairs support proper sitting posture and promote healthy movements whilst working in a chair. It is thus a worthwhile investment for a company to provide its office workers with orthopaedic office chairs. An ergonomic swivel chair then only needs to be adapted to the body size of the user.


Ergonomic office chairs move together with the user. Due to the dynamic which arises when sitting in these chairs, it is impossible to remain in a static position for longer periods of time, at least not without effort. Users no longer need to remember to move around on occasion, it simply happens, and usually without even thinking about it. The flow of work is not interrupted, but rather even facilitated. Sitting is no longer just sitting, as the mechanics and the shape of an office chair promote dynamic and healthy sitting.
Rocking, wobbling, turning and sliding are expressly allowed, if you use ergonomic office chairs.


Explaining how to get the most out of ergonomic office furniture also provides additional motivation for employees.


Once the seat height, back rest and knee roll are correctly adjusted, simple stretching exercises can also be integrated into the everyday office routine.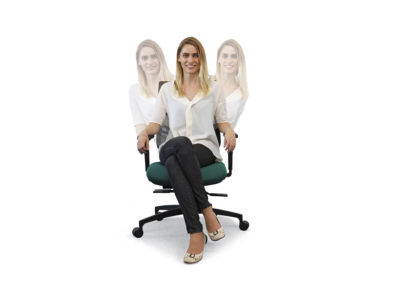 In between standard swivel chairs and leather armchairs, there are different models of office chairs with different quality characteristics. All office chairs found here in the webshop are manufactured in accordance with DIN EN 1335 parts 1 – 3. They are designed for a constant load of up to 120 kg and are equipped with a safety gas pressure spring for adjusting the height.


Standard office chairs with lumbar support and back rests with adjustable height and inclination protect the most important muscles and joints and are a good choice for employees who only sit on occasion.


However, those who sit frequently for long periods of time need ergonomic swivel chairs and operator swivel chairs. Here lumbar support and adjustment of the back rest is provided by an ergonomic seat, adjustable counter pressure, synchronous/permanent contact mechanisms and height adjustable arm rests.


Additional information about the types and functions of swivel chairs we offer can be found in the encyclopaedia of healthy sitting in our purchasing guide.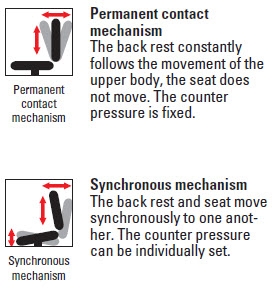 In the webshop you will find quality features in the form of small descriptive images for the products.







This enables you to see, at first glance, which functions are provided by the respective office chair.
Irrespective of the office workstation, healthy sitting can be further improved when personnel occasionally stand up. In order to better implement ergonomics in the workplace, we also recommend height adjustable desks as a complement to ergonomic office chairs. This enables optimum adaptation of the working height to the individual body size of the respective user. One such product that we highly recommend is the Upliner 2.0 desk with electric height adjustment. With this desk, you can move office chairs to the side on occasion and perform some tasks from a comfortable standing position.