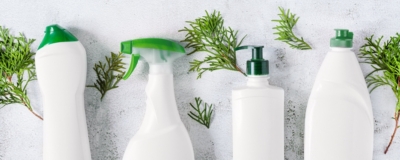 A clean business. How to clean your office in an environmentally conscious way.
2021/01/22
Climate protection is the biggest challenge we are currently facing. According to a calculation by the Federal Office of Statistics, companies in Germany spent around €30,000 million on environmental protection in 2010. Six years later, this figure had increased to €41,118 million. This goes to show: environmental awareness of companies is on the rise. 
There's plenty of approaches to office cleaning that allow you to get the job done in an environmentally conscious manner. And most of them don't involve any additional effort or additional costs. Just as well, because in the end everyone benefits from sustainability in office cleaning:
the employees who then get to work in an environment conducive to good health
the company that does something for its image with a clear conscience
the environment that is spared additional damage.
This article gives you an overview of how you can benefit from environmentally conscious cleaning measures in your company. We also explain the requirements for sustainable cleaning, and give you a practical check list that will help implement the measures necessary right away.
Why should cleaning be sustainable?
Have you ever looked at the label of a conventional all-purpose cleaner? It's teeming with warnings and symbols that depict dead fish and draw attention to all the toxic or corrosive substances contained.


All these harmful chemicals do not simply disappear into thin air once you've finished cleaning. Instead, they end up in the environment together with the mop water that was poured down the drain. The use of environmentally harmful cleaning agents in particular can therefore harm people and nature. 


There's a lot you can do in the office by taking an ecologically thoughtful approach. Switching to environmentally friendly cleaning products may seem like a drop in the ocean to you.


In reality, however, even seemingly small measures can have a big effect. Last but not least, you'll also benefit from a number of positive effects it will have on your company. Your advantages at a glance:
Well-being & productivity
Harmful to the environment usually also means harmful to human health. Over the course of the working day, your employees are in constant contact with the cleaned surfaces, inhaling the chemical agents that the cleaning agents contain. This means that toxic cleaning agents have a direct impact on the health of your employees. Both customers and employees have a sense of well-being in an environmentally conscious workplace. This also has a positive impact on the productivity of the employees in the long run.
Competitiveness & legal certainty
Environmental protection is becoming an increasingly decisive competitive factor for companies. Employees and customers are paying more attention to whether basic environmental standards are being complied with. In their private lives, many people care place importance on the sustainable use of resources. They can therefore identify better with a company that shares these same values – a factor that is crucial to your level of customer and employee loyalty! 


It also keeps you on the safe side, legally speaking: after all, by complying with environmental guidelines, you prove that you care about the well-being of your employees and customers.
Do good, but don't blow your own horn? When it comes to environmental protection, false modesty is the wrong approach. Talk about it openly, and leverage your commitment by making it a key building block in building your image. Even define it as a core company value. This will make your company a role model for others and make it attractive to potential employees and customers.
Important areas for environmentally friendly cleaning
Cleaning the surfaces
Floors, desks, cupboards, printers, sanitary facilities – these surfaces are where most cleaning is done.
Organisation and waste management
Anyone who has ever tried to wipe down a messy desk knows: good organisation helps keep things clean. You can also be environmentally friendly when dealing with waste.
Air purification
Some contaminants aren't immediately visible. Keep an eye on the quality and purity of the air you breathe.
Requirements for sustainable cleaning
When it comes to cleaning, use the following as a guiding principle: as clean as necessary, using as few resources as possible. What does this actually mean, though? 
Of course, standards of hygiene must be maintained at all time. No one has a sense of well-being in grubby rooms. In areas that are used by many people in particular, diseases can spread quickly. However, don't overdo it with the cleaning. Harsh substances and excessive cleaning rosters add chemicals to indoor air, the water, and employees' immune systems.
Using as few resources as possible:
When it comes to cleaning, work processes should be structured so that very little plastic, electricity, water and cleaning agents are used overall. Read our practical check list for environmentally conscious cleaning to find out how to do this.
Biodegradability: the gold standard for cleaning agents
Cleaning agents are often toxic to aquatic organisms. Surfactants, the active cleansing substances, remain in the environment for a long time. To clean sustainably, it is therefore important to pay attention to the biodegradability of the cleaning agents. There are a number of eco labels, such as the "Blue Angel", which provide guidance when shopping.
Check list for environmentally conscious cleaning
You probably won't be the person who personally cleans the entire office. But as the person in charge of this area, you have a lot of influence. This starts with the selection of the cleaning company or staff. Observe environmental standards and talk to the staff about them. In many cases, they will be open to your suggestions.
Use the right cleaning product
Make sure that the item you are using is optimal for the purpose you have in mind. Speaking simply, this means: don't let your cleaning company wipe down desks with kitchen paper; there are much more efficient and resource friendly materials for this. In addition, harsh disinfectants do not have to be used everywhere. Often, a gentle cleaning agent with an eco label does the job just as well.
Use cleaning agents sparingly
In many cases, far too much cleaning agent is used. Just because it smells strong and foams, this does not automatically increase the cleaning power. Pay attention to the manufacturer's recommendations – often just a few drops in an entire bucket of water are enough. The right dosage saves money and prevents contaminating the sewage system.
Invest in high quality fibres
Mechanical action can also help to reduce your use of chemical cleaners. The material used to make the cleaning cloth plays a big role here. Dirt can be removed by the cleaning motion alone, meaning sometimes no chemicals are needed. High quality microfibre cloths can be washed at high temperatures and therefore be reused for a long time. On the other hand, you should avoid using disposable items such as screen cleaning cloths or disposable dust wipers.

Make it easy to keep things clean
There are many smart approaches to managing dirt or preventing it from accumulating in the first place. How about, for example, an anti-dirt system in the entrance area? Or devices that produce little dirt and clean themselves? A pretty cleaning cloth next to the coffee machine that will encourage employees to clean up after themselves when small spills occur? A storage system for the desk also makes it tidier and helps to keep things clean.
Don't forget about the air you breathe
As already mentioned, the cleanliness of the air also has a great influence on well-being. Aggravating vapour, high levels of particulate matter and simply stale office air – all of these factors can be avoided in an environmentally conscious way. Inform your staff about the correct way to air rooms out, avoid unnecessary sources of dust and air pollution in your office equipment and invest in natural air fresheners such as plant and water walls.
Does this document really need to be printed out? Simple questions like these help to reduce waste in the office. Basic waste separation and the correct disposal of hazardous waste should be standard practices, just as they are in private households.
Sustainability is also a key focus for us at KAISER+KRAFT. Take a look at our sustainability pages and find out how we protect the environment at KAISER+KRAFT!