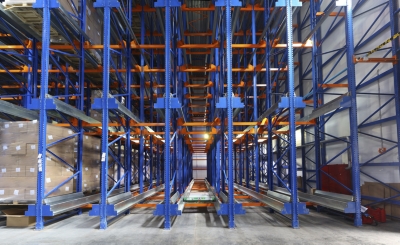 Save money and obtain more time
6 tips for efficient warehouse management
2020/08/31
Regardless of whether it's a simple postroom or a high-tech hall – the materials warehouse is the hub of activity at your business. This also makes it one of the main cost factors. Added to this is the fact that small and medium-sized companies in particular often invest a lot – too much? – working hours in warehouse management.
Whether you organise your warehouse and the processes carried out there efficiently impacts the entire value creation chain. This is why regularly scrutinising your warehouse management and modifying it when necessary is of key importance. Your goal: a suitably equipped warehouse that saves you money and saves you time.
What requirements do SMEs have of their warehouse management system?
Medium-sized companies do business differently to large corporations. They therefore have specific requirements of an optimum warehouse:
The warehouse should function with a small number of staff
Even confined spaces should be utilised in the best possible way
Unnecessarily high costs due to material storage need to be avoided
Daily warehouse management should take as little time as possible
In short: the perfect warehouse should represent a perfectly functioning cog within the well-oiled machine that is your company, without throwing a spanner in the works. This is the best way to save valuable resources such as employees, commercial space and your capital.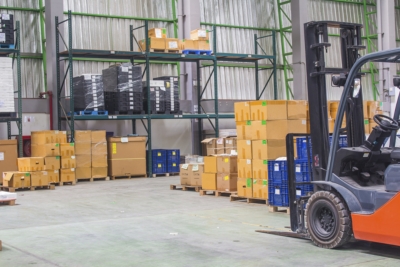 What really matters in the warehouse: 6 practical tips.
You can find many different methods and approaches when it comes to warehouse optimisation. But which ones are really relevant for SMEs? We have put together the most useful tips for you. All suggestions are easy to implement in small to medium-sized companies and will enable you to recognise and exploit opportunities to improve your depot.
Smart inventory management: less is more
Keeping everything in stock all the time? What might sound sensible isn't necessarily a good idea for SMEs. Large quantities of stock tie up a lot of capital, cause ongoing costs and make your business cumbersome.

Efficient inventory management, therefore, aims to keep stocks as lean as possible. The advantages for you include a reduction in the cost of space, shorter storage times, greater flexibility and a better overview. Ask yourself:
Which parts can I reduce without impairing business operations?
Which goods can I order more often in smaller quantities?
Can I arrange just-in-time deliveries with my suppliers?
Ongoing stocktaking: maintain an overview
Do you always know exactly which goods are where and at which time? If not, it's time for warehouse management software that carries out an ongoing stocktake. This means: every movement of goods is recorded and reported to the central computer. Gaining transparency in relation to your warehouse stocks then requires just a few clicks. This makes a big difference even in smaller warehouses:
React flexibly to unforeseen incidents or unexpected customer requests
Save on personnel costs by using automation
Locate goods faster without tedious searches at different locations
Remain responsive even without frequent consultations with warehouse staff


E-procurement: online purchases made easy
Do you still purchase the goods and services you need in the traditional way, by laboriously filling out order forms by hand? It's better to make the switch from manual purchases to an online-based, standardised and, wherever possible, automated process.
You can use IT systems to create an efficient interface between suppliers and your company. E-procurement, as it is known, brings major advantages for medium-sized companies:
You accelerate the processes within purchasing management
You react more flexibly to dynamic market requirements
You can compare prices in an efficient way, and thereby identify potential savings
You retain full control at all times due to integrated analyses and reporting
You are preparing your company for a fully digitalised future
Switching to the use of electronic procurement channels is a decisive step towards optimal warehouse management – and it's less costly than you think.
Avoiding trouble: store cardboard boxes correctly
Warehouses and cardboard boxes – you can't have one without the other. Almost every company relies on what is virtually a universal form of packaging. And rightly so, after all, as cardboard is a grateful material that doesn't make many demands on storage if a few basic principles are observed:
Store cardboard boxes at a temperature of 15 to 20 degrees and at a humidity of less than 60 per cent
If possible, stack cardboard boxes on flat surface instead of on pallets
Check the cardboard boxes in the warehouse every six months and replace any defective cardboard boxes before the goods could be damaged
Rectangular cardboard boxes allow you to make the best possible use of the available space
The maximum package weight should not be exceeded


Better organisation: store and label goods appropriately
Efficient work processes are key elements of operating a warehouse optimally. A correct configuration for the goods forms the basis for this. Optimal use of space and ergonomics also play a role:
Frequently used goods should be easy to access, special models that are rarely required may be stored further back. Things that are often requested together should be kept close to each other.
Store goods so that your employees have to lift and carry as little as possible. This means: stacking heavy goods close to the floor, and lighter goods can be stored on shelves that are higher up.
Introduce a clear organisational structure so that items are fast and easy to locate. Labelling also makes it clear for operatives.

Creates space and transparency: outsource your warehouse
An old business maxim is: focus on what you are good at and delegate the rest. Your company's biggest strength is its core business – not warehouse management. In many cases, it, therefore, makes sense for SMEs to outsource warehousing.

In order to make the right decision for your individual company, having a transparent list of costs and holding consultations with an outsourcing expert will help.
Look for a competent partner for your warehouse that keeps your warehouse operations up to date, monitors processes, and reacts quickly and decisively in the event of problems. The advantages are obvious:
The responsibilities for all issues related to the warehouse are clearly assigned
You will have capacities free for other responsibilities at your company
You reduce operating costs and save on having to invest in new warehouse technology
Optimising the warehouse is a continuous process that will demand your attention over and over again. But our experience shows: the effort will pay off. Your return on investment can be measured in multiples of time and money. This is why you shouldn't hesitate to put your warehouse management system to the test! We are here for you for individual advice in relation to warehouses and storage.
Contact us!
We are available to answer any questions, free of charge.