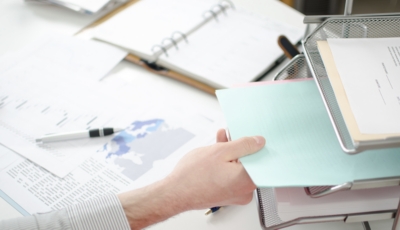 Clean and well organised in six simple steps
Desk organisation made easy
2020/08/31
Stacks of files that keep getting higher, countless memos, photos from the last holiday and unwashed coffee cups – that's what many desks look like. Even though there are studies that conclude that an untidy workplace stimulates creativity, there are still some arguments that speak for a well organised environment.


The Fraunhofer Institute found out that up to one third of the time spent working in offices is wasted with activities that do not create value. Badly organised desks, where employees are constantly searching for the right document, play a major role in the poor efficiency of workplaces like this. This is easy to avoid – let us show you how.
Why is desk organisation so important?
At first glance, spending time organising your desk might seem counterproductive. After all, you could get more work done instead. However, a well organised desk has all sorts of benefits:
You will work more productively if you have all your working materials within reach.
You are more productive and can concentrate better if you don't have to stop work to search for things.
You can move more freely when there is enough space on your desk.
A tidy and organised desk will make a professional impression on customers and work colleagues.
You'll help prevent the spread of bacteria and viruses if your desk is cleaned regularly.
Six simple steps to a perfectly organised desk
Many employees would like to have a tidy and well organised desk, but don't even know where to start. We can help you to overcome this hurdle. In six simple steps, you can organise your desk to keep it clean and tidy for the long term.
1. Clear your desk and clean it
In order to have plenty of room for reorganising, the first thing you should do is clear all objects and papers from your desk. Then wipe the surface of the desk down with a damp microfibre cloth. You should also completely clear out your drawers and wipe them out with a damp cloth.


In principle, cleaning a desk once a week is recommended. However, you should wipe off any food residue or stains from spilled drinks immediately, so that there are no breeding grounds for germs in the first place. You will learn more about how to clean your electronic office appliances in the next chapter.
2. Sorting documents and utensils
There's now probably a whole pile of paper and work materials in front of you. The best thing to do is to start by sorting the documents. You can sort them into four piles:
Needed soon for current tasks
Always needed
Not sure if still needed
Can be disposed of immediately
Anything that has landed on stack 4) can be disposed of immediately. The documents in stack 3) can be shredded after two weeks if you have not used them by then. Papers in stacks 1) and 2) may be returned to your desk, properly sorted into a well organised sorting unit.


Now devote your attention to your work utensils, such as pens, paper clips and other small items. Everything that no longer works can be disposed of straight away. Utensils that you no longer need should be returned to the storeroom or passed on to colleagues.
3. Configure your work equipment ergonomically
The aim of this step is to arrange all the work equipment you require frequently so that it is within easy reach, without straining your back. These resources will help prevent your desk from a big untidy mess again:
Use what we call desk space savers to create more room on your desk. With swivel arms for monitors and telephones, as well as stands for notebooks and tablets, you can configure your hardware to keep it within easy reach.
With the aid of organisation systems such as sorting trays, rotary filing systems and drawer boxes, you can win the war against chaos on your desk. All documents find a home.
Any work equipment that needs to be within easy reach but does not belong on the desk can be stored in your drawers. To ensure nothing gets lost in chaos, we have three tips for you:
Use dividers and storage boxes to create practical compartments in which your office supplies can find a home. This will keep everything well organised for the long run.
Cover your drawers with non-slip mats so that objects do not slide around as soon as you open the drawers.
Label your drawers and the compartments they contain so that all materials are always put back in the same place.
Over the course of a day, all kinds of documents, letters and memos land on your desk. In order to prevent them from sending you straight back into chaos, ask your colleagues to put all mail in an inbox tray of your choice. This will allow you to work through your mail at certain times of the day, resulting in fewer disruptions while you work. Go through your mail and prioritise it as follows:
Dispose of unimportant items right away.
Forward any documents for which you are not responsible.
Put everything that can be filed away immediately into the corresponding folders.
Start working through everything that can be done in less than five minutes.
Decide when you want to work through all other documents and put them in a hold file, for example a specific compartment in your sorting unit.
6. Clean up at the end of each work day
Set aside five minutes at the end of each working day for your cleaning routine. Put all work materials back in their proper place, so that you arrive to a clean and well organised desk each morning. This can become a rewarding ritual at the end of the day.
What is the best way to clean electronic equipment on the desk?
Where do most bacteria and viruses accumulate in the office? After yesterday's coffee cup, the telephone is the most fertile breeding ground for germs. We're explaining how to clean this and other office utensils properly right here.
Germs pass from your hand and mouth and adhere to your phone. You should therefore clean it daily, especially during the cold-and-flu season.
Switch off the phone or smartphone.
Wipe down the handset and keys of the telephone with a microfibre cloth and disinfectant.
Clean the touch screen of the smartphone with a non-alcohol-based disinfectant spray and a microfibre cloth.
Make sure that no liquid can enter the housing.
Grubby fingers and crumbs from eating at your desk will soon make your keyboard dirty. Depending on just how dirty it gets, cleaning it once a week should be sufficient.
Shut down the computer.
Turn over the keyboard and shake out any loose particles.
Blow out stubborn dirt using a compressed air spray.
Wipe down the keyboard with a microfibre cloth and disinfectant.
Clean the spaces in between with cotton swabs.
What applies to your keyboard also applies to your mouse: daily cleaning is necessary to keep germs in check.
Shut down the computer.
Wipe down the mouse with a microfibre cloth and disinfectant.
Cleaning your monitor every week ensures you won't be staring at fingerprints and smudges.
Shut down computer and disconnect the monitor from the mains.
Wipe the screen with a slightly moist microfibre cloth.
Do not use glass cleaners or alcohol-based cleaning agents, as they can damage the surface.
We hope that the tips in this article will help you to keep your workplace clean and pleasant to work at. We are always happy to provide you with advice about the most suitable office equipment, cleaning products and sanitary supplies.