Accidents at work: Causes and what you can do about them
2020/06/12
Which is more dangerous, a shark or a chair? Your first instinct is probably to say the shark, but it's actually chairs that we should be more wary of, since you are five times more likely to die from an accident involving a chair than to be killed in a shark attack. Likewise, far more people are injured by falling vending machines and toasters than by sharks. If you want to protect yourself from accidents, start with your immediate surroundings, where you carry out your day-to-day work. Here, we show you how you can prevent accidents happening at your company.

The number of accidents in German* companies has fallen consistently in recent years, reaching a record low in 2015: according to figures provided by the German Social Accident Insurance, there were 866,056 work accidents requiring reporting, 470 of which were fatal. The accident rate was just below 22 accidents for every 1,000 full-time workers. (*Statistics for Germany are used here but these reflect trends across Europe).

What these figures don't tell you: sometimes an accident at work is "just" a painful wake-up call without any further consequences, at other times it is a calamity for everyone involved and the company itself, since major accidents can result in production stoppages, paid long-term absences and uncertainty among the workforce. But no company has to simply accept that "accidents happen". Instead, accidents can be prevented by making occupational safety a top priority and investing time and money in safety precautions.
The most frequent types of accident and preventative measures
A slippery surface causes someone to slip and fall? It is rarely that simple. Almost every accident is caused by a combination of factors, e.g. less-than-ideal conditions (a wet floor) and the actions of an individual employee (someone getting distracted). Below, we show you the three most frequent causes of accidents and the measures you can take to combat these.
Tripping, slipping, falling
The most common type of accident is that involving a trip, slip or fall: these make up a third of all work accidents and can have devastating consequences. Falling down steps or from scaffolding is particularly dangerous and can result in serious or fatal head injuries (quite apart from the financial implications). How can trips, slips and falls be avoided?

Use only tools that are designed for your specific activity and always ensure that steps, ladders and scaffolding are properly secured. Avoid slippery floors and the associated accidents by using anti-slip industrial matting; make sure all staff working in workshops, large-scale kitchens or on construction sites are kitted out with non-slip, puncture-resistant safety shoes.
Welding, hammering, sawing
The second most frequent cause of accidents is the incorrect operation of tools and machines. This can lead to very painful injuries, particularly during activities such as hammering, cutting and drilling. Was it because of tool defects, recklessness or a lack of practice? It's not always possible to find out exactly what caused an accident, but there's plenty you can do to prevent them: make sure you have perfectly functioning tools and well-maintained machines, and provide thorough training on how to use them. Suitable equipment and proper protective clothing are also a must.

This is where we come in: we offer a wide range of high-quality protective work wear and accessories that fulfil the relevant safety requirements. Order today and make sure your employees have the best.
Driving, reversing, braking
In third place in the ranking are accidents involving transport vehicles such as sack trucks and forklift trucks. The risk of collision is particularly high with forklifts. If the driver loses control even briefly, the vehicle can damage property or injure people. To prevent this, shelves and machines should be fitted with crash protection. In addition, it is advisable to separate and clearly mark the paths for vehicles and employees.

You will find many different ways of marking and cordoning off paths and areas in the barriers & bollards section.
"Some industries are dangerous, that's just the way it is" – is this really the case?
Do you know which industries are the most dangerous and who is most likely to be injured? Women or men? The level of accident risk is strongly dependent on which industry you are in – although this isn't the only factor! But let's start with the current accident statistics: most accidents occur in construction, followed by the wood and metal industry and the transport and haulage industry. All of these sectors are male-dominated, which is why it comes as no surprise that 90 percent of accidents happen to men.

The safest jobs are in administration and social professions. And relatively few accidents occur in the raw materials and chemical industry these days. Back in the early nineties, this was a problematic area, but working conditions have improved significantly thanks to the introduction of extensive occupational health and safety measures. This just goes to show that no industry is dangerous per se. And: occupational safety measures really do reduce accidents!
Soft skills for more safety in the workplace
You've dealt with all possible sources of danger, trained your staff and equipped them with everything they could need. Congratulations, you've fulfilled the most important requirements. But don't forget the "soft factors" which can have a decisive impact on accident statistics.
Set a measurable goal. Rather than aiming for something unspecific like "reduce accidents in the workplace", set concrete targets within a specified timeframe – and modify your plan of action if the targets have not been met.
See near misses as an opportunity. Don't simply say "that was a close call" and thank your guardian angel. Instead, document narrowly avoided accidents and use them as a starting point to introduce improvement measures.
Promote a culture in which staff feel empowered to report potential dangers and narrowly avoided accidents, as well as safety violations by other members of staff. Strive to create an environment in which there is an open, constructive dialogue about mistakes and errors of judgement, where everybody understands that this will help to achieve the company's overarching safety goals.
Believe in what you do, and vice versa. Companies often implement safety measures simply as a matter of form, and even the company management doesn't really believe that they will be effective. Surveys have revealed that these measures then really do end up yielding only negligible improvements. If this is the case, it's time for management to rethink their approach, or perhaps it's just a matter of keeping staff better informed about the preventative measures being introduced.


And if those weren't enough reasons to commit to comprehensive occupational safety at your company, here is another: safe and healthy working conditions don't just prevent accidents, they also increase staff motivation, productivity and satisfaction.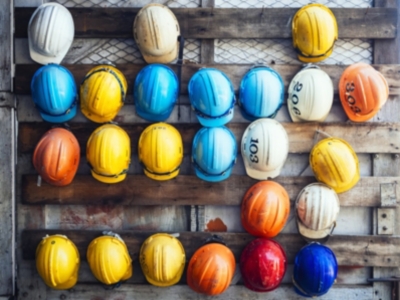 Contact us!
We are available to answer any questions, free of charge.