MAUL – BUSINESS LED desk lamp
11 W
With double swivel arm, arm can be swivelled by 160°, rotating and tilting light head
Includes metal clamp base (clamping width up to 5.5 cm) as an alternative to the base
Switch on lamp head for convenient switching on and off
Extremely large action radius due to long double arm
Unobstructed writing: unshaded light from above
Zero power consumption when switched off
Extremely efficient: 80% less power consumption by LEDs in comparison to a bulb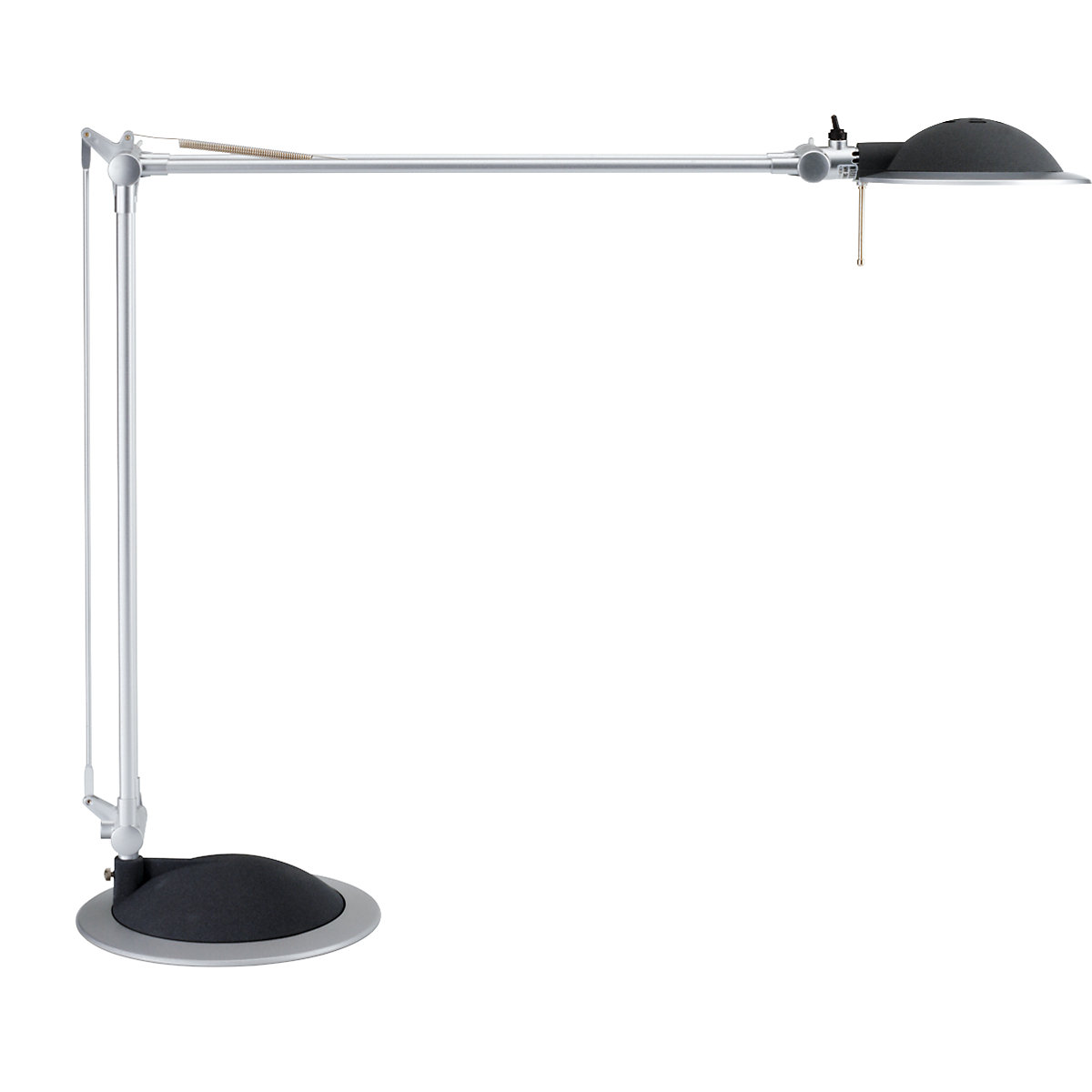 Ref.: 455867 10
MAUL – BUSINESS LED desk lamp, 11 W, silver
Price / items (Excl. VAT)
18 high performance LEDs, 4000 Kelvin, neutral white, 2060 lux brightness at 35 cm distance, effective luminous flux per light source 1178 lumens.

Arm made of elegant aluminium, rotates 160°. Arm length at bottom and top both 410 mm. Height in normal working position 450 mm.
Light head made of plastic, Ø 142 mm, rotates by 160° and tilts by 240°.
Diffusor for low shading. Sturdy base, Ø 228 mm, made of plastic with matt charcoal surface.
Including metal clamp base (clamping width up to 55 mm) as an alternative attachment option.

Weighted energy consumption 9 kWh/1000h. The service life of the LEDs is more than 20000 hours.
The lamp contains built-in LEDs. The LEDs cannot be replaced.
With double swivel arm, arm can be swivelled by 160°, rotating and tilting light head
Includes metal clamp base (clamping width up to 5.5 cm) as an alternative to the base
Switch on lamp head for convenient switching on and off
Extremely large action radius due to long double arm
Unobstructed writing: unshaded light from above
Zero power consumption when switched off
Extremely efficient: 80% less power consumption by LEDs in comparison to a bulb
Product type

table lights

Lamp base

clamp base




pedestal base

Energy efficiency class for each light source

E (spectrum A to G)

Energy consumption

9

kWh/1000h
Bulb

LED

Power

11

watt
Luminous colour

neutral white

Colour temperature

4000

K
Colour reproduction index

83

Max. brightness

2060

lux
Luminous flux

1178

lumen
Mains voltage

220 – 240 V

Mains cable

1.8

m
Service life

20000

hrs
Protection type

II Euro plug power supply unit

Colour

silver

Light head

rotating




tilting

Activation

switch

Material

plastic




aluminium

Overall height

450

mm
Arm length

410

mm
Clamp width

55

mm
Weight

2.49

kg
Foot plate diameter

228

mm
Lamp head dimensions

142 x 142

mm
Supplied

assembled

Pictorial instructions

Customers who purchased this item also purchased