Back
Workplace directives for cloakroom lockers
Everything you need to know when setting up cloakroom lockers: the workplace directives at a glance.
Standard
Clothes lockers made of steel DIN 4547, RAL-RG 614/6, manufactured in Germany.
Material
Cold rolled sheet steel DC 01 according to DIN EN 10130/10131, fully recyclable, long service life, maintenance free, excellent stability, easy care and hygienic. Thickness of sheet steel:
Approx. 0.75 mm for walls, inner parts,
Approx. 0.80 mm for tops, bases, doors, plinths,
Approx. 1.5 mm for feet
Deviations from the aforementioned sheet thicknesses are possible if the corresponding requirement is fulfilled through features of design.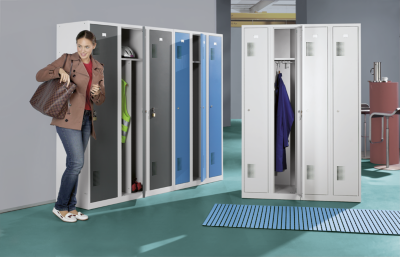 Joining
Spot welding, pressure joining
Surface finish
Phosphate coated and stove enamelled, gloss level of 50 to 70 percent, the dry film bonding layer 20 - 25 micrometres. Oven dried, alkyd/melamine resin based wet paint finish, stoved for 15 minutes at 140 °C.
Locks
Nickel plated metal rotary bolt lock, with forked spring, for padlocks with a bar thickness of 6 - 7 mm, locking travel 180°.

Free spinning rotary bolt for padlocks with a bar thickness of 6 to 8 mm, with forked spring, opening movement through 90°, for doors hinged on left or right, lever is locked in closed position.

Lever cylinder lock, made of cast zinc, matt chrome plated finish, with 2 reversible keys made of nickel plated steel, locking travel 180°, 10 disc tumblers, key can be withdrawn in locked and open positions.
Ventilation
Standard ventilation with 3 punched ventilation slots at the top and bottom of each door, cross section approx. 30 cm², alternatively with hole pattern in the rear panel for solid panel doors. Perforated metal doors with two 35 mm wide perforated metal strips, 10 mm perforations, 7 mm spacing. Doors with square holes, 120 mm wide hole pattern, 20 x 20 mm holes, 5 mm spacing.
Safety
Our products bear the TÜV symbol (tested safety, monitored production) issued by TÜV Product Service or the appropriate UK ISO equivalent. We will gladly send you the required certificates on request.

Recommended cleaning
For lighter dirt, clean with a soft, damp cloth without additional cleaning agents. For stubborn dirt, same as above but add a small amount of neutral or slightly alkaline cleaning agent. Do not wash lockers with water, do not clean them with steam jet or with polishing, abrasive or solvent based cleaning agents.
Our top products from this guide
Our top categories from this guide