Back
Environment Product Guide
Using hand pumps safely for transfer and dispensing
Safe filling with hand pumps – how to select the best hand pump and use it.
User Safety is always the first priority
Hazardous liquids should never be directly poured when dispensing. Even if a funnel is used when dispensing hazardous liquids, this does not provide the required level of safety.


Increased risk of accident due to slipping on dirty surfaces
Skin diseases or poisoning due to chemical spills
Health risk due to harmful fumes
Safety when filling should be made a top priority – for your own personal protection. Buying a suitable pump for dispensing hazardous liquids is thus an investment in safety and the health of your employees, and one that quickly pays for itself.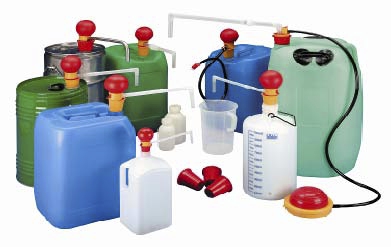 Pumps are rated by output in litres / minute always based upon pumping water and their compatibility with chemical types is assessed according to the material which will be in contact with the pumped liquid itself. Output is affected by the viscosity of the liquid and the distance to the output point.
For indoor transfer of non-volatile liquids from bulk shipping containers to day use tanks electrically powered pumps are often preferred. These will have an output rate from 50 to 60 litres per minute. For outdoor use or where there is no mains power supply, manual pumps with either a rotary impeller or lever operated piston are cost effective alternatives and can have similar output rates to electric pumps for the transfer of smaller volumes of chemical over a short pumping cycle.
Pumps which work on the principle of excess pressure are well suited for dispensing small quantities from canisters and small drums with a capacity of up to 60 litres. Air is pumped into the container via a pump squeeze ball or piston. This creates excess pressure above the liquid in the container and it is forced up and out of the riser pipe. For larger drums and open containers, drum pumps which lift and discharge the liquid are the best choice. This range of pumps is distinguished by its robust construction, high output rate and ease of use. They are available with various immersion tube lengths, and are therefore suitable for all commercially available shipping containers. Deeply positioned foot valves ensure that containers are emptied almost completely.
Robust industrial pumps made of high quality materials such as polypropylene (PP) are well suited for acids and alkalis, or stainless steel V2A (1.4301) for flammable liquids. Seals made of PTFE are recommended in every case. Always check the compatibility of a material with the media to be pumped. In many cases it is helpful to refer to the chemical compatibility list.
Acids, alkalis and cleaning agents can be safely pumped with plastic pumps made of PP, or for higher concentrations, made of PTFE or PVDF. We offer many plastic pumps, with rigid drainage elbows as well as with filling hoses and shutoff valves for filling from a distance or from taller containers. Appropriate protection should be provided for workers when handling caustic or corrosive liquids. Personal protective equipment such as gloves, safety glasses, aprons and face masks are essential. Excellent advice is available on PPE from the HSE website at the following address www.hse.gov.uk/pubns/indg174.pdf.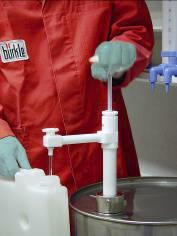 In the UK the Dangerous Substances and Explosive Atmospheres Regulations 2002 (DSEAR) requires employers to eliminate or control the risks from dangerous substances. Employees must wear anti-static workwear and intrinsically safe (compressed air powered) or explosion proof (electrically powered but fully enclosed) pumping equipment must be used.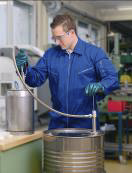 With volatile media such as ammonia, harmful fumes accumulate in the dispensing container. Evaporation into the work environment and the hazard to workers can be reduced through the use of a gas-tight drum screw connection. For particularly poisonous, foul-smelling and highly volatile media, a sealed dispensing system with a vapour recovery pipe is indispensable. In this type of system, the vent gas generated is returned to the original container. The hazardous gas is contained by the system, thus ensuring the highest level of safety possible for dispensing. Vapour recovery pumps are available on request.

In contrast to metal drums, which generally have R2" fine threads, plastic containers do not use standardised connection threads. There are basically two options for securely fastening the pump to a drum or container.
The first option is to use of a special screw connector which has been adapted to the size of the existing threads, possibly requiring the use of an adapter. The other option is to use a one size fits all solution, such as a conical push-in drum stop. If your thread pattern is not the standard 2" size, please see the table below for help in determining the appropriate threads.

Help for determining suitable threads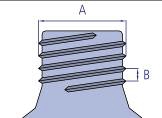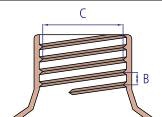 Imperial and alternative thread descriptions appear in semi-bold text
51 mm thread, DIN 51: A = 53 mm, B = 5 mm, C = 50,5 mm, saw tooth
61 mm thread, DIN 60: A = 59 - 60 mm, B = 6 mm, C = 55,8 mm, saw tooth
61 mm thread, DIN 60: A = 61 mm, B = 6 mm, C = 55,8 mm, saw tooth
71 mm thread, DIN 71: A = 71 mm, B = 6 mm, C = 66,5 mm, saw tooth
2" BSP thread, 2" fine thread steel drum A = 59 mm, B = 2,2 mm, C = 57,5 mm, standard
63 mm thread, 64 mm BSI: A = 64.5 mm, B = 5 mm, C = 60 mm, saw tooth
35 mm thread: A = 33.5 mm, B = 5 mm, C = 32,7 mm, round/standard
2" coarse thread Mauser L-ring: A = 69.5 mm, B = 5.5 mm, C = 65 mm, saw tooth
Tri-Sure thread 2" coarse thr. V. Leer/Tri-sure: A = 56 mm B = 3.5 mm C = 52.5 mm, saw tooth
US drum thread: A = 63.2 mm, B = 4.25 mm, C = 57.5 mm, saw tooth
Our top products from this guide
Our top categories from this guide