Back
The agile office: How to ensure future success by making better decisions
Regardless of whether they're being made in the warehouse, in production and development, or in customer management: Arriving at the right decisions quickly has never been as important as it is now. If you base meetings, workflows and your company equipment on the principle of agile working, then you'll set off on the race for customers, innovations and future viability with a good head start.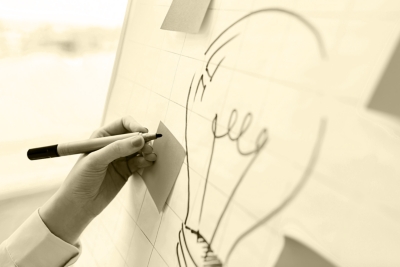 Using uncertainty as a design principle: What do I need an agile office for?
Everyone seems to be talking about agile working, along with concepts like Scrum. After all, continuing advances in digitisation are turning long-familiar working methods and corporate structures upside down – and this in every industry and every type of company.

Where long project times, plans for the business year and clearly delineated areas of responsibility used to predominate, today's corporate world is forced to deal with uncertainty, increasingly short development and product cycles, growing demands from stakeholders and the round-the-clock communication and synchronisation of the digital economy.

Given these circumstances, traditional project structures and workflows now hold little promise of success. The software industry was the first to recognise this, and formulated an agile method of product development in the form of Scrum, which has been adopted on a large scale as a blueprint for all types of corporate structures and all project workflows.
Agile companies are characterised by a high degree of flexibility and a network-based mentality:
Several project phases are worked on simultaneously in (small) teams, with implementation planning subject to constant changes
Project members working in interdisciplinary teams assume different roles, and are flexible in assuming responsibilities
Thanks to clearly defined individual tasks (in terms of content and time) involving what are still open-ended results, the amount of time required for projects and responsibilities is minimised while the quality of the results is increased
Changes, contingencies or new inputs are anticipated, and inspire a flexible and transparent response
Ongoing communication with everyone involved, as well as the customers, prevents misguided developments or incorrect assumptions
Traditionally structured offices with fixed workplaces, individual offices and antiquated presentation techniques are the antithesis of agility. After all, it is only when everyone involved in the process remains properly informed that the individual factors at the agile company start fitting together and produce results. For this reason alone, the agile office must feature design elements that promote the principles of Scrum and agile working:


Open and flexible office planning for organising project teams and promoting faster communication
Visualisation and presentation aids at every meeting point
Different meeting points for formal and informal communication (conference room versus counter)
Different types of workplaces (desk, lounge, standing workstation) for different work steps
Optimal combination of analogue and digital visualisation and presentation aids
Scrum in the agile office: Fewer meetings, more results
The success of the Scrum concept is based on the insight that successful project results cannot be planned in advance with a real degree of certainty. Instead, a vision of the outcome is developed, one which is based on a thorough analysis of customer requirements.

Over the course of development, this vision, which is reflected in higher-level planning (what is known as the product backlog), is repeatedly adapted to suit the reality by means of interim results and detailed thinking or project steps (sprint backlog).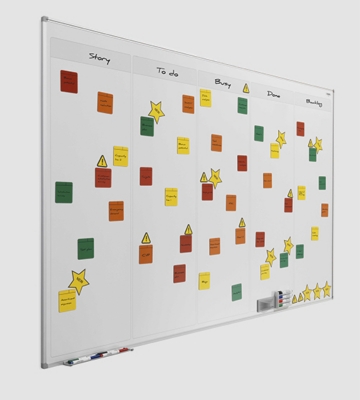 In other words: Highly complex projects aren't made less complex, they are, however, made more tangible and easier to implement by splitting them up into individual steps, assigning clear roles and using the right documentation and visualisation techniques.

One core element of Scrum is four meetings referred to as events, in which the members of a Scrum team share their work and results with their colleagues and other key stakeholders. The special feature of these meetings is their high degree of formalisation:


Each event has a specific topic and, accordingly, content that has been defined exactly
Each event focuses exclusively on this topic
Each event has a fixed time frame that must not be exceeded
Each event is fully integrated in the project schedule
As simple as these rules might sound, they are downright revolutionary when compared to the typical office meeting culture. When first starting on the journey to agile organisation in particular, an assertive facilitator and coach is therefore needed to steer the company through the coming transition. This role is known as the Scrum Master in the Scrum technique.

The Scrum Master is not only responsible for keeping things progressing smoothly, but also for ensuring that the general conditions for the four different types of meetings are exactly right. And this is also a matter of having the right office equipment.
Office equipment for agile working: Four scenarios, four types of equipment
Even if the four types of meeting defined by the Scrum method only represent a small section of the agile working methods, they do provide a perfect example of the interplay between established framework conditions, office equipment and decision-making in companies of today.

Sprint Planning involves outlining the upcoming project phase (sprint) as objectives and tasks. This meeting, which all roles in the Scrum framework attend (the decision-maker known as the Product Master, the team and the Scrum Master), lasts a maximum of two hours per sprint week and should, accordingly, be held in an optimally equipped project room with plenty of space to work and featuring the latest presentation technology.

The Daily Scrum is a daily kick-off meeting held by the Scrum team with the Scrum Master. It lasts for just a maximum of 15 minutes and is used to determine what was achieved, or what failed to be achieved, the day before, and how the workday to come might be structured. These meetings are held with participants standing up, in order to keep things short. A counter is a perfect meeting point for this, with a 'task board' for clearly presenting the tasks that have been completed, and the tasks still to come, being more or less essential.

The Sprint Review is used to draw interim conclusions at the end of a sprint. Its special feature is that feedback on the current status of the product/project is obtained from the customer and used for planning the next step. This meeting lasting a maximum of one hour per sprint week should be held in a correspondingly prestigious conference room, in which the customer is given a positive impression of the company. The latest technology for presentation and moderation is also essential here.

While the Sprint Retrospective also provides an opportunity to draw conclusions about the previous sprint, it covers matters relevant to the team itself, focusing on the team's way of working and providing a space for criticism and self-reflection. This 45-minute meeting should be held in a pleasant and safe space well away from the actual workplace and the "official" meeting rooms. Lounge corners with bistro tables and armchairs are a good option in this case.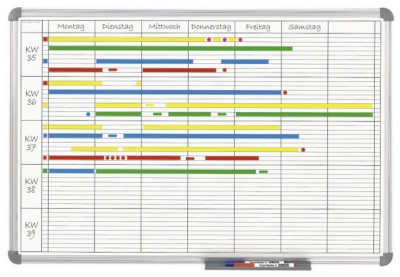 Ready for the agile office? Equipping the company of today
The optimal combination of analogue and digital visualisation and presentation aids in the agile office should not be underestimated. When visualisation and communication become a key factor in organisation, the classic whiteboard and flip chart sets gain a whole new significance.

A 'task board', which is structured in accordance with the principles of the Kanban board, the whiteboard is a straightforward visualisation aid that can be used to work out and allocate daily tasks or more extensive planning phases.

Accordingly, it should be placed somewhere that it is easy to see and use, where teams convene (on a daily basis) – and therefore not just placed in the conference room or an individual office, but rather right next to a counter or meeting point.

Of course, the agile office also depends on digital networks. Plans and documentation are worked on collaboratively using digital tools. This makes mobile technology very important – tablets, laptops, smartphones.

They can be supplemented in the agile office by presentation and working aids such as GO-TO™ tabletop tablet stands or the Capture APP kit, which allows you to digitise analogue charts on whiteboards perfectly.
A clearly formulated future: Better moderation results in better performances
The agile working motto demands less talking, more saying, more doing. An important component of agile organisation is therefore communication training and a new meeting culture. All of this needs practice, input and time.

We're also happy to help you to choose the right equipment for your agile office in a personal customer meeting. Just ask us.
Our top categories from this guide