Back
Environment Product Guide
Small parts cleaners/parts cleaners
Exactly how clean parts are plays a major role in workshops and maintenance divisions at production companies, as well as at major industrial enterprises, and is considered an indicator of quality. The key focus is directed at achieving a high degree of cleanliness as cost effectively as possible, while exposing people and the environment to as little risk as possible. Parts cleaning makes cleaning of tools and machine parts much easier in every industry, such as manufacturing, production, maintenance and service workshops.

Small parts cleaners/parts cleaners allow you to remove grease and oil from machine parts, for example – safely, efficiently and in an environmentally friendly way. You can read up about how small parts cleaners/parts cleaners work, the differences between different models, and which type of cleaner is the right choice for when right here.
What are small parts cleaners/parts cleaners useful for?
Small parts cleaners/parts cleaners are specifically used to clean grease, oil and dirt from small parts. They are often used for machine parts or tools.

Two aspects take centre stage:


Fast but thorough cleaning of small parts/parts that saves you work
A safe and environmentally sound way to handle hazardous substances such as solvents
Small parts cleaners/parts cleaners also help you to ensure compliance with any applicable environmental regulations in the workshop – for example, by ensuring that no hazardous substances can escape.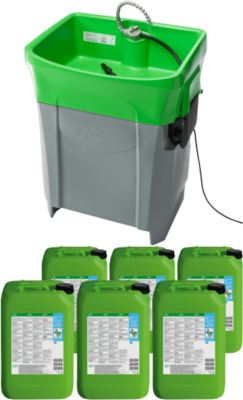 How do small parts cleaners/parts cleaners work?
Small parts cleaners/parts cleaners are available as different models:
Plunger cans are used to moisten cleaning rags, absorbent sheeting or cleaning cloths with solvents or disinfectants. They come with a basin, a container with liquid, and a pump unit. Pressing down the basin fills it with liquid from the container, which you can then use to moisten a cloth. Unused liquid flows directly back into the container. This system reduces hazardous vapours. In addition, a flame trap integrated into the basin prevents flammable liquids from catching fire.
Brush cleaning tables function in different ways:
Manual parts cleaning with cold cleaner on a hydrocarbon basis: cold cleaners for use in the brush cleaning table are ideally suited for removing greases and oils. Proving the motto "like dissolves like" to be correct, the IBS hydrocarbon-based cold cleaner loosens the dirt, infiltrates and amalgamates with the oils or greases and can be easily rinsed off or removed with brushes – without attacking the metal parts that are dirty.
Function: while you press the foot switch and brush the dirty parts clean, the dirty cleaning liquid flows back into the barrel. It separates of its own accord, and the "dirt" settles on the bottom of the barrel. At the same time, uncontaminated cleaning chemicals are drawn in from the centre of the drum by the pump > for cleaning using a resource saving recirculation system. This is practical, environmentally friendly, and functions for the long term. To the video showing how it works
Manual parts cleaning with water-based cleaning agents: the brush cleaning table can also be used for cleaning by hand, and is suitable for the use of water-based cleaning agents with tensides. These water-based cleaning agents are heated up to a max. of 45 °C in the device, allowing metal parts soiled with oil and grease to be cleaned without having to comply with the VOC and Biological Substances Ordinance.
Brush cleaning tables such as the BIO-CIRCLE GT are equipped with a recirculation system and a heater for the tank, allowing special cleaners with micro-organisms (for oil degradation) to be used. This makes them particularly easy to use and environmentally friendly. It also extends the service life of the cleaning agent.
Automatic washers with water-based cleaning agents are suitable for cleaning small parts and large/bulky parts in a fully automatic process. Spray cleaners that do not damage the materials are used for this.
High pressure cleaning with spray cleaners
In this case, cleaning is done using high pressure in a closed washing cubicle. These parts washers are ideally suited for cleaning parts with complex geometries quickly.

The advantages of parts washers also include their high load capacity and the opening angle of the cover, which provides the option of putting parts into the device using a crane. Even components with complex geometries can be cleaned reliably in this way.
Ultrasonic cleaning (immersion process)
Ultrasonic cleaning involves placing parts in a cleaning trough or drum and cleaning them using ultrasound until they are free of residue – even stubborn dirt. This process is ideal for cleaning hard-to-reach spots easily and intensive, yet gentle, cleaning of objects of various shapes, types and sizes.
Tip: when using equipment for ultrasonic cleaning, make sure that the soiled parts are impact resistant.

The most stubborn dirt and stains, such as oil carbon and pigments, can be removed with outstanding results using the appropriate IBS ultrasonic cleaning agent (gentle on materials and compatible with aluminium – also suitable for non-ferrous metals).
Finding the right small parts cleaner/parts cleaner – tips
When selecting small parts cleaners/parts cleaners, we recommend answering the following key questions:
How often do small parts/parts have to be cleaned at your company?
What kind of parts are they, and what size are they?
Do you work with highly flammable liquids?
What kind of dirt and stains need to be removed?


If cleaning small parts/parts is part of your daily work, a cleaning table is an indispensable item of equipment. When there is stubborn dirt on parts with complex geometries, a parts cleaner or a device for ultrasonic cleaning is a good choice. Plunger cans are ideal for working with flammable liquids safely.


Important: when choosing cleaning tables, also consider factors such as the maximum load and the dimensions of the work surface, especially if you wish to clean heavy and bulky parts. Mobile cleaning tables are the ideal choice for larger workshops or assembly halls.
Our top products from this guide
Our top categories from this guide