Back
Plastic pallets - ideal for export
Pallets are available in many different materials: wood, aluminium, steel and plastic.
There is already general information on reusable wooden pallets.
Plastic pallets are especially suitable for use for exports as they do not have to be treated with gas and issued with the necessary certificates like wooden pallets.
Steel and aluminium pallets are also very durable, however they are heavier and more expensive than plastic and can have sharp edges when damaged.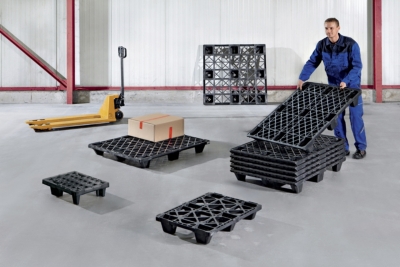 Different types of plastic pallets
Disposable and reusable pallets
There is no distinct difference between disposable and reusable pallets. Disposable pallets can also be used for several trips.


Disposable pallets usually contain less plastic material and are less expensive. The lighter disposable pallets have a low load capacity. They are mostly sent as one-way transport materials to countries in which no wood or treated wood (IPPC) can be imported.


Reusable pallets, as their name suggests, can be used for several journeys.


Advantages of a reusable pallet:


Robust / can be used for many years
High load capacity
High levels of work safety, no nails and splinters
Weather-resistant and washable
Can be used in cleanrooms
Easy to clean / hygienic
Sustainability:
Nearly all production waste is treated and reprocessed. Pallets made from recycled plastic are therefore especially environmentally friendly.
Resistant to parasites
Highly economical
Impact- and shatterproof
Recyclable
Can be secured at the outside edges
Future-orientated equipping with transponders possible
Disadvantages of a reusable pallet:


More expensive than disposable or wooden pallets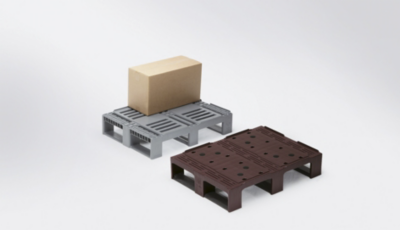 Plastic half pallet/lightweight pallet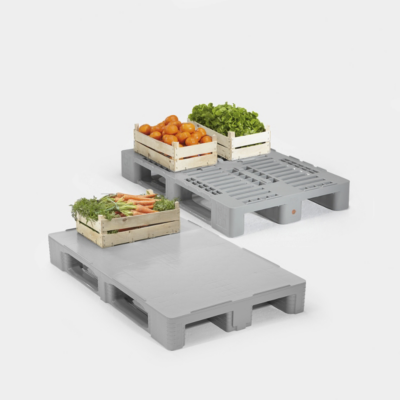 Hygienic pallet (homogeneous polyethylene)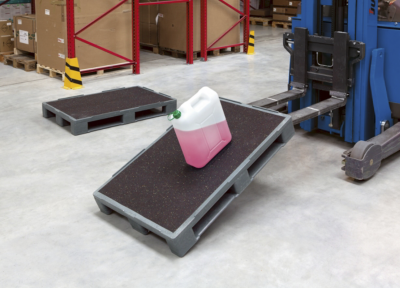 Heavy duty pallet with non-slip coating
Different types of reusable pallets
Material
Reusable pallets can be made from materials suitable for use with foodstuffs, e.g. for transporting food or from homogeneous recycled material.
Use
Pallets for use in pallet racking:
Pallets that are later used in pallet racks without timber or chipboard decks, i.e. that sit on two shelf struts, are subject to a particularly heavy load. They should always be equipped with runners. In additional steel reinforcements in the top surface and/or in the runners is recommended.
Especially for pallets in shelf units, the load of the goods is particularly important as concentrated loads in the middle of the pallet are difficult for the pallet to withstand. Therefore the load values only apply with evenly distributed loads. Steel reinforcement also stabilises the pallet in the event of temperature fluctuations when the plastic becomes softer or harder.


Hygienic pallets:
Nearly every pallet that has smooth and easy to clean surfaces can be described as a hygienic pallet. The material used plays no role here.


Pallets suitable for foodstuffs:
These pallets must be manufactured from new material so that no problems arise from direct contact to the foodstuffs.
Max. load capacities
With pallets, a distinction is made between 3 different maximum load types:
Static: pallet is loaded and not moved
Dynamic: pallet is loaded and moved by a pallet truck or HGV
Shelf load: especially for 2-point suspension
(see pallets in shelves)
Structure
Pallets are available with feet and with runners.
In the case of pallets with feet, the feet or legs are not connected by a lower strut. The advantage of this is that they can be picked up from all sides by a pallet truck.


In the case of pallets with runners, the feet are connected to each other. This stabilises the pallet and makes it suitable for use with roller conveyors or chain conveyors.


The top surface of the pallet can be open or closed. With an open structure, the unladen weight of the pallet is considerably lower and water flows off immediately. A closed structure has advantages in terms of hygiene, cleanliness and stiffness.
The edges of the top surface prevent the goods from slipping down. The small raise in height is particularly useful for cartons and boxes.


The bottom of the pallet and the runners can also be an open or closed structure. Again, a closed structure is easier to clean.
Our top products from this guide
Our top categories from this guide