Back
How cargo bicycles are used at companies
For versatile transport on company premises
The future of mobility is no longer reserved for cars alone. The popularity of cargo bicycles is increasing in leaps and bounds, and they are becoming established as a credible alternative for transporting objects from A to B, both for private purposes and in business environments.

Anyone who rides a cargo bicycle won't have to rely on muscle power alone any more. Models with electric drive provide backup for the user's own exertions, and make it so much easier to move loads around. Despite their high max. load, you're unlikely to break out in a sweat when riding a cargo bicycle. Companies with extensive production premises or offices that are set far apart in particular will reap rewards after purchasing a cargo bicycle. And it's certainly worth having one or two bicycles for your staff to use when they need them.
These are the advantages of a cargo bicycle.
It doesn't need any petrol and is inexpensive to use
It needs less space than, for example, a forklift truck or a car, and it is space saving to store when it's not in use
Transport jobs are taken care of right away when this agile and highly manoeuvrable form of transport is used
It is also easy to manoeuvre through narrow passages
It's always right at hand whenever an item is needed in another place at short notice
It keeps you on the move during your everyday work
Protects the environment
What are the best ways to use cargo bicycles at the company?
Delivery of letters and parcels
Postmen have long sworn by e-bicycles for making their deliveries. So why not introduce the same idea to deliver your in-house mail distribution? Parcels and letters are kept safe in the transport box or in a separate mail bag, and the employee responsible will be handing them over to their intended recipients in no time at all.
Transporting goods in areas not suitable or not approved for motor vehicles
Not every place is easy to reach by car:
In city centres, parking spaces are at a premium and you'll easily find yourself stuck in traffic during rush hour.
Zones only open to limited traffic, pedestrian zones, and parks are not suitable to access by car.
Cars are usually in the way and not welcome on company premises, on construction sites and in large warehouses.



This is where the cargo bicycle provides a practical alternative. Delivering small items, going to fetch a tool from a colleague two blocks away without wasting time, or looking after an open green space – all this can be done by stepping on the pedals.





What's the best way to sum up the benefits of a cargo bicycle? It makes it easy to get anywhere without problems, and lets you take along whatever you need.
Which cargo bicycle is good for which job?
The versatile all-rounder: Classic cargo bicycle

The classic cargo bicycle in our range, of a type that many will fondly remember as a baker's bike, is suitable for transporting small loads around the premises. You can transport items weighing up to 50 kg on this non-motorised cargo bicycle. It is lighter in weight, and much more manoeuvrable, than the three-wheeled alternatives. The carrier is fitted above the front wheel on this two-wheeled model. This ensures you'll always have the cargo in your line of vision, along with easy access to it.


The muscular tricycle: PRO e-cargo delivery bicycle

This electric bicycle features a large covered transport box at the front, fitted between the bicycle's two front wheels. The three-wheeled design keeps the e-cargo bicycle well balanced and stable, even when it's stationary or going around a corner. The powerful rear-wheel motor helps you start off and ride straight ahead at speeds of up to 25 km/h. This makes it particularly convenient when you're moving a load that is almost as heavy as the load limit of 80 kg. This e-cargo bicycle is a real workhorse, and safely and effortlessly transports materials, equipment and other items to places close by.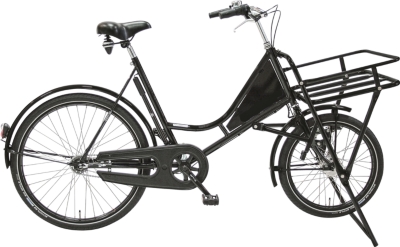 Cargo bicycles in everyday use at the company: 7 tried-and-tested practical tips
Loading and transporting safely
Distribute your loads evenly over the carrier to ensure that the bicycle doesn't lean to one side. Furthermore, if you are using an open transport system, you should make sure that nothing can fall out. If you have any doubts, use tension belts to lash everything down securely. And it's best not to fasten any protruding objects (such as long planks of wood) in place – they can cause accidents!
If protective equipment is mandatory on your company premises, then it also needs to be worn when riding a bike. A helmet that protects the wearer's head if they fall off is definitely worth having.
Use outside the company premises
Make sure that the rechargeable battery has been fully charged ready for use. If you're using the bicycle on a daily basis, then charging it overnight in a safety battery charging cabinet is the best thing to do. It will protect the company from any damage caused by fire in the unlikely event of overheating.
Under no circumstances should you simply park your cargo bicycle out in the open. If you did, the weather would shorten its service life, and you'd be doing maintenance on it much more often. If there's no free space indoors in the workshop, then we recommend putting your cargo bicycle in a bicycle locker or in a covered bicycle hanger.
To make sure you park your bicycle safely when you're taking a break from deliveries, you can also use bicycle racks or parking rails. To make sure that no-one can simply help themselves to a high quality product like this, make sure you always lock it securely to the rail. This will protect it from theft, and also stop it tipping over.
You don't need to do all that much to ensure your cargo bicycle remains in good working order for the long term. Create a schedule for cleaning every two to three months, and have the mechanical components and, if available, the motor serviced and checked by a specialist company every year (best done after winter is over).
Our top products from this guide
Our top categories from this guide