Back
Healthy seating pays off!
It is well-known that an incorrect sitting position causes illness and days lost to sickness lead to higher operating costs. Every third day lost to illness can be attributed to damage or disease of the musculoskeletal system. Our chairs fulfil all safety-related and ergonomic requirements that today's industrial chairs are expected to meet. In many cases, the requirements of the HSE norm are even exceeded.
Your industrial chair should meet the following minimum requirements:

The backrest must be able to be adjusted for height and inclination. No accidental adjustment may occur during use.
The base frame must have at least five points of contact with the floor.
DIN-compliant industrial chairs must be labelled accordingly.
Dangerous pinch points or hazards from crushing must be prevented.
A step is required for seat heights above 650 mm.
Castors are not permissible for seat heights above 650 mm.

Therefore we recommend that you choose ergonomically designed industrial chairs that ensure that the hip region is in a healthy position in every sitting position. The spinal column remains in its natural S-form.

Our broad range offers the right seating solution for your purposes.

Make the right decision and choose a higher level of quality, safety and health at your workplace.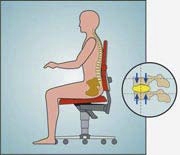 Our top categories from this guide