Back
Handling rechargeable lithium-ion batteries safely
Safety battery charging/storage cabinets
Does this situation sound familiar? You need to make an urgent and important call at exactly the moment your smartphone's battery gives up the ghost. If this also happens to your customers or the employees at your company, and you also have all sorts of other everyday technology such as laptops, notebooks, electric tools such as cordless screwdrivers, e-bicycle batteries, e-scooters etc. to store or recharge, this often requires more than just a comprehensive and practical solution, but also – and this is important – one that is safe and that has been specifically designed for innovative lithium-ion batteries. This is what we call a safety battery charging or safety battery storage cabinet, and it includes functions that provide protection from fires.
Learn more about what makes rechargeable battery cupboards different, why it is so important to store and recharge lithium-ion batteries separately, what you need to observe when handling these high-performance power packs, how to dispose of them properly, and which specific advantages the products made by CEMO will bring you.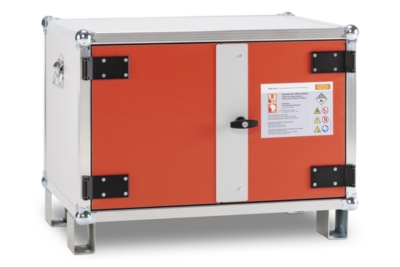 Which rechargeable battery cupboard do you need? And why?
The material, size, type of lock and colour differ, and they can also be designed to cater to specific requirements. They are available as different models and are frequently encountered in leisure facilities, in schools, as well as at companies – lockable ones with shelves and hinged doors for school or company laptops, ones that are only used as mobile phone charging stations and are equipped with a large number of individual compartments that can be locked separately, and ones made by manufacturers such as CP, Lista, etc., or even safety battery charging or storage cabinets made by CEMO. As Basic, Premium and Premium Plus.

When choosing the right rechargeable battery cupboard for you, put your individual requirements in first place. This means knowing where, and for which devices, the respective cabinet will be used and, above all, how important the issue of safety is to you.


Basic rechargeable battery cupboards
are a practical solution that not only ensure theft-proof storage for your battery-powered devices, but also allow them to be recharged using the built-in multiple socket power strip. The sturdy steel construction with separate shelves provides a high degree of flexibility, space for mains adapters and power cables, as well as optimal ventilation.
Safety battery charging and storage cabinets
are specifically designed for charging or storing several electronic devices that contain high-density lithium-ion batteries that are, unfortunately, susceptible to fires. They are designed to satisfy safety requirements and for stability, and their tested fire resistance helps mitigate the risk of explosive ignition and the generation of heat.
The 8 safety recommendations that currently apply for charging
Only charge when supervised
Use a non combustible underlay
Use an underlay that is not electrically conductive
Have a smoke detector in the room
Maintain safety distances (min. 2.5 – 5 metres for lithium batteries with a low and medium power output)
Do not store together with flammable objects
Ensure protection from mechanical damage
Ensure the correct (charging) temperature
Important: these safety recommendations apply by principle. This is why using safety battery cabinets demonstrates observance of these recommendations, and makes compliance with them straightforward.
The CEMO safety battery charging cabinets do more than just comply with the current safety regulations when charging.
All the advantages of the individual models at a glance:
Available as different models (according to the intended use)
Your devices are supplied with power using standard sockets and connections suitable for all devices
Option of charging several batteries simultaneously
Mains connection with main switch (for switching all units off and on simultaneously)
Smoke detection and temperature monitoring
Disconnection of the charging current when the doors are opened (or in the event of a malfunction or incident)
Fan to dissipate heat
Inlet and outlet opening sealed off by thermocouples
Special fire protection seals to prevent the escape of flames
Timely alert in the event of damage
Compliance with all safety rules when charging lithium batteries
Fire resistance for 60 minutes from the inside to the outside (in accordance with EN 1363-1)
Successful practical tests conducted by independent institute
Made in Germany
The CEMO safety battery storage cabinets provide a safe storage option for rechargeable lithium-ion batteries in particular
All the advantages at a glance:
Available in one size – 3 units can be stacked or added
Fire resistance for 60 minutes from the inside to the outside (in accordance with EN 1363-1)
Practical battery fire test conducted successfully by independent institute
Non combustible, fire resistant design
Smoke detector also installed in the model used for storage
Special fire protection seals to prevent the escape of flames
Lockable doors (incl. sturdy lock and hinges)
Practical carrying handles for mobile use
Cold smokeproof locking system for the openings
Made in Germany
Store or charge? Can't both be done at once?
Most fires occur during the charging phase, which seems to present the most risks, as many expert appraisals have revealed. For you, this means that even if large, roomy cupboards might seem to be a space-saving option at first, for safety reasons, charging your electronic devices and storing your lithium-ion batteries separately is strongly recommended.

The reason: in the event of an emergency, a chain reaction occurs. The more batteries and rechargeable batteries are stored in one and the same place, the greater the fire load. Smaller, compact cabinets, on the other hand, which offer a smaller charging and storage space in each cupboard, can be evacuated much faster, and also keep any risk contained to smaller fire compartments. Moreover, they are practical to stack on top of each other and can therefore be extended to cater to requirements.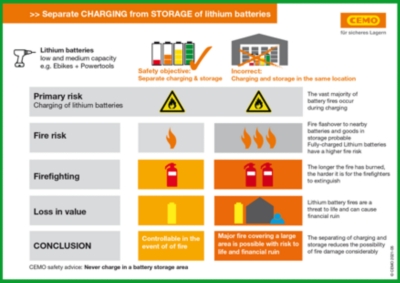 Choose a safe storage or charging solution and not only will you protect yourself, but also your employees and your entire business, from the worst. Don't put your existence in danger!
Why are rechargeable lithium-ion batteries actually so popular?
High density power storage systems based on lithium are enjoying huge popularity. This is why it's no surprise that rechargeable lithium-ion batteries are being installed in more and more devices that are part and parcel of our everyday lives. From household appliances and cameras to laptops, smartphones and e-bicycles.

The advantage of rechargeable lithium-ion batteries: their energy density is particularly high. This means that they are small and light, but have a far higher power storage capacity than conventional rechargeable batteries.

Nevertheless: caution is always advised, because lithium-ion batteries batteries are hazardous goods – something that people tend to underestimate. It is, in fact, their high energy density that means they can easily ignite in "stress situations", cause fires or even, in extreme cases, ignite explosively, shooting out large flames. If the battery has been damaged, then it presents multiple hazards. Rechargeable battery cupboards that are suitable for charging or storage, combined with additional organisational measures to ensure protection, are therefore indispensable.
How to prevent your batteries from being damaged
If you prevent the defects or damage from occurring even before charging or storing your lithium-ion batteries, or at least identify them, you can minimise the risk of critical situations and fires.
The following tips can help:
Avoid exposure to direct sunlight (max. 25 degrees)
Avoid vibrations (or dropping) your technology or the rechargeable battery
Only use the certified battery chargers for your rechargeable battery
Only use the original rechargeable battery
Carry out regular visual inspections to ensure any damage is identified at once, and to allow you to sort out or dispose of the defective batteries/rechargeable batteries
Train your employees about the potential sources of danger to make sure they are aware of them
Which regulations apply for handling lithium-ion batteries batteries?
Even though the Ordinance on Hazardous Substances, the Occupational Health and Safety Act, and the Occupational Safety Directive specify that the employer is responsible for preventing hazards in the company, there are no detailed regulations that cover how to handle lithium batteries – only the recommendations issued by insurance companies.
Important to know:
These recommendations have the same status as binding specifications for the time being. This is because, should damage occur and it can be demonstrated that these rules for the public (in accordance with the state of the art) were not implemented, you cannot assume that the claim for damages will be covered in full.

Employers should use the conventional principles of protection for hazardous goods for orientation. The new version of TRGS 510 released in February 2021 has good reason to describe lithium batteries as a product-specific increase of risk. Which is exactly why these power storage units, simultaneously presenting both a sudden and intense source of ignition, need well thought-out solutions for fire protection.
Nevertheless:
As an employer, it's your responsibility and you are obliged to introduce safety precautions at your company. This is why you should always observe the operating instructions and safety recommendations issued by the respective manufacturer of the battery-powered products. In the event of non-compliance, you, as the employer, are personally liable for gross negligence!
A risk assessment analysis has proved to be a valuable tool for occupational health and safety, and ideally factors in all hazards associated with charging and storing lithium batteries.
How do you store, transport and dispose of hazardous goods correctly?
Lithium batteries are classified as hazardous goods, and must therefore be stored, transported and disposed of separately. The condition of the battery also plays an important role. To ensure safety, choose only UN-approved container solutions whenever possible. An impact resistant plastic collection container in combination with non combustible granulate is ideal for collecting intact lithium batteries. The safest way to store defective or damaged rechargeable batteries is in the special CEMO storage and transport safety drum for rechargeable batteries.

As should be self-evident, prototype batteries also need to be kept separate in a fire protection-compliant manner. The functional CEMO modular fire protection boxes for rechargeable batteries, Li-SAFE 2-S, and the CEMO modular fire protection boxes for rechargeable batteries, 3-S, are ideal for this purpose.
Our top products from this guide
Our top categories from this guide