Back
Grit containers made of GRP
High quality, durable, lightweight: grit containers made of fibreglass reinforced plastic leave nothing to be desired.
General advantages of GRP
GRP stands for "glass-fibre reinforced plastic". A high grade composite material, consisting of polyester resin reinforced with glass fibre matting.
In many application areas, where maximum rigidity and low weight are required, GRP is the best solution.
GRP is extremely stable and lightweight. Independent research has shown that rigidity remains unaffected even after many decades.
In addition, GRP products offer can withstand intense fire - without developing leaks.
It has been proven, that GRP is the ideal material for economical storage and secure transport:
GRP products are extremely robust due to their permanent stability and absolute resistance to corrosion
Long-term weather resistance enables many years of outdoor use
Low weight is particularly advantageous for transport and assembly
Smooth interior and exterior surfaces make GRP products easy to clean
GRP products are absolutely UV resistant
GRP products offer good burning behaviour and high chemical resistance
Temperature resistant from -30 °C to +40 °C
GRP enables us to offer the optimum solution for your storage and transport requirements.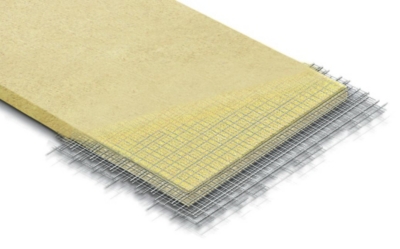 Polyester resin
Glass fibre matting
Grit containers made of GRP
Trendsetting advancements in grit container design
The service life of GRP grit containers far exceeds 20 years. The oldest GRP grit containers have been sitting on the roadside for more than 40 years, where they have been exposed to wind and weather year after year.


It has been demonstrated for over 40 years, that even after prolonged exposure to weather and salt, nothing can harm GRP. Grit containers are also subject to increasing vandalism in cities, schools and public areas.


In response, CEMO introduced a grit container lid for the first time in 2005, which can withstand this lust for destruction. The particularly impact resistant material and increased wall thickness enables the lid to meet tough requirements for placement in public areas such as train stations, bus stops, schools etc.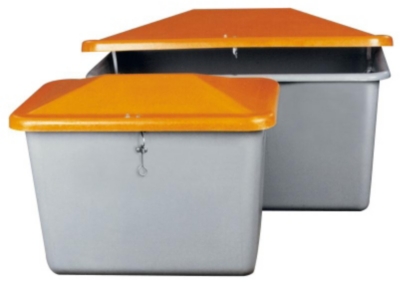 Weather resistant material
Smooth inside walls for easy emptying and secure lifting of the container by the rim due to loading bars
No warping or bulging of the container (long-term smooth opening and closing of the lid)
Smooth surfaces -> easy cleaning (not a dirt trap)
The nature of this material enables the repair of containers Service life of more than 20 years
With this generation of grit containers, the lid can be removed without tools, which saves an enormous amount of time when placing in storage.
All hinges are made of stainless steel and are thus just as durable as the container itself (self-closing and child-proof).
The special shape of the container rim allows the use of optional loading bars, with which a single person can empty and fill the container.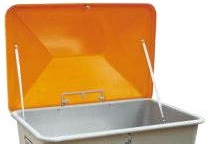 Vandalism protection lid
Particularly impact resistant and rigid material (hammer proof)
Additionally increased wall thickness (for 400, 550 and 700 l container sizes)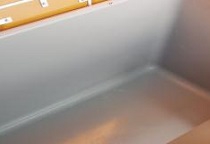 Smooth surfaces
Stays cleaner thanks to smooth exterior walls (does not collect dirt)
Smooth interior walls for complete emptying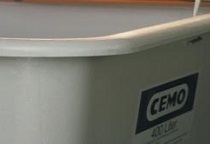 Closes smoothly 
Long-term, smooth closing due to moulded container rim
Overhanging rim prevents dirty water and moisture from seeping in 
Our top products from this guide
Our top categories from this guide