Back
"clip-step" – non-slip tread cover
A secure footing and safe stance on the ladder – the solution to this is called clip-step, the anti-slip tread covers for step ladders.
The slip-resistant tread cover is made of ribbed plastic or a plastic profile with aluminium checker plate, and thus always guarantees sure footing and comfortable standing on step ladders.

The "clip-step" cover markedly improves slip resistance. This provides the company internal safety engineer with an additional option for maintaining compliance with applicable regulations and safety directives.

You can choose between two versions of tread cover:
clip-step tread cover
Made of ribbed plastic and clipped onto the step, the clip-step tread fits perfectly over the entire surface. These covers provide excellent grip and comfort when standing on our step ladders.
R13 clip-step tread cover
The new R13 clip-step tread cover is a certified, non-slip surface for our step ladders.

With a plastic profile and aluminium checker plate, it meets the specifications of category R13 and was classified as V6 in the displacement area category. Particularly in working environments that are wet or smeared in oil, the R13 clip-step provides extra safety at work.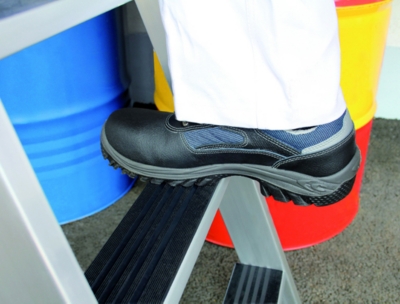 Ill.: Step ladder with clip-step
Use of the "clip-step" cover facilitates compliance with DIN EN 131-2. This generally requires that rungs, steps and platforms made of metal or plastic are to be slip resistant by design.

On double sided models, the clip-step cover is additionally attached up to the highest step rated for climbing (according to DIN EN 131). In addition to the described slip resistant properties, the tread covers also serve as a visual aid for proper use of the ladder.

Certain ladder models can also be retrofitted with clip-step. Please enquire if you would like additional information about this. 
Our top products from this guide
Our top categories from this guide