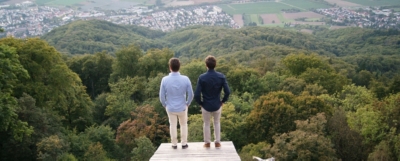 Demanding, encouraging, providing feedback. And having fun.
The basis for good employee leadership.
One of the most famous sentences in world literature 'I would prefer not to.' This was said by one of the most important literary figures: Hermann Melville's "Bartleby, the Scrivener". Bartleby, the dithering, stubborn, obstinate employee is today an allegory for the new type of naysayer.

What can be done? How does one handle such employees? How does one motivate them? How does one increase or retain working capacities? There are many options from turning an 'I would prefer not to' into an 'I'd like to do that'. For example, we think that by involving the employees and establishing an open company culture based on partnership and by ethical leadership we can create an atmosphere in which creativity, motivation and innovation can flourish. Good employees give a company a competitive edge. This makes it all the more important that commercial success and humane and responsible action go hand-in-hand.

At KAISER+KRAFT we offer fair working conditions throughout the whole company, further vocational training, soft-skill training and leadership programmes, individual career paths and development plans, flexible working times, annual feedback discussions and intelligent conflict and health management. We recognise personal abilities, gifts and strengths, acknowledge the contribution of every single employee and are proud of the versatility and diversity of our staff. And we take care to maintain a company culture in which every employee feels valued and is motivated to make the most of their potential.

This is the basis for good employee management. This helps to ensure that employees enjoy their duties and have fun at work and at the same time they are healthier … and maybe they are even happier.