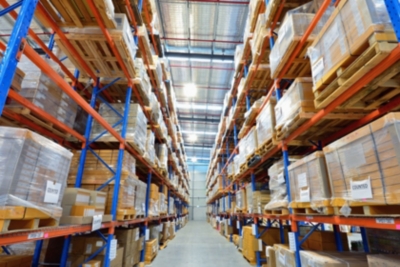 At one location, from a single source
Vishay Electronic has concentrated its logistics centre for electronic components into a single facility in Selb, and has relied solely upon KAISER+KRAFT's consulting and products for the planning of interior furnishings.

The small town of Selb in the Fichtel Mountains is best known for one thing: porcelain. The world renowned brands Rosenthal and Hutschenreuther are based here. What many people do not know: Vishay Electronic, a global player for electronic components, can also be found in Selb. Diodes, rectifiers, transistors, sensors and resistors are manufactured by the millions here and distributed across the globe directly from Selb. The company, which was founded in America in 1962 and has seven facilities in Germany alone, has its European headquarters here as well.

The factories in Selb actually have a much longer history, which of course, has more than a little to do with porcelain: In 1900, Phillip Rosenthal founded "Department E" on the initiative of AEG in order to develop and produce insulators and ceramic components for electrical applications. The electrification of the world was in full swing at the time, and the products were in high demand. So high in fact, that two more factories had to be added to factory I within the course of the year. Approximately 80 million components were manufactured here every year, filling 85,000 orders. Today customers are from the industrial and consumer electronics industries, as well as from computer technology, the automotive sector, medical technology and the aerospace industry.
"Through the historical development of our organisation with the three factories, a second organisation has emerged in the area of logistics: We had goods receiving departments with an associated raw material store at each respective factory. Dispatch was housed in factory III", explains Mathias Fröhlich, purchasing manager at Vishay.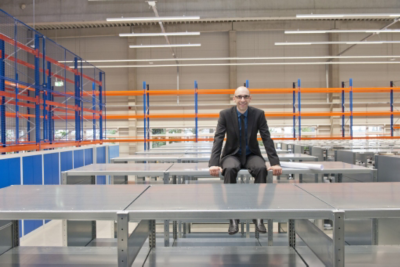 Thus came the decision to establish a central warehouse for raw materials and to have finished products joined with a logistics centre. The 2500 square metre building, of which 2150 square metres are for storage alone, was built within close proximity to factory III. The construction is one thing – and the interior furnishings to meet all of the emerging requirements yet another. This is where KAISER+KRAFT entered the equation. "I called Béla Bezold at the beginning of 2013, to discuss the extent to which he could assist us", reports Mathias Fröhlich. Béla Bezold is regional sales manager at the KAISER+KRAFT branch in Munich and is specifically entrusted with the planning of large projects such as this.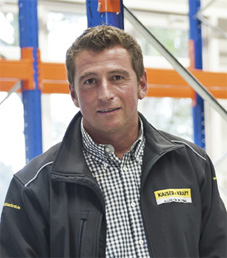 "I oversee a few like this in a year. With us, the customer gets everything from a single source, from planning to final delivery", says Béla Bezold. He and Mathias Fröhlich have known and appreciated each other for many years, as Vishay Electronic is a long time framework purchase agreement customer at KAISER+KRAFT and relies on the quality of the advice and products.
Everything starts with a plan: Regional sales manager Béla Bezold from KAISER+KRAFT Munich drew up a detailed plan for the warehouse to be fitted out with new shelving units.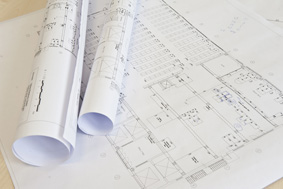 "We already had a shelving system from KAISER+KRAFT in use, with which we were very satisfied", reports Mathias Fröhlich. "Originally, my idea was to simply convert these into heavy duty shelving units." He provided Béla Bezold with the layout, planning documents and defined specifications, which Bezold used to prepare a preliminary proposal. However, it did not prove to be nearly as simple as expected: The requirements of the new warehouse and logistics centre exceeded the max. load of the existing shelving units, which were actually supposed to be reused. "Ultimately, we had to start from scratch, and we ended up using medium duty shelving units, which could support a load of 200 kg per shelf", says Béla Bezold. There was a total of 528 running metres of shelving, with approximately 2100 shelves, distributed over four levels and arranged in rows, each having between three and five bays. If you were to run the entire length, you would cover almost one and a half laps around a stadium.
Now they are building the "heart" of the new warehouse, where new products will be neatly and orderly arranged and stored before being dispatched. The main attraction: The system is designed to be expanded, so that a second shelf level can be installed above the first if required, which would effectively double the overall storage area. This will ensure long term suitability.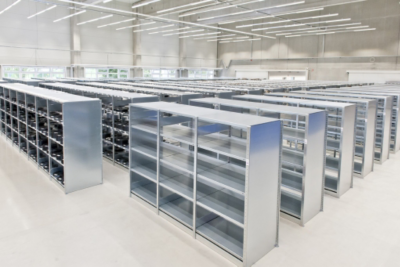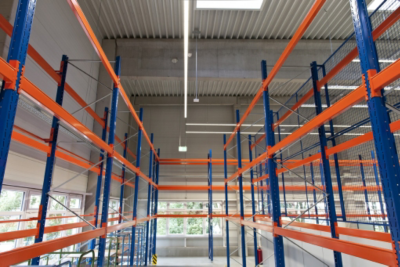 The pallet racking would be positioned along the outer walls of the warehouse. 170 pallets of raw materials such as ceramic substrates, metal parts, contacting materials as well as spare parts for machines and systems can now be comfortably stored here on four levels, all the way up to the roof.
Were there any particular obstacles or difficulties with the planning? "Actually not. I only remember getting a call from the construction company, asking me which type of concrete they should pour", says Béla Bezold with a grin on his face. Heating pipes were going to be installed under the warehouse floor, which would affect the load bearing capacity of the floor. "However, we were able to easily resolve this issue by using special anchors for the shelf units", he says. He also had no problem ensuring the required maximum shelving load would be met, even when it increased again during planning. "KAISER+KRAFT really can deliver a solution for every single requirement."

Mathias Fröhlich from Vishay is also very satisfied with the process: "We had a plan, and knew what we wanted. KAISER+KRAFT supplied everything that was required for the implementation of our project." And exactly according to schedule: On August 26th, all of the shelving units were delivered and subsequently assembled, and the new warehouse and logistics centre were commissioned on August 31st as agreed. The old shelving units from KAISER+KRAFT, which were actually supposed to be reused, were ultimately put to good use in another area of the company.
For Béla Bezold, however, the job here is not yet complete, as he is also tasked with the certification and annual inspection of the system: "As an authorised partner, we also conduct the annual shelving inspections in accordance with BGR and EN 15635. Furthermore, KAISER+KRAFT is one of very few companies capable of making on-site repairs and creating the required test reports."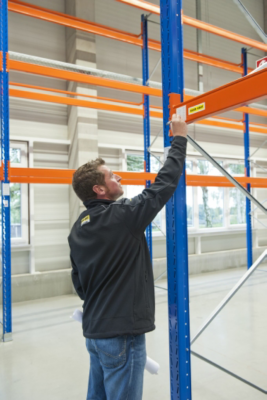 Contact
If you are in the process of planning a project, then please do not hesitate to contact us. Our experts are always happy to advise and support you further.