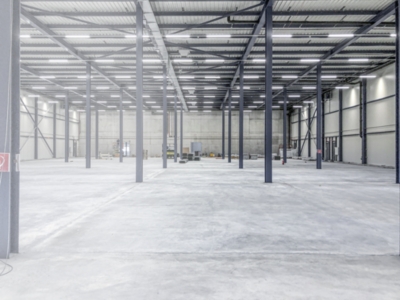 Keystone Development Project
A single source of everything
Task assignment
We were commissioned by Keystone Development AG to design and construct a warehouse in Küssnacht, Switzerland, in collaboration with the architecture firm HCI. The company OMIDA would use the new space to store homoeopathic remedies and Dr. Schüssler salts.
Solution
Our plans for the warehouse were based around the shelf unit dimensions. This enabled us to create a very spacious warehouse in which shelving could be extended or reduced as needed. The customer was very satisfied with the great value combined with the personal consultations in their offices and at the construction site.
Fabio Martella, project manager at kaiserkraft
"This was a very enjoyable project to work on. Both parties really appreciated the excellent teamwork."
It took four weeks just to assemble the shelves. The following figures best illustrate the scale of the project: in total, 54 tonnes of steel, 304 upright frames (frame height up to 7000 mm), 1558 steel beams and 92 crash protection corners were delivered and installed. In addition, a sprinkler system was installed on every level of the shelf unit. Before creating this custom-made solution, we had to precisely determine the heights of the shelf supports, as we would not be able to make any alterations at a later point.

Everyone involved was extremely satisfied with how smoothly the project went, particularly with regard to timing. We successfully coordinated a complex schedule in a series of meetings with the customer, carefully arranging everything from planning through delivery of pallet racks and installation of sprinklers to working with company caretakers, electricians and ventilation installers.
This project involved major challenges, with the complex task of coordinating the various elements and managing the sheer scale of the project (2512 qm of storage space and 3162 pallets).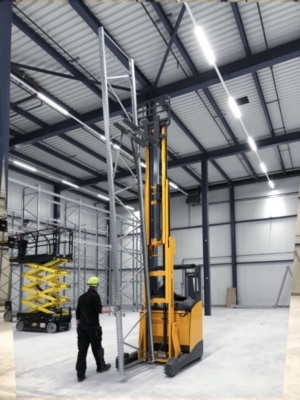 Contact us!
If you are also working on planning a project, then please do not hesitate to contact us. Our experts are always happy to advise you and provide competent support.
Contact for advice, planning and needs analysis: