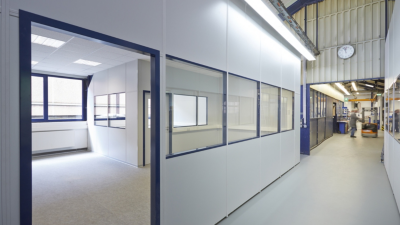 Developing space within space
Egon Grosshaus GmbH & Co. KG had part of a production hall converted into office space for their quality assurance department and test laboratory – without having to modify the structure of the building at all.

In the heart of Sauerland, between the Ebbe Mountains and Rothaar Mountains, lies Lennestadt. Although nothing unusual for Sauerland, city slickers are amazed by the dark green fir trees found here. About 60 percent of Lennestadt is covered by forest. Rolling hills and lush green hues, as far as the eye can see.

Egon Grosshaus GmbH & Co. KG, a medium-sized company which specialises in stamping, fine blanking and punching and bending technology, has its headquarters in this idyllic location. This company has been in business for over 75 years. Always run by the same family, Patrick Grosshaus is now the third-generation leader of a company that employs approximately 500 people. Although the company is of enormous economical importance for the region – it has also established a strong reputation internationally amongst metal-working suppliers for the automotive industry.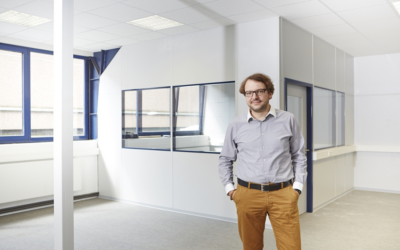 Where little things are a big deal
The majority of the products from Grosshaus are manufactured for the automotive sector. One of the most successful is a belt housing, which is used in the automotive industry to protect passengers. Even more so than in all other industries, precision is absolutely critical here – as ultimately it comes down to people's lives.

Dr. Christof Arens manages the internal test laboratory and makes it very clear how precisely the parts at Grosshaus are measured: "The measuring devices, which we have here, are accurate down to the micrometer – this is one-thousandth of a millimetre. To put this in perspective, a human hair is about 25 micrometres thick." Accordingly, the dimensions of a part must be absolutely precise before quality assurance approves it for delivery to customers.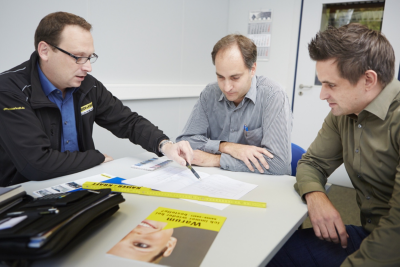 In order to be able to best meet requirements for space and to be in closer proximity to the production line, a decision was made to move quality assurance to a floor level right above the production hall. The challenge: To create an enclosed space, suitable to house the laboratory and QA offices, without having to change the structure of the building itself.

Thorsten Oest (left), regional marketing director at KAISER+KRAFT, thoroughly reviews the plans for the project with Christof Arens (centre), manager of the test laboratory.
In addition, the doors and window frames – just as those in the rest of the building – should be designed to match the company's CI colours. For this reason, Grosshaus sought the advice of KAISER+KRAFT.

The project was planned and intensively managed by Thorsten Oest, regional marketing director at KAISER+KRAFT in Haan. He says: "As the planned spaces had to be integrated with the existing production hall, we decided to use the flexible partition wall system. These are assembled on site, which means adaptations can still be made for wall connections or other requirements."

A huge advantage, which was often well utilised at Grosshaus.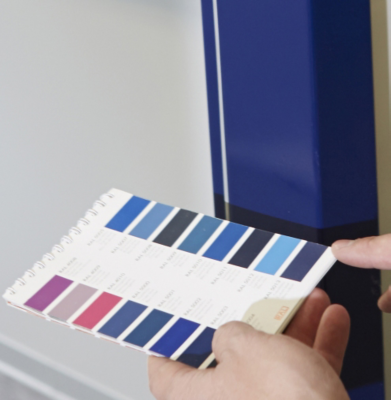 Individual space solutions
Grosshaus and KAISER + KRAFT have been working together for over 15 years. The collaboration began – as one could imagine – with a room system. Successive additions have been made over the following years. The most flexible solutions have been implemented, all along the way.

Dr. Christof Arens recalls the beginnings of this year's project planning: "There were, of course, many details to be considered beforehand. Once the wall modules are in place, then its too late. We spent a lot of time contemplating the floor plans."
First of all, the varying ceiling heights in the measurement laboratory had to be taken into account. As one machine requires a certain clearance height for maintenance, a section of the ceiling had to be raised by 30 centimetres. The floor coverings posed yet another challenge. Whereas the supplied 2.4 millimetre factory-finished PVC flooring was laid in the offices, the laboratory has a pre-cast concrete floor to support the point loads of the measuring machines whilst also minimising the transmission of vibration.

Since offices are also being integrated in this space, up to 25 workstations have to be created. A room-in-room solution was used, for example, to create an individual office for quality manager Jens Rarbach.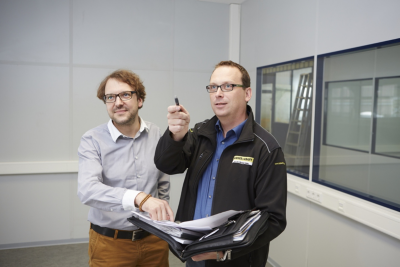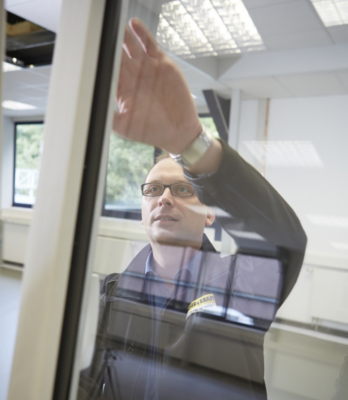 Day of acceptance: Thorsten Oest inspects the tilt-and-turn window module to see if it functions properly.
Tilt-and-turn windows enable the provision of fresh air and natural light. In places where structural supports were found, custom-fit recesses were made.
"However, over a certain span width, additional reinforcements have to be installed for structural reasons. We were able to address this on site by using steel struts with integrated ceiling supports," explains Thorsten Oest. "The flexible partition wall systems enable us to accommodate the individual requirements of each customer, down to the last detail. Our services here range from floor borders and trim to cable ducts, lighting components and everything in between."

Return to the project page

Contact
If you are in the process of planning a project, then please do not hesitate to contact us. Our experts are always happy to advise and support you further.