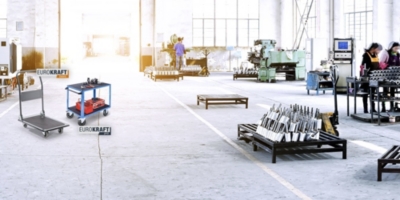 Rethinking and reinventing our own brand with the same reliable quality.
Whoever decided that tradition and progress don't go together? That established brands cannot reinvent themselves? Where does it state that everything has to stay the way it always was? Nowhere!
Exactly. You can't pigeonhole EUROKRAFT, and so we don't have to compartmentalise it either. That's why we have turned our own brand into something different: the robustness and reliability have remained, as have the quality and durability. This will ensure that EUROKRAFT, with all the familiar and even more new products, will continue to be your faithful companion and means of support for your everyday work. And this, as previously the case, with an excellent price-satisfaction ratio as well.
THERE IS A BUT – BUT A GOOD ONE
But we have given EUROKRAFT a new look – a modern, fresh and distinctive appearance – and a new brand structure for more convenience and clarity. You can now find all of our own brand products in the entire KAISER+KRAFT product range. EUROKRAFT's craftsmanship brings benefits everywhere it is used, from the workshop to the warehouse, from the office to the factory – and is just waiting for you to rediscover it.


EUROKRAFTbasic
Good work can be this simple – when the right products provide the basis.
In order to be able to offer you the best of the best, we always start where the need is most pressing: with the essentials. That's why we at EUROKRAFTbasic leave off everything unnecessary, and instead concentrate on functional benefits: is the product suitable for practical use? Can it withstand high loads? Is it easy to operate? And does it keep the promise we make?

The answer? An unequivocal yes! EUROKRAFTbasic's solid, reliable products in dependable quality offer just the right entry-level solution for smaller projects and responsibilities. And they make an impression with their ease of use, practicality and suitability for everyday use. No frills, no fuss. And this also extends to the price: EUROKRAFTbasic products are available at an attractive entry-level price, guaranteed to put you in a good mood.

All this makes EUROKRAFTbasic the soundest basis for just about any project:
Reliable, solid quality at a fair price
Wide range of products for daily use
Fast availability
3 year guarantee
Developed in compliance with

KAISER+KRAFT

standards

EUROKRAFTpro
Top products for the professional – 100% guaranteed satisfaction included.
Our own brand EUROKRAFTpro is a promise. A pledge to provide the highest possible level of quality and reliability. We have pooled the combined expertise of our Office Akktiv, EUROKRAFT and EUROKRAFT active green products for you into this new product range. The result of this special union is easy to describe in one word: more. More functions, more flexibility, more premium and more guarantee. EUROKRAFTpro therefore offers you top products that can do so much for you, even when used intensively on a daily basis. After all, they are powerful and practical, ergonomic and reliable. And if that isn't enough to make you feel good: there are even built-in extras available to choose from, a product guarantee of at least 10 years, and many resource-saving and therefore sustainable products from active green.

In short: EUROKRAFTpro stands for products that you'll simply love. After all, you shouldn't settle for anything less than 100% satisfaction.
All this makes EUROKRAFTpro a professional partner to you on the job:
Products produced to high quality standards
Consistently high quality standards
A guarantee of at least 10 years
5-year after sales service
Plenty of flexibility due to all the optional accessories and combinations
Excellent spare parts availability
Customer-specific designs and custom made models make unique solutions possible
Active Green label to identify sustainable products

Do you recognize green products at first sight?
Now you do - with the activeGREEN label.
From now on, all products in our range that meet specific sustainability criteria will be awarded the label. Namely, with the activeGREEN label.


This includes many EUROKRAFTpro products as well as many other brands from well-known manufacturers. And there are more and more - because we will continue to increase the proportion of green products. For you. For us. For everyone.
Make an investment in reliability, safety and durability now! And in two powerful brands. EUROKRAFTbasic and EUROKRAFTpro guarantee that everything that's important to you will always be exactly where it's needed: right with you.
And yet this is only the beginning. Look forward to many more new products from our own brands in premium

KAISER+KRAFT

quality to come soon! Stay informed at

kaiserkraft.ie

!