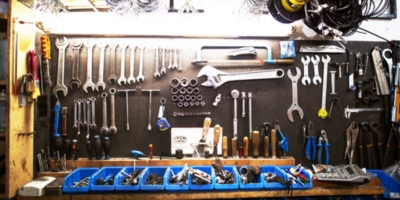 EQUIPPED FOR THE WORKSHOP
Our service package for the workshop of tomorrow
Do you already have everything you need for it?
Engineers don't fall from the sky – they are standing in the workshop. They get things done: their utmost priority is to repair existing equipment, make it better, or to create something new. Anyone who really does want to create something new will also love having the right tools; ergonomic work equipment, occupational health and safety products, or modern organisation systems, for example.

Whatever your next project, you can rely on us to make your operations as straightforward, ergonomic and functional as possible. No matter what the future brings, find out about the workshop of tomorrow right here.
Our own brands
Two excellent brands for your workshop
Sustainability with activeGREEN
Make your workshop greener
In-house production
Special is the benchmark for us
The modular GO sack truck – an innovation that will get your workshop moving
One sack truck, and more than 800 different ways to make it a sack truck that fits your own individual requirements. Mix and match the frame, footplate and wheels in just a few steps to get the very best in versatility and usability. Once you have used it for transport, you'll never want to go without it again.

Nor do you have to, because with a minimum 10-year guarantee, the GO sack truck will be with you for a very long time.
Best workmanship made in Germany, in the trusted KAISER+KRAFT quality
For different areas of use, can be configured to individual requirements
Ergonomic
Other products from our own production facility
We love your special requests. And the challenges that they bring us each and every day. For us, it isn't just a matter of "What doesn't fit, is made to fit", but also: "There's nothing that can't be done!"
Product categories
This is where you will find products for your workshop