bimos – NEON industrial swivel chair, with floor glides and step-up
self-skinning foam seat material
Profiled seat, tapered back rest
Easy to clean, robust surfaces and materials
All-inclusive ergonomics package, adjustable seat inclination, synchronous mechanism
Functions are quick to adjust
High safety and ergonomic standards
Flexible exchangeable upholstery system
Bumper provides edge protection
Maximum versatility with consistent ergonomics
Step-up
PU foam, resistant to mild acids, alkaline solutions, moisture or flying sparks
Extremely robust, washable, easy care, resistant to disinfectants
Easy to clean

BLUE ANGEL – The environmental label

This label distinguishes products that meet particularly sustainable criteria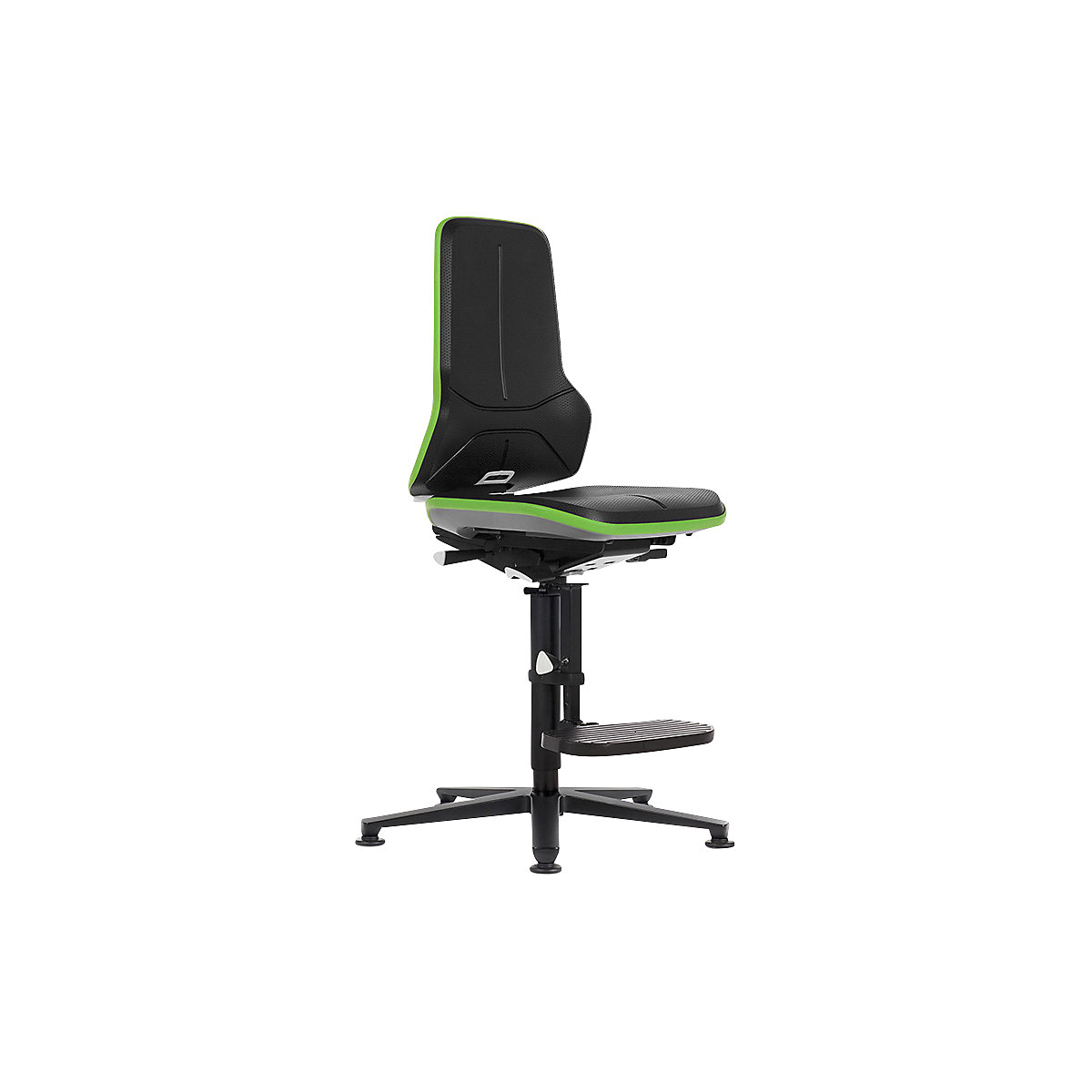 Ref.: 177824 10
bimos – NEON industrial swivel chair, with floor glides and step-up, self-skinning foam seat material, orange bumper
Price / items (Excl. VAT)
Industrial swivel chair with synchronous mechanism and ergonomic package. Gas lift height adjustment from 590 – 870 mm. Aluminium five star base with floor glides and step-up, colour black. Diameter of base 700 mm. Adjustable seat inclination 0 to +9°.

Seat and back rest surface with self-skinning foam upholstery, black. Bumper available in the colours grey, green and orange.
Arm rests are not included – please order as accessories.
Profiled seat, tapered back rest
Easy to clean, robust surfaces and materials
All-inclusive ergonomics package, adjustable seat inclination, synchronous mechanism
Functions are quick to adjust
High safety and ergonomic standards
Flexible exchangeable upholstery system
Bumper provides edge protection
Maximum versatility with consistent ergonomics
Step-up
PU foam, resistant to mild acids, alkaline solutions, moisture or flying sparks
Extremely robust, washable, easy care, resistant to disinfectants
Easy to clean
BLUE ANGEL – The environmental label

This label distinguishes products that meet particularly sustainable criteria


Frame design

with floor glides and foot rest

Seat mechanism

synchronous mechanism with weight adjustment




adjustable seat inclination

Seat material

PU foam

Type of height adjustment

gas spring

Frame material

aluminium

Height adjustment range

590 – 870

mm
Seat width

470

mm
Seat depth

420 – 480

mm
Type of arm rests

without arm rests

Foot plate diameter

700

mm
Frame colour

black

Product type

industrial swivel chairs

Supplied

flat pack

Weight

24

kg

Customers who purchased this item also purchased