PE hazardous goods storage depot with doors
for 4 x 200 l drums / 1 x 1000 l IBC/CTC
For indoor and outdoor storage of corrosive and water hazardous liquids in accordance with regulations
Corrosion-free, weather resistant construction with 2 doors and curved roof made of highly resistant polyethylene
Integrated drum sump with grate for the storage of oils, acids and alkalis
Robust and durable
For small containers, drums and IBC / CTC tank containers
Resistant to aggressive, corrosive chemicals


For water hazardous liquids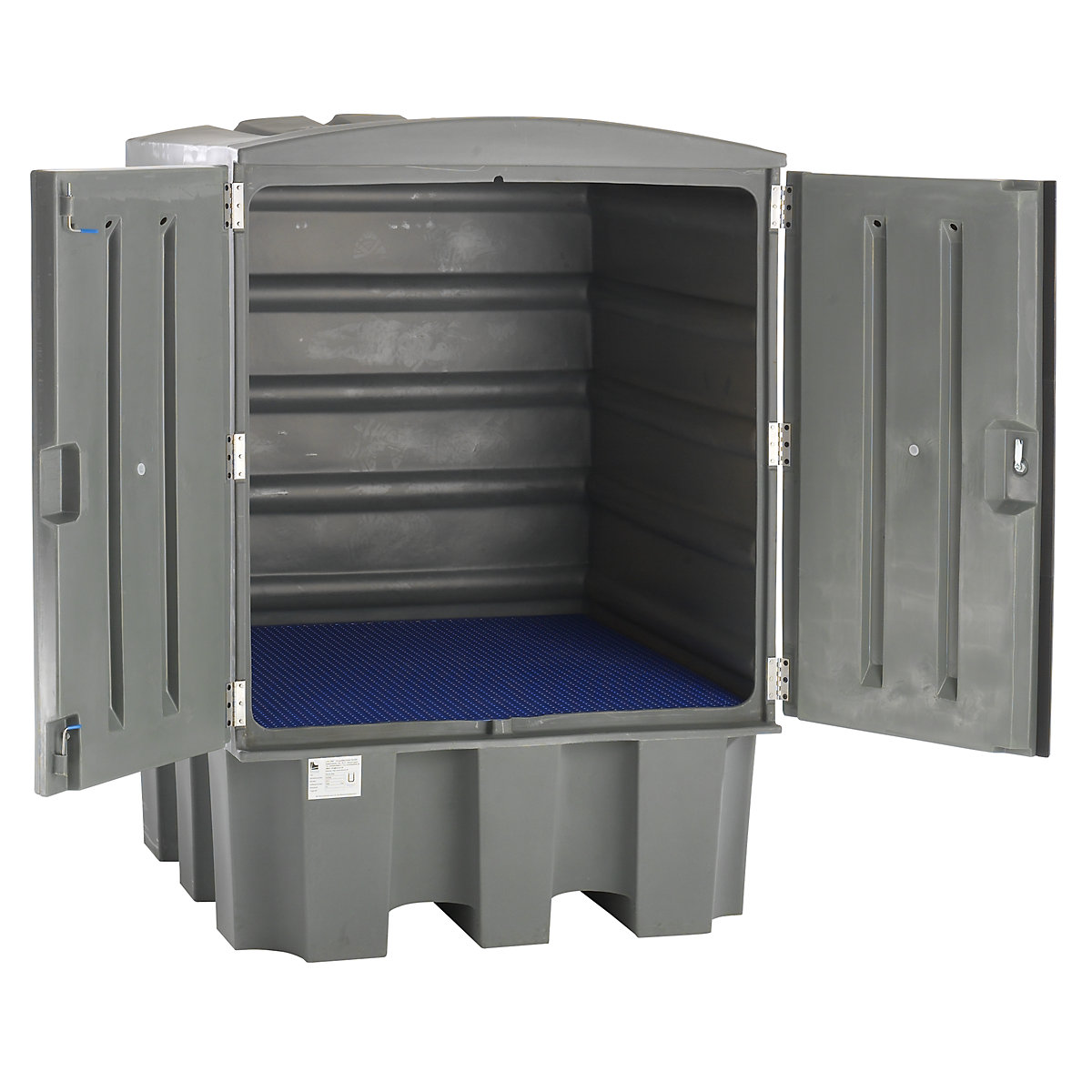 PE hazardous goods storage depot with doors, for 4 x 200 l drums / 1 x 1000 l IBC/CTC, with zinc plated grate
Integrated sump tray with zinc plated or PE grate. With clearance for forks at base – easy to load with pallet truck or forklift.
Body moulded in a single piece. Lockable doors.

Horizontal drum storage (2 x 200 l) only possible with drum stand.
For indoor and outdoor storage of corrosive and water hazardous liquids in accordance with regulations
Corrosion-free, weather resistant construction with 2 doors and curved roof made of highly resistant polyethylene
Integrated drum sump with grate for the storage of oils, acids and alkalis
Robust and durable
For small containers, drums and IBC / CTC tank containers
Resistant to aggressive, corrosive chemicals


For water hazardous liquids

External height

2160

mm
External width

1500

mm
External depth

1480

mm
Drum capacity

4 x 200 l

1000 l container capacity

1

pcs.
Sump capacity

1000

l
Colour

grey

Test symbol

with general certification from the DIBt (German Institute for Construction Technology) Berlin

Material

polyethylene

Lock type

cylinder lock

Place of use

indoor and outdoor use

Hazard class

for corrosive and water hazardous liquids in accordance with GHS

Weight

170

kg
Supplied

assembled
Customers who purchased this item also purchased
Together we are strong: Helpful information about this product.