LISTA – Basic boltless shelving unit
shelf height 2000 mm, base WxD 1300 x 500 mm
Stable boltless shelving units for offices, archives or for sturdy industrial use
Organisation and overview provided by shelves that can be divided, drawers with partitions and by means of suspension files (accessories)
Shelves can be extended for form cupboards using side walls, rear panels and lockable hinged doors: this ensures your storage items are kept safe (accessories)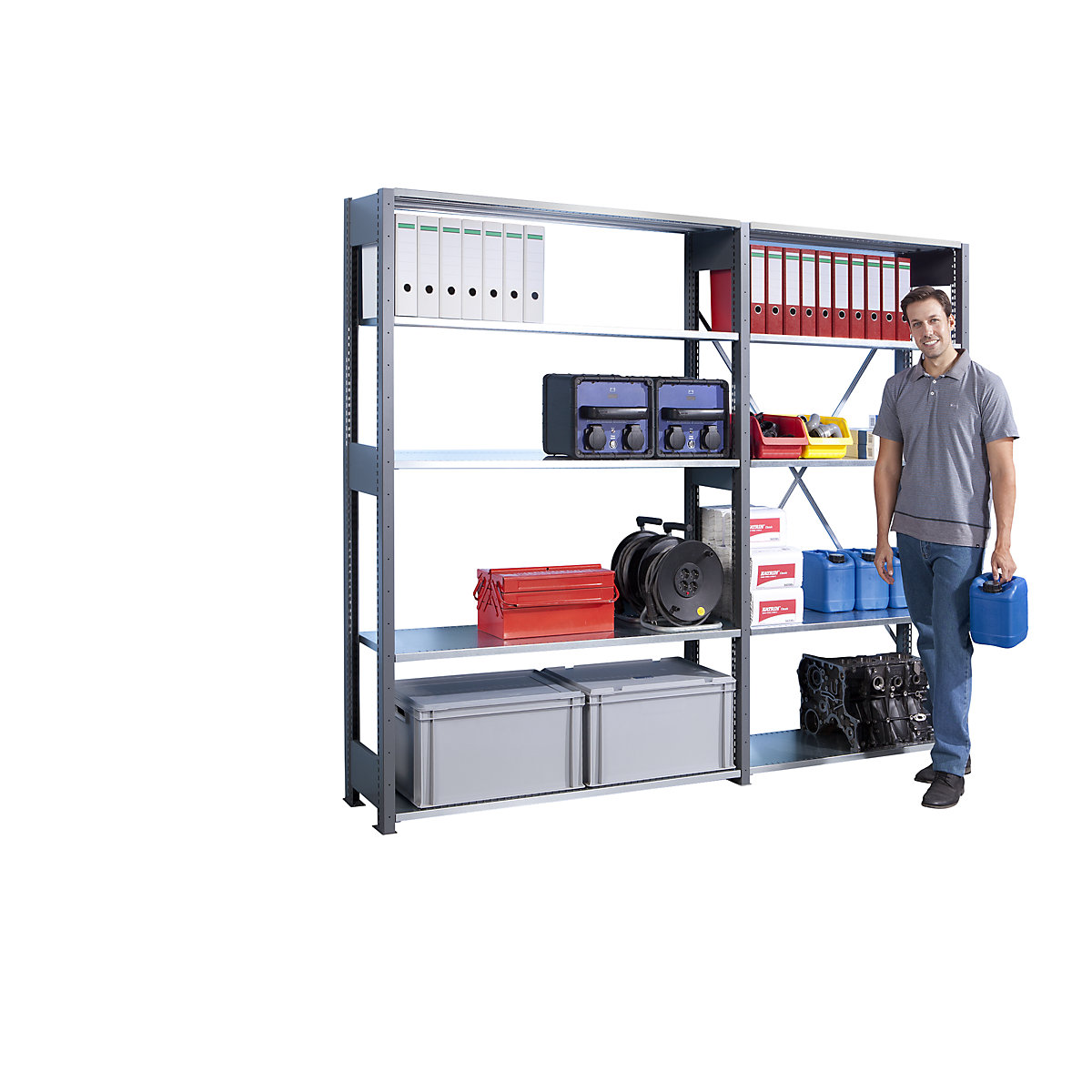 Ref.: 176148 10
LISTA – Basic boltless shelving unit, shelf height 2000 mm, base WxD 1300 x 500 mm, extension shelf unit, light blue
Price / items (Excl. VAT)
An additional diagonal cross brace is required for every third extension shelf unit.

Upright frames
Made of cold formed C profile, 40 x 75 mm, with hexagonal bevels for highest degree of stability. Incl. foot plates and depth rails. Powder coated in three colours.
Zinc plated shelves
Incl. shelf brackets. Slotted to allow shelf dividers and partitions to be installed in 25 mm increments. Shelf adjustment grid 25 mm.
External dimensions
Overall shelf unit width Total of shelf widths + number of uprights x 40 mm.
Overall shelf unit depth
Shelf depth + 4 mm.

Please note:
If the height of the shelf unit equals more than 5 times its depth, the shelf unit must be secured against tipping by means of floor anchoring sets. 2 floor anchors are required per pair of uprights.
The specified max. load values are applicable with uniform load distribution. Additional shelves may be used if the specified max. bay load is observed.
Extension device for two-level design available to retrofit on request.
Stable boltless shelving units for offices, archives or for sturdy industrial use
Organisation and overview provided by shelves that can be divided, drawers with partitions and by means of suspension files (accessories)
Shelves can be extended for form cupboards using side walls, rear panels and lockable hinged doors: this ensures your storage items are kept safe (accessories)

Customers who purchased this item also purchased