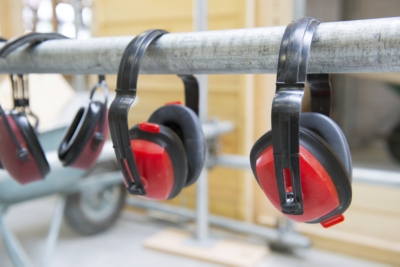 Three risk factors that endanger your health at work: air, light, noise
2020/09/15
Stale air in the meeting room, a warehouse without windows and a persistent level of noise in the production area. Like most workers, you are also likely to spend the majority of your hours at work indoors.

Because room climate, lighting and acoustics have a significant impact on productivity and can even be harmful to health, ambient conditions as a focal point for ergonomics at the workplace are a topic of vital importance for functional occupational health and safety at your company.

In this article, we have collected key workplace requirements that specifically relate to the factors air, light and noise. Moreover, you will, of course, also find the appropriate products here, ones that will allow you to perfectly equip your office space for a great climate, lighting and acoustics.
At first glance, "poor air" hardly seems like something that could compromise occupational safety in your workplace. However, whether the air available to breathe in a workplace is officially considered "beneficial to health" depends on a number of key factors with defined thresholds:
If the temperature is too high or too low, concentration and performance suffer dramatically. The optimal room temperature is 19 to 20 °C for light to medium activities.
Excessive humidity promotes the growth of mould, which can lead to health problems. Very low humidity causes mucous membranes to dry out, and results in respiratory complaints and a higher susceptibility to germs. The approved thresholds for relative humidity depend on the room temperature, and should be between 55% and 70%.
The airflow, or the way air circulates in the workplace, should be between 0.1 and 0.15 m/s. If the value is too high, then this is referred to as unhealthy draughts. If the air moves too little, the room will seem stuffy and breathing becomes more difficult.
Factors such as dust, nicotine, CO₂ concentration and pollutants also play a role in how the air quality is assessed. In addition, heat radiation should be taken into account, which can be generated by appliances or, in summer, come from outside.
Products for a perfect indoor climate
Did you know?

If a conspicuously large number of employees in the same building suffer from the same symptoms, such as difficulties breathing or a scratchy and sore throat, but no cause for this can be identified, this is called "sick building syndrome". In this case, you should carry out an objective analysis of the air quality or a pollutant measurement.
The effect of light on our biorhythms cannot be denied: Permanently dark conditions can lead to fatigue, lower productivity and a decrease in motivation, while increasing the brightness makes us more active. You probably recognise this phenomenon from the wintertime.

The lighting at your workplace can have similarly negative or positive consequences for your productivity. Which means that there are a few things to consider to ensure the right lighting conditions in the workplace:
Workplaces should receive as much daylight as possible, whereby using daylight is preferable having artificial light only. Moreover, setting up workplaces close to windows should be given priority. The daylight quotient should be more than 2%.
The illuminance of additional lamps is specified in lux. For offices and storage rooms, the minimum value should be between 200 – 300 lx, with activities such as reading, drawing or computer use requiring 500 – 700 lx. In corridors or loading areas, a minimum value of 100 lx is sufficient. We have the right lighting for your business: discover tailor made lighting made by experts now. Click here for Waldmann lighting solutions.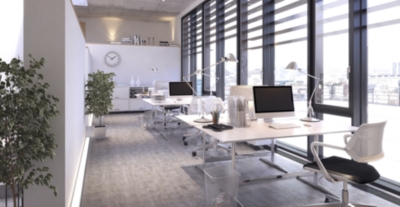 Products for optimal lighting in the office
Note
Very bright, direct light, reflections or permanent flickering can impair concentration, and even lead to accidents. To ensure safety and maintain employees' health at the workplace, you should therefore consider how much light shines in any risk assessment.
Our KAISER+KRAFT Workplace lighting guide also gives you plenty of useful information about the right lighting for different areas at work, such as warehouses, production, desks or workshops.
Annoying noises or a sustained noise level at the workplace can reduce your ability to concentrate and your responsiveness, increase the willingness to take risks and the error rate, thereby making many manual activities less safe. Last but not least, persistent noise causes stress and can have long-term, detrimental effects on health (e.g. impaired hearing).
Maximum values for noise pollution specified in decibels
For activities requiring a high level of concentration, the noise level should not exceed a maximum of 55 dB(A). For work that mainly involves routine activities, 70 dB(A) must not be exceeded.


In areas where high levels of noise cannot be avoided (e.g. production or warehouses), occupational health and safety guidelines require that you take action against exposing employees to the noise by providing the appropriate noise protection.
For a rough estimate
Whispering has a volume of around 30 dB(A), rain or fridge noises are 50 dB(A), shouting or a lawnmower is 70 dB(A) and a chainsaw or disco music amounts to 110 dB(A).
Evaluating the noise level and noisiness
Even pronounced or comparatively quiet noise levels are perceived differently by different people. For this reason, a workplace inspection to check noise exposure helps to assess the noise level in the workplace and to determine the causes of noise emissions. At least two people should, working independently of each other, assess the background noise and any annoying noises during normal, everyday operations.
Products for the ideal acoustics in your offices
We are your partner when it comes to healthy workplace design
Ergonomics in the workplace is a topic particularly close to our hearts. So put your faith in us when you need support in deciding on the right occupational safety measures for your business or for ergonomic office solutions.