Back
Environment Product Guide
Guidelines for laboratory exhaust hoods
Exhaust hoods are the most important operational component in many laboratories. They must be designed so that harmful concentrated substances do not leak out of the hood into the room, but rather are efficiently extracted. Exhaust hoods are supplied in many models and versions, depending on the respective application, the workflow and in accordance with the ventilation concept utilised in the laboratory. All hood types have been tested in our own ventilation test facility and meet the requirements of EN 14175. They consist of a top hood section with deflectors, holding stands, lighting, a table frame with ceramic tabletop and drainage basin as well as base cupboards with hinged doors.
Laboratory exhaust hoods can be optionally fitted with top glazing on the front panel, in order to provide a better view of rather tall experiment assemblies. In addition, media removal utensils and safety sockets can be selected. In addition to the exhaust hoods listed here, there are a variety of hood types available such as deep hoods, intake air hoods, filter hoods, fume-off hoods, radionuclide hoods, etc.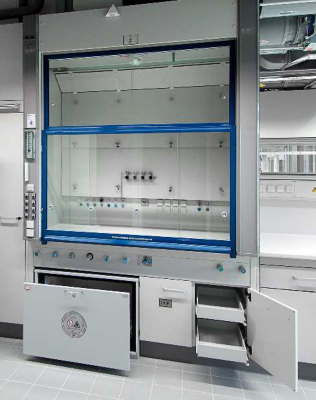 Laboratory exhaust hood requirements
Exhaust hoods must be manufactured in such a way, that:
Due to their construction and routing of air flow during operation, harmful concentrations of gases, vapours and dust, or anything else from inside the hood, can not escape into the laboratory.
A dangerous, potentially explosive atmosphere can not form inside the hood.
Laboratory personnel are protected by the closed front window from splashing hazardous substances and flying shards of glass.
Hoods are constructed in accordance with EN 14175. This standard is comprised of the following sections:
Section 1: Definitions
Section 2: Safety and performance requirements
Section 3: Type approval
Section 4: On-site testing
Section 5: Recommendations for installation and maintenance
Section 6: Regulated volumetric flow rate hoods
Frequently asked questions regarding EN 14175:
Which fundamental safety requirements are applicable to hoods?
These requirements are regulated in section 2 of EN 14175. It specifies, in part:
The work surface should have reinforced edges all round. The work surface must be able to withstand at least 2000 N of force.
Air deflection panels must be easy to clean.
There must be safe access to all mechanical and electrical equipment.
Front window opening: 500 mm in direction of movement.
Vertical frontal windows must be equipped with a stop limiter in order to prevent them from being opened more than 500 mm. A vertical front window must be designed so that it will not drop down if the suspension mechanism fails.
An extraction status indicator must monitor the air flow rate. It must be equipped with audible and visual alarms.
The type approval process is defined in section 3 of EN 14175, which specifies testing procedures for the evaluation of the safety and performance of exhaust hoods. It also describes the test room as well as the nature of the ventilation tests. All extraction hoods found in the catalogue have received type approval certificates.
What is retention capacity?
Retention capacity is the term used to describe an exhaust hood's ability to contain airborne contaminants inside the extraction chamber.
A test gas is fed-in through a test gas outlet and captured by a sample taker. In doing so, the retention factor (CF) is calculated, which provides information about the retention capacity, and thus the quality of the hood as well. Retention capacity has been specified at 0.65 ppm by BG Chemie (government safety organisation in Germany). Our KAISER+KRAFT extraction hoods have a value of 0.3 - 0.4 ppm.
How is influence of personnel on the air currents taken into account?
To simulate the traffic of personnel, a rectangular, 1.9 m high panel is set up in front of the hood and moved perpendicularly to the delivery side of the hood at a rate of 1 m/s during the technical extraction test. This results in significantly higher outbursts of harmful substances, which level off again after a certain amount of time. EN 14175 refers to the robustness of retention capacity in section 3.
When is an on-site test conducted?
If there is no type approval for a hood, the on-site test will document whether the safety and performance requirements for the hood are maintained in a specific operating environment.
Must a hood always be tested with built-in volumetric flow regulation?
Section 6 of EN 14175 describes the testing of variable volumetric flow regulators. If a regulator passes this test, it can be installed in any EN-tested exhaust hood. Therefore, extraction and regulation do not have to be tested again in conjunction with one another.
Detailed images of our laboratory exhaust hoods: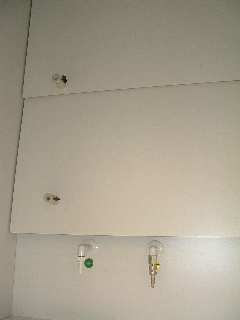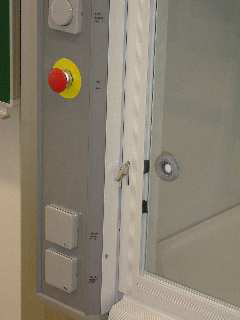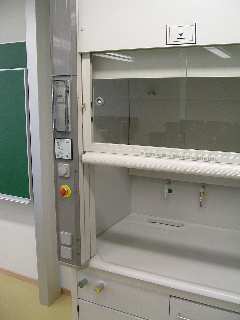 Please enquire, we would be happy to advise you.
Our top categories from this guide