Back
8 questions on first aid in the workplace
Note: The following supplementary information on the topic of first aid is based on German laws and regulations. Please observe the country-specific regulations and requirements that are binding for you. More detailed information can be obtained from the authorities responsible in your country.
Despite all efforts in relation to accident prevention, it doesn't take long for something to go wrong: An employee sustained an injury while practising their profession and needs first aid. But what exactly does the term "First Aid" refer to? And which framework conditions need to be implemented at a company to ensure first aid can be provided?
This article aims to show you what you need to observe when it comes to the topic of first aid, which legal guidelines apply and which products you need in order to ensure first aid is available at your company.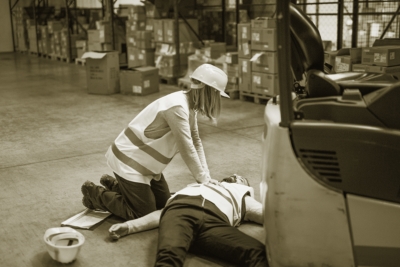 The German accident prevention guidelines BGV A1 "Principles of Prevention" define the requirements placed on first aid supplies and the first aid facilities at a company. Explanations and more detailed information about these accident prevention guidelines can be found in the BGR A1 directive "Principles of Prevention".

In accordance with Section 2 of BGV A1, the employer is, by principle, responsible for ensuring that the measures necessary for the prevention of workplace accidents and for the provision of effective first aid are in place. The organisation of first aid at a company is, as specified by Section 24 of BGV A1, within business owners' area of responsibility. They must implement the prerequisites necessary to ensure first aid is provided in an emergency.

What, exactly, does this mean for you as an employer? In order to organise first aid at a company, you will need first aid supplies, emergency transport equipment, first aid stations and, when applicable, rescue devices. Furthermore, personnel must be trained for roles such as first responders or emergency response officers with expert knowledge of first aid. The following sections provide more information about these topics.
What needs to be observed in relation to first aid supplies?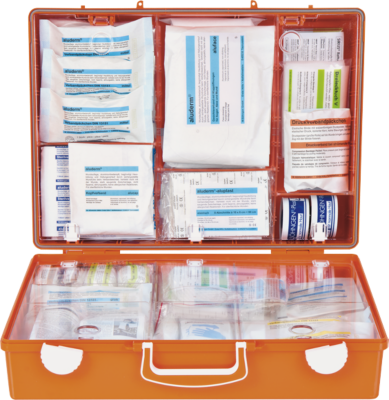 First aid supplies include first aid kits, first aid cabinets and first aid cases. Which of these three models is suitable for your company is determined by the circumstances at the company. While a first aid kit is easy to store in a cupboard, a first aid cabinet must be permanently affixed to the wall. A first aid case combines both of these: because it features a handle, it is convenient to transport and it can be mounted on a wall using the fastening material.


The first aid supplies must always remain within reach and be stored where they are easy to access, and must also be protected from factors that could damage them, and be available in sufficient quantities. The supplies must be checked at regular intervals to ascertain they are complete and have not expired.


According to Section 24, Subsection 6 of BGV A1, any first aid provided must be entered in a first aid record, which must be kept available for a period of five years. This documentation provides a key basis for the planning and organisation of first aid. It allows hazard spots and the injuries caused in them to be analysed, and preventive measures to be introduced. When an occupational accident occurs, the first aid record can be used as evidence when claiming compensation from insurance companies.
How many first aid supplies are required?
What the first aid kit, the first aid cabinet or first aid case must contain in which quantity is governed by a range of DIN standards. According to DIN 13157, a small first aid kit contains 65 items, including diverse types of bandages, compresses, tourniquets, a pair of scissors, plasters, disposable gloves and an emergency blanket. DIN 13169 states that the large first aid kit must contain 127 items. It's also important to know that both first aid kits differ not in terms of the type of supplies but the quantities.


Depending on the size of the company and the prevailing occupational hazards, a different number of first aid kits are necessary:
Administration and trading companies
1 to 50 employees: 1 small first aid kit
51 to 300 employees: 1 large first aid kit
for every additional 300 employees: 1 additional large first aid kit
Manufacturing and processing companies
1 to 20 employees: 1 small first aid kit
21 to 100 employees: 1 large first aid kit
for every additional 100 employees: 1 additional large first aid kit
1 to 10 employees: 1 small first aid kit
11 to 50 employees: 1 large first aid kit
for every additional 50 employees: 1 additional large first aid kit
The large, DIN 13169 first aid kit can also be replaced with two small DIN 13157 first aid kits.
Are there regulations governing the shelf life of first aid supplies?
The contents of first aid kits, first aid cabinets or first aid cases have different shelf lives. Sterile packed articles (e.g. compresses or bandages) have a use-by date. This may be up to 20 years in the future, depending on the manufacturer. According to the German Act on Medical Devices, the bandaging materials may no longer be used once the use-by date has been reached. This strict regulation is due to the fact that, for example, bandages are no longer sterile or plasters lose their adhesive properties. Articles that do not come in sterile packaging (e.g. tourniquets or the space blanket) do not have a use-by date and only need to be replaced after they have been used.
What about first aid for special occupational categories?
The risk of accidents varies according to occupational category. When you work in an office, it's easy to cut yourself using scissors or a cutter, causing an injury that will require a plaster. In industrial operations, in contrast, when work is done with heavy objects, the injuries are often more severe – crush injuries, larger cuts, or burns are sustained again and again despite strict safety standards.


In order to be able to treat these different types of injuries, a specific first aid kit has been developed for the occupational categories of mechanical engineering, metal processing, administration and workshop. These contain the basic equipment as required by DIN 13157 supplemented by occupation-specific supplies, such as emergency eye rinse, a respiratory mask, cooling spray or bags for severed limbs. We can also offer first aid cases for other occupational categories upon request. Simply contact us to do so.
What needs to be observed when transporting the injured?
According to Section 24, Subsection 3 of BGV A1, the injured person must be transported carefully and competently for further medical care. This is done using what is known as emergency transport equipment. This includes the classic stretcher. At workplaces with extensive company premises, stretchers must be placed in several easily accessible spots.


The situation is different in other occupational sectors where work is done under special framework conditions, for example in the mining industry or when performing rescue operations at heights. A conventional stretcher cannot be used in these cases due to space constraints. Recommended are scoop stretchers, basket stretchers or other means of transport.
Does every company have to provide a first aid station?
Depending on the size of the company and the hazards that prevail there, Section 25 Subsection 4 of BGV A1 specifies that a first aid station must be set up in the company. A first aid station like this should primarily promote the effectiveness of the first aid by shielding the injured person and his or her aides from disruptions. The Workplaces Ordinance (ArbStättV), Technical Rules for Workplaces (ASR) and the stipulations in the Maternity Protection Act require that appropriate couches be set up in the first aid station.


By the way: First aid facilities must be identified accordingly to ensure they can be found quickly in an emergency. The guidelines that apply for these signs are explained in our guide to recognition ranges.
Are there any other utensils that are used for first aid?
When certain types of accident occur, such as a fire or a burn caused by lye, additional emergency equipment is required. This includes full body showers, eye wash bottles, rescue nets or cutting tools. Fire extinguishers also form part of this category.


Our Eye wash bottles product guide tells you more about how to use these rinsing bottles correctly when administering first aid.
Our top categories from this guide