Telesteps – Telescopic lean-to ladder
Prime Line with stabilisers
Triangular rails for ergonomic handling and higher stability
75° design provides an ideal angle of inclination
Rungs with integrated dirt profiles for higher stability
Rubber wall protection for setting up the ladder safely and without causing damage
AUTOSTEPS technology for convenient retraction of the rails
Silicon-Break technology for safe telescopic effect
Stabilisers – for additional space saving potential and safety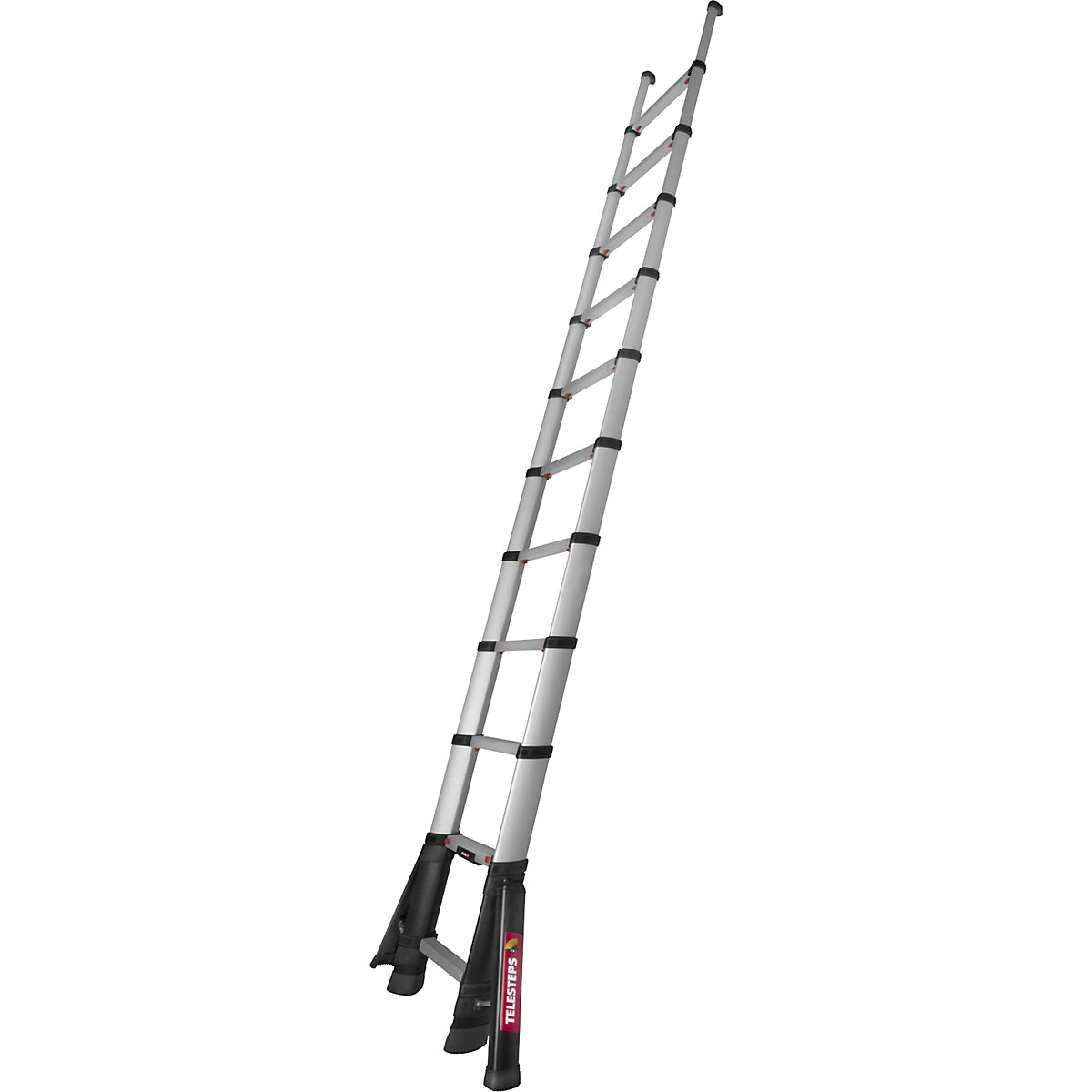 Telesteps – Telescopic lean-to ladder, Prime Line with stabilisers, 11 rungs, length 3.5 m
Robust, compact and lightweight – these telescopic lean to ladders are high in quality. They are optimally suited for commercial use in industry and trades. AUTOSTEPS technology allows the ladder to be fully retracted with just two buttons, meaning no time consuming manual retraction at every step is necessary. The 75° design of the ladder feet and the integrated rubber wall protection provide an optimum angle of inclination when setting up the ladder. The triangular rails ensure ergonomic handling and the use of stronger materials in the corners mean they are more resistant to breakage and twisting. The anodised aluminium used for the rails ensures that colours don't rub off and the telescopic ladder remains attractive for a long time. The telescopic function makes the ladder a real space saving miracle, with compact dimensions suitable for transport and storage. The Silicon-Break technology features integrated silicon gliding buffers for high levels of comfort and allows the ladder to be safely pushed together once work is complete.
Triangular rails for ergonomic handling and higher stability
75° design provides an ideal angle of inclination
Rungs with integrated dirt profiles for higher stability
Rubber wall protection for setting up the ladder safely and without causing damage
AUTOSTEPS technology for convenient retraction of the rails
Silicon-Break technology for safe telescopic effect
Stabilisers – for additional space saving potential and safety

Access type

rungs

Frame material

aluminium

Rungs material

aluminium

Length per ladder section

300

mm
Feature

with stabilisers

Rung depth

50

mm
Conforms to

EN 131-6

Max. load

150

kg
Supplied

assembled

Customers who purchased this item also purchased
Together we are strong: Helpful information about this product.